Originally printed in the August 2018 issue of Produce Business.
Long-time store serves atlanta residents quality, fresh produce.
In Atlanta, major retailers rule the grocery business.
According to the Chain Store Guide 2018 Market Share report, Kroger, Publix and Walmart battle for the top three positions. Kroger's 128 Atlanta area stores account for a 26 percent market share; Publix's 141 stores see a 24 percent share, while Walmart's 69 stores garner 17.9 percent of grocery sales. Costco possesses a 5.5 percent share; Sam's Club, 4.3 percent; Ingles, 4.2 percent. Other operators who each attract 2 percent or less market shares include, in descending order: Food Depot, Target, Whole Foods, Dollar General, Aldi, Dollar Tree, Sprouts, BJ's Wholesale Club, Trader Joe's, The Fresh Market, Wayfield Foods and Super H Mart.

Atlantans also purchase produce and other perishables from a variety of smaller stores and markets throughout the metro region.
Located in the suburbs east of downtown Atlanta, David's Produce Market supplies a variety of produce to area customers.
The building in Decatur, GA, resembles a traditional roadside stand, which helps attract shoppers who pass by it on Lavista Road. "Produce moves well," says David Glenn, co-owner.
Tomatoes are the specialty, and the store sells high-quality tomatoes throughout the year. "If you don't have tomatoes, you can go home and stay," he says. "It gets everyone in the door. We have good ones year-round, not seasonally. In a produce stand, you bring in a good tomato or you won't make it. I don't care where you are. It's the biggest draw for a produce business."
Glenn's mother, Judy Black, co-owner, also works the business, which in 1995 relocated from downtown Atlanta's Municipal Market. Beginning in 1933, Glenn's grandparents, Robert and Violet Donaldson, sold produce in Atlanta markets.
Before moving to Decatur, the company only sold produce. When it opened as David's Produce Market, it expanded into other items, including specialty gourmet foods, hot sauces, nuts and chocolates, retro sodas, boiled peanuts and gourmet cakes. Many of those items, including the cakes and sauces, are locally produced.
In an under-roof display in front of the store, peaches, tomatoes, Vidalia onions, watermelon and plants are displayed.
"You can't survive in business, especially with the massive competition this town has, unless you have quality and sort of a niche," he says. "Even with that, it's tough with all the big stores surrounding you. But we do all right. We hold our own."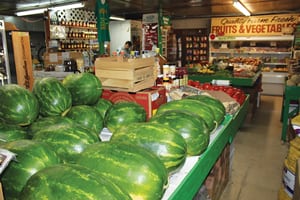 David's Produce Market's clientele consists of a large range of ages and groups. People from around the immediate area shop there. Others, while driving through the state, make it a point to visit. "This is a great location," says Glenn. "There's a very unique look to the place, and it is in a unique location."
During the 1930s, the building was a gas station and later, was a small grocery store. It offers 1,000 square feet of retail capacity. To ensure quality, Glenn inspects every carton of arriving produce.
The store is always on the look for new products. "Though there are similar places around, we are fairly unique," he says. "We worked hard to make it that way. You do things as they present themselves. Running a business is trial and error more than anything."
David's Produce Market prides itself on offering products that aren't always found elsewhere. In early June, it was selling a large box of green plums, a specialty item requested by a handful of customers who enjoy its sour and salty taste. "We will offer things you just can't get in most places, even in produce," says Glenn. "Though you might think something can be found anywhere, it can, but at levels of quality people don't understand. The big box stores actually don't have the access to a lot of products small businesses like ours can access."
Wholesalers on the Atlanta State Farmers Market in Forest Park, GA, including Alexander Produce, Inc., Coosemans Atlanta Inc., Fidelity Fruit & Produce Co., and J.J. Jardina Co., Inc., supply its produce. The companies bring a couple of loads of produce every week.
The store sources tomatoes from Florida from November until mid-June before switching to South Georgia. In July, volume begins from North Georgia at Rabun Gap, GA, and continues through November. "You have to have an eye for it (produce)," says Glenn. "When you've been in business as long as we have, you have to know where to get things. You need to know where, what time of year and have an eye for the quality. It's not as easy as some might think."
DAVID's PRODUCE MARKET
3561 Lavista Rd.
Decatur, GA 30033
davidsproducemarket.com
404-325-0709
Hours: Mon-Sat 9 a.m.-7 p.m.