Originally printed in the February 2019 issue of Produce Business.
Longtime store offers quality local fruits and vegetables to South Georgia and North Florida.
Fresh local produce is the drawing card at Farmer Brown's Produce, a South Georgia staple.
Walking into the Valdosta, GA, store on the city's south side, consumers immediately sense they're in a farm stand instead of a supermarket. They see produce such as okra, red creamer potatoes, yellow squash, acorn, butternut and spaghetti squash and snap beans displayed in wooden stands. An adjacent table might merchandise bananas, citrus and avocados while on another stand, rutabaga is marketed next to zucchini squash, red and yellow bell peppers and green cabbage.

The family-owned-and-operated produce store promotes itself as offering "the freshest produce in Georgia." Farmer Brown's has been recognized as "the best place for produce" for 12 years by the Valdosta Daily Times.
"Produce is what we are," says John Holton, manager. "Produce is our operation. It's what we deal with. It's what brings people here. Produce is what our business thrives on. It's our thing."
Farmer Brown's customers are mostly middle-class people and include many senior citizens, who do a lot of shopping at the store. It markets through twice-weekly advertisements in the local newspaper and ads in farmers' markets magazines. It also uses social media. At any time in the year, the store sells 300 items from its 2,400-square-foot building through handwritten signage.
Farmer Brown's also boasts a wholesale produce operation that distributes produce to restaurants, schools and other produce peddlers within a 30-mile radius of Valdosta. One of its regular customers in Panama City, FL, recently returned to sending trucks to Farmer Brown's after recovering from Hurricane Michael, which devastated areas of Florida's Panhandle and damaged Georgia crops.
Local Produce Key
Local produce is a critical part of Farmer Brown's. Its busiest times are mid-April through Thanksgiving. The store's biggest business parallels South Georgia's commercial produce season, which typically begins in the late spring and finishes around July 4, before returning in the early fall and harvesting until the first freeze, which usually occurs in November.
"We like to buy from them, the smaller growers," says Holton. "We try to keep it as local as we can. When the customers know the farmers themselves, how they got this produce from Bill down the road, they love it. The produce didn't come two states away or from South Florida. It's coming from around the corner, which helps our local economy because it keeps the money here."
Farmer Brown's works with about 130 South Georgia local growers. Those growers include larger growers, smaller growers and individuals who bring small volumes of grapefruit and oranges from their backyard trees or vegetables from their gardens to the store.
Greens are a popular item, which the store sells through the year. The product works well, as South Georgia is a year-long leafy greens grower and shipper.
"We deal with all local," says Holton. "When one is growing, the other is picking, the other will be planting. We love the thought of keeping it as local as we can. That helps keep prices down." The farthest distance a local grower brings product to Farmer Brown's is peanuts from Gainesville, FL.
Larger suppliers include Ken Corbett Farms, Generation Farms, Herring Farms and South Georgia Produce, all in nearby Lake Park, GA. Those grower-shippers supply traditional Southern vegetables, including bell peppers, cucumbers and squash, while Generation Farms also supplies carrots. "We have some pretty big farms around us," says Holton. "South of us is the carrot capital of the world. We try to buy every carrot we can from them, which stays fresh and is local."



Large Production Region
Other big local items include red potatoes, sweet potatoes, onions, Vidalia onions, white acre peas, apples, blueberries, melons and peaches. "The Valdosta area is big in produce," says Holton. "The Vidalia area is just a hop-and-skip away. There are plenty of packinghouses to buy from in this area. They produce good produce at the right times of the year."
During the winter, when most local produce isn't in production, Farmer Brown's receives product from General Produce, an Atlanta wholesaler.
The store has been generating relationships with local growers since its 1979 start, when founder Rex Ethridge, 77, left his longtime job with Harveys Supermarket and began selling produce on his own. Ethridge, who has worked in produce all his life, began as a bag boy and did a variety of jobs in the Valdosta Harveys produce department for 20 years. "Grandpa worked for Harveys since he was 13," says Holton. "He saw how produce could flow and how it could go, so he thought he could go on his own … the American dream."
After peddling produce from the back of his truck for several years, Ethridge built a building in the mid-1980s. In 2005, he relocated the store to its current location on the opposite side of town.
Refusing to retire, Ethridge remains involved in the store's operation and visits often. He's often seen mingling with customers and helps when needed.
Family Focused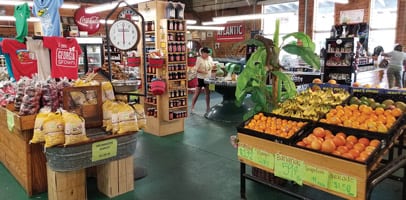 Phil Ethridge, one of Rex Ethridge's sons, is co-owner with his father and runs the operation. The younger Ethridge, Holton's uncle, worked for the U.S. National Guard before returning to the family business. Holton married Ashley Ethridge Holton, the daughter of Rex Ethridge, Jr., Phil Ethridge's brother. Holton worked 10 years in store operations before advancing to store manager.
With the company being run by second- and third-generation family members, even the 7- and 8-year-old children of Phil Ethridge and Holton help with the store. Bryson and Mason, Holton's sons, and Browning Ethridge, carry bags for customers and work other store jobs during summers. When one of the store's local growers visits the store, he asks if Holton's sons want to pick greens, potatoes and peas. "It's good for them to do that kind of work because they see how product gets from the farm to the table," says Holton.
Competitors of Farmer Brown's include other produce stores and Walmart, Publix and Harveys, which sell non-produce items that Farmer Brown's doesn't sell. "We are competitive on the prices, and we try to beat our competitors every week in our ads," says Holton. "We try our best to keep prices as low as we can, so customers can come to us. Our customers know fresher, local produce is coming from this area, which is a lot of the reason why they shop here."
In July, the store plans to mark its 40th anniversary via a large customer appreciation sale. "Forty years is a big deal for a smaller company," says Holton.
FACT FILE:
Farmer Brown's Produce
1500 S. Patterson, Valdosta, GA, 31601
P: (229) 247-4672
Hours: Mon – Sat 8 am to 6 pm; Sundays 8 am to 5 pm
farmerbrowns.co