Georgia's large portfolio keeps retail supermarket shelves stocked with fresh produce and restaurant menus at their best during the spring, summer and fall.
Originally printed in the May 2021 issue of Produce Business.
In the heart of the South, Georgia offers retailers in the Eastern U.S. and throughout North America produce product variety that helps keep retail operations competitive. Supermarkets and wholesale buyers throughout the eastern half of the U.S. depend on the Peach State to keep their produce departments stocked with a large variety of fresh produce.
"Georgia fruit and vegetables are a must for any retailer," says Matthew Kulinski, Georgia Grown program manager for the Georgia Department of Agriculture (GDA), Atlanta, GA. "No matter where you live, you can't have summer without Genuine Georgia peaches, Vidalia onions and Georgia Grown watermelons. Consumers will pay a premium for Georgia Grown produce, so they will always be in high demand."
"[Georgia is] extremely important, as it's one the first Southeastern states to start produce production as the Florida season tapers off," says Nicole Krauss, media relations manager for the Lakeland, FL-based Publix Super Markets, Inc. "It's unique in that it's precariously positioned just after the Florida season but just before other production states. That makes this state vital in ensuring we have a sustained presence of southern-grown produce during this timeline."
LARGE PRODUCT VARIETY
The Empire State of the South, as Georgia is also known, produces a wide variety of produce, including apples, blackberries, blueberries, cantaloupe, honeydews, watermelons and peaches. Those fruits, as well as vegetables like bell peppers, cucumbers, squash, green beans, sweet corn, cabbage and Vidalia onions, are often considered local produce in the Southeast.
Georgia is home to more than 33 different vegetable types, says Jordan Carter, director of sales and marketing for Leger & Son, Inc., headquartered in Cordele, GA. "Agriculture is Georgia's oldest and largest industry and it is a driving force for the economy."
Carter cites statistics from the 2019 Georgia farm gate value report, which shows agriculture contributed $70.1 billion to Georgia's $1.12 trillion economy. Fruits and nuts contributed $2 billion to the Georgia economy, and Georgia ranks No. 1 in pecan production nationwide and has done so for decades, she adds.
Beginning in early spring, Georgia's window follows the ending of Florida's winter season and is ahead of the spring Carolina season, and Georgia produces product through the first part of summer. In the fall, Georgia returns to the national marketplace beginning in September and ships a full line of produce through late November.
Bordering five states, Georgia is local to many regions in the Southeast and Mid-Atlantic, and that proximity is a big benefit of Georgia Grown produce.
"In a super competitive summer produce section, it's the brand value of Georgia peaches," says Duke Lane III, a partner with Genuine Georgia Group, a Fort Valley, GA-based group of peach growers and packers. "In a saturated produce department, people are looking for products to build excitement around. Georgia Grown offers a tremendous brand value and unlimited opportunities for merchandising and storytelling. As Georgia is a short, 90-day season, you don't have to worry about being redundant."
LOGISTICS FAVOR GEORGIA
Although Georgia is deep in the Southeast, it remains accessible to a large chunk of the eastern U.S. population. Georgia grower-shippers send product primarily to the East Coast and Midwest, but some also ship farther, to customers in the Rocky Mountains and West Coast regions. Georgia's location provides logistics and transportation advantages, including shorter truck hauls and faster deliveries, which speed produce movement. Interstate 75 is a direct shot into the Midwest while I-95 runs up and down the East Coast.
Georgia produce is critical for Atlanta produce wholesalers, which distribute produce throughout the Southeast. The Nickey Gregory Co. LLC, based in Atlanta, ships produce to 11 states overnight, including Florida, Virginia, Kentucky and Louisiana.
"Georgia is unique in that it's precariously positioned just after the Florida season but just before other production states."

— Nicole Krauss, Publix
"The Nickey Gregory Co. is a large buyer and dedicated supporter of Georgia Grown products," says Andrew Scott, director of marketing and business development. "We load our own POs/Georgia Grown products on our own trucks to control the (cold) supply chain from our growers to our warehouses. Our inventory turns on Georgia Grown products are 2 to 3 days max, and then we replenish less than 200 miles away from our warehouses with some of the finest farms in the USA. Supporting Georgia Grown is supporting our state, the farmers and our strong economy."
"Large amounts of many different produce items are grown in Georgia, which makes for a very good transportation market," observes Troy Bland, chief executive of Bland Farms LLC, a Vidalia onion grower-shipper based in Glennville, GA. "This overall produce volume ensures that there is always plenty of transportation equipment nearby, keeping the transportation market competitive and the costs lower."
Logistics favor Georgia, agrees Will McGehee, a Genuine Georgia partner. "The fact that we are located within a two-day drive to say 75% of America, that's key. We are overnight to most places and two days to the fridges. We are able to grow our product and grow it to full ripeness. We pick it at the last possible minute and can get it to the market overnight, the next day. With the right maturity and ripeness, it really makes a difference."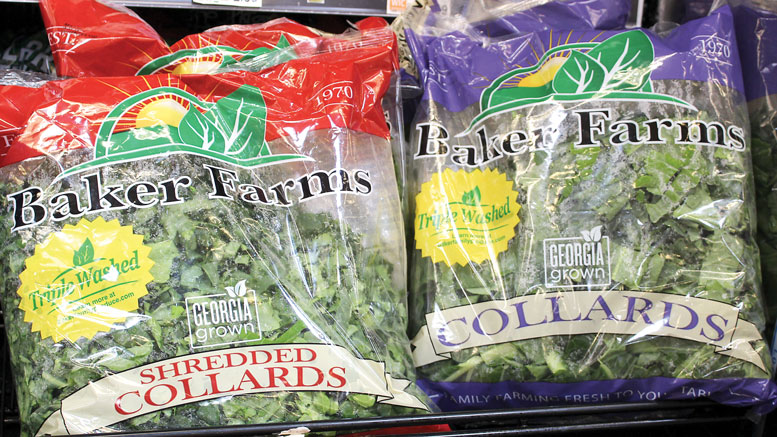 Customers can also mix loads with quality fruits and vegetables, says Joey Johnson, sales manager of Hazlehurst, GA-based Roberson Produce, which grows and ships Vidalia onions, storage onions, sweet potatoes, green beans and other vegetables. "As we move into the future, the more variety and quality we can offer customers, the more appealing and successful we will be as growers and shippers."
Georgia fills some supply gaps in the industry, says CarrieAnn Arias, vice president of marketing with Naturipe Farms LLC, Salinas, CA. "Sourcing in Georgia helps keep shelves stocked."
She agrees shorter and smoother transportation means less risk and even fresher produce for retailers. "It also provides Southeast retailers with another locally grown option. Quality and availability are also advantages."
POPULAR BRAND
Georgia's produce brand is recognized alongside other well-known geographic food brands including Alaskan salmon and Maine lobster, says Genuine Georgia's McGehee. "According to consumer surveys, Georgia Grown is one of the most recognized brands in all of the fresh produce industry, even with something people can only get in a short window," he says. "It's very iconic in the consumers' minds from the state where their food comes from."
Nickey Gregory displays the Georgia Grown logo on all of its trucks, and its buildings show the company's dedication to a state rich in agriculture. "Georgia is blessed with a climate that allows tremendous opportunities for farmers," says Scott. "Virtually any crop can be grown successfully somewhere within our State. We're known for our sweet Georgia peaches, peanuts and those delicious Vidalia onions now in season. But the state's ag picture is so much larger. Georgia is perennially the No. 1 state in the nation in the production of peanuts, chickens, pecans, blueberries and spring onions. We are also at or near the top when it comes to watermelon, peaches, eggs, cucumbers, sweet corn, bell peppers, tomatoes, cantaloupes and cabbage."
Georgia is the one and only state where Vidalia onions can legally be grown. A federal marketing order limits Vidalia onion cultivation to a distinctive area across 20 south Georgia counties.
"The unique combination of soil, water and climate in this region is what enhances the unique taste, sweetness and texture of Vidalia onions," says Bob Stafford, manager of the Vidalia Onion Committee and the Vidalia Onion Business Council, based in Vidalia, GA. "Without Georgia, we wouldn't have America's favorite sweet onion."
Vidalias and Georgia are synonymous. "The Vidalia onion is the official state vegetable of Georgia," says John Shuman, president and chief executive officer of Shuman Farms, Inc., Reidsville, GA. "The sandy soil and unique climate, including mild, short winters, contribute to the Vidalia onion's mild, sweet flavor.
A Vidalia onion is a short day onion, he explains. It grows when the days are short in the winter and then matures in the spring when the days become longer and warmer. The area in southeast GA averages more than 50 inches of rain annually, which also boosts the onion's growth. Shuman adds the sandy soils there are extremely low in sulfur, which keeps the onions sweet and mild with very little heat.
Vidalias are a big part of Georgia's produce recognition. "The Vidalia sweet onion created the sweet onion category," says Bland. "Overall, the rich history of the Vidalia onion and the industrywide marketing efforts to build awareness and brand value have translated into high volume sales for our retail partners. The Vidalia is an onion that consumers wait for every year. When the Vidalia onion hits the grocery stores each April, it is an event."
Bland's new state-of-the-art packing facility is fully climate controlled, allowing the grower-shipper to control humidity, airflow and temperature throughout every stage of the Vidalia onion drying and packing process.
"Maintaining the cold chain throughout packing will result in less damage, improved appearance, increased pack-out and longer shelf-life," says Bland. "Ultimately, we will be providing our customers with a better quality and more consistent onion. This is not only a big step for the onion industry, but it is also a big step for Georgia produce as a whole."
Vidalia onions are among Georgia items that generate shopper enthusiasm, notes Mychael Thomas, director of produce for the Lake City, SC-based W. Lee Flowers & Co., Inc., a chain of 65 IGA stores in South Carolina, North Carolina and Georgia. "There is excitement with Vidalias," he says. "For us, it's about promoting the South. We can promote a southern grown, local product."
In circulars, the stores play up Georgia Grown through ads, bins and point-of-sale materials. "In Georgia, we like to build it up big, the Georgia Grown," says Thomas.
SUMMER PRODUCE LEADER
Georgia is a leading watermelon grower and shipper. The state sends many truckloads of watermelons to the market in early June. "Watermelon is a Georgia frontrunner in terms of fruit and vegetable production," says Leger's Carter. "When you think of Georgia, you think sweet, juicy watermelons. They are a nostalgic summertime favorite. These commodities form a basis for our agricultural supply chain and add value within the economy."
Georgia is also a major blueberry supplier and is one of the largest U.S. fresh blueberry producing states. "Georgia is one of the most important regions because production of blueberries and blackberries in the region happens during a window when there is a need for more East Coast production," notes Naturipe's Arias. "Georgia's fruit production is critical to East Coast and Midwest retailers. Without Georgia production, there would not be enough blueberry and blackberry products to keep shelves fully stocked at retail stores at a reasonable price."
Of course, Georgia is long known as the Peach State. "We didn't create the brands, we inherited it," says Genuine Georgia's Lane. "Flavor is everything to us. Our peaches are known for being sweet and juicy. We work really hard to maintain the image."
"Supporting Georgia Grown is supporting our state, the farmers and our strong economy."

— Andrew Scott, Nickey Gregory
New crops, including satsuma citrus, add to Georgia's produce portfolio.
Located a dozen miles west of Vidalia, GA, Roberson Produce's shipping facility in Mount Vernon, GA, is in the heart of the Vidalia onion region and is producing more product during the summer, the time between the state's traditional spring and fall seasons. "Because of technology and new seed varieties, we are able to produce squash, eggplant and hot peppers to mix with our onions," says Johnson. "Having items to ship during this time of year helps to service customers with more than just onions. The more you have to offer, the more appeal you have."
LOCAL APPEAL
Georgia Grown helps promote the state's farm products, and the Georgia Grown Program has become a key marketing tool for suppliers and retailers, says Leger's Carter. "The local grown movement continues to rise in popularity and importance year after year. For many of today's consumers, the contemporary meaning of 'local' matters when purchasing. The idea is that you are preserving communities while growing economies and eating fresher produce."
Georgia's large product catalog allows for cross promotions. "There are many Georgia Grown products such as Georgia peaches and our Vidalia sweet onions available for consumers," says Bland Farms' Bland. "The cross-promotional and cross-merchandising opportunities are endless."
Georgia produce is important to Publix Super Markets, Inc. The Lakeland, FL-based chain operates 192 stores in Georgia, the chain's most locations outside of Florida. In February, Publix opened a new store in McDonough, GA, and in June 2020, opened its first GreenWise Market in Marietta, GA. GreenWise is a new Publix banner that focuses on specialty, natural and organic foods.
"A significant amount of our sales will be generated from Georgia during the Georgia season," says Nicole Krauss, media relations manager. "This dependency during the early season makes Georgia a very critical state for our overall sales."
Krauss says Publix research has proven customers are interested in locally grown produce. "Having the ability to merchandise these products during the local season is a service to our customers," she says. "We feel our customers expect this from us."
Merchandising local products together "really generated excitement and enthusiasm with our customers," she adds. "We feel this enthusiasm sets the tone for the remainder of the customer's shopping experience for that visit."