July 28-29, 2022 | Monterey Conference Center and Portola Hotel and Spa | Monterey, CA
Booth #414
ALTAR PRODUCE
Calexico, CA
World's largest grower of asparagus. We are a family owned and operated business committed to offering the best quality fruits and vegetables. This same vision was applied when expanding into our other commodities, which include green onions, Brussels sprouts, grapes, parsley, broccoli, avocados, cilantro, radish, spinach and more.
Booth #300
ALLEN LUND COMPANY
La Canada, CA
Allen Lund Company, established in 1976, is a 3PL, working with shippers, growers and carriers across the nation to arrange the transport of dry, refrigerated and flatbed freight through their nationwide network of offices. Experts in produce transportation, ALC has a superior reputation in the transportation and produce industries. Their logistics and software division, ALC Logistics, provides solutions via AlchemyTMS, and their international division is licensed as an OTI-NVOCC.
Booth #716
BABÉ FARMS
Santa Maria, CA
"Marketing Bright" since 1986, Babé Farms grows, packs, and ships a diverse assortment of baby and specialty vegetables in California's Santa Maria Valley. Rainbow root vegetables, baby lettuces, specialty greens, signature salad blends, and a collection of crucifers are just a few of the categories that compose this ever-expanding colorful conglomerate. Babé Farms is family owned and operated, and blessed with an ideal Mediterranean growing climate which allows owners Jeff Lundberg and Judy Lundberg-Wafer to cultivate the farm's 1,000 acres year-round. With food safety and sustainability always at the forefront, we are committed to growing the highest quality, gourmet vegetables. Babé Farms is the "couture" label top chefs and fine retailers look to for their specialty vegetable needs.
Booth #902
BOBALU
Oxnard, CA
Please join us as we celebrate 60 years of premium Bobalu strawberries grown right here in California. As a family grown, farmer-owned company, we are proudly hand packing every berry under our family name. Learn more about our program, our family, and our delicious berries by visiting our booth as we celebrate this family milestone.
Booth #508
BOSKOVICH FRESH FOOD GROUP
Oxnard, CA
Fresh Prep, the processing arm of historic company Boskovich Fresh Food Group, is committed to meeting the demands of customers and consumers for innovative, convenient, and safe fresh products. Fresh Prep offers an extensive line of value-added produce products specifically for the foodservice industry. Visit Booth 508 to learn more about Fresh Preps' diverse line of foodservice items.
Booth #514
CHRISTOPHER RANCH
Gilroy, CA
California Heirloom Garlic, fresh bulk and peeled, year-round supplies! We're the largest grower, packer, shipper of fresh California Heirloom Garlic in the U.S. Growing garlic since 1956, from carefully selected seed to preserve exceptional flavor and quality. Produced with GAP, GMP, HACCP, USDA & FDA inspections. Variety of sizes, packs.
Booth #409
CHURCH BROTHERS FARMS
Salinas, CA
Join the Romaine revolution! Church Brothers Farms presents the Romaine of the future: Washed & Trimmed Romaine. With savings in labor, waste, time, and money, this product is a must-have on your orders! Stop by booth #409 to learn more.
Booth #805
EAGLE PROTECT
South Lake Tahoe, CA
Contamination from "food compliant gloves" was responsible for a recent recall. Mitigate this business risk: visit Eagle Protect at booth 805 to learn about their multi-layered Delta Zero proprietary glove testing program, ensuring Eagle gloves adhere to the highest level of consistent glove food safety and performance.
Booth #1007
FARMERS FRESH MUSHROOMS CALIFORNIA INC.
Colusa, CA
Situated in the Sacramento Valley, Premier Mushrooms offers the best quality mushrooms in California with a wide variety of white, browns and portabellas for both foodservice and retail. Growing and harvesting over 250,000 pounds per week, we service the California region weekly. Our portfolio is competitive — we pack all sizes of sliced mushrooms in 10- and 5-pound cartons, including pails and trays. Please stop by and say hi! It's our first time at the IFPA Foodservice Conference.
Booth #307
FORTUNE GROWERS
Elgin, IL
Fortune Growers is a fully vertically integrated produce grower and manager of a co-op of growers that provide our customers with the highest quality and freshest product. Our goal is to work collaboratively with customers for more sustainable practices. We manage and maintain a vested interest in the entire supply chain. Visit our booth!
Booth #906
HENRY AVOCADO CORPORATION
Escondido, CA
Where avocados are ripe. Henry Avocado Corporation, the packer and distributor of Bravocado and Green Goddess, the best avocados in foodservice. Come meet our ripe avocado experts to learn what makes our ripe avocado program the best, and receive a bag of avocados to enjoy.
Booth #606
Idaho-E. Oregon Onion Committee
Parma, ID
For over 65 years, the Idaho and Eastern Oregon growing area has been producing large yellow, red, and white varieties of Spanish onions. Grown under Federal Marketing Order #958, the Idaho-Eastern Oregon Onion Committee sets grade and quality standards that exceed USDA requirements. Contact an Idaho-E. Oregon Onion Shipper today!
Booth #303
KEYSTONE NATURAL HOLDINGS
Philadelphia, PA
Franklin Farms is a one-stop shop plant-based supplier with over 100 SKUs, offering a wide assortment of veggie burgers, seitan, veggie balls, tempeh and tofu. Franklin Farms' top selling, innovated Tofu Bite offering includes both plain and seasoned options, including Lemon Pepper, BBQ, Sesame Ginger and more. Extra firm and already cubed, the tofu bites are ready-to-eat and can be easily used in your signature recipe. Stop by Franklin Farm's booth #303 to taste our new Extra Firm Cubed Tofu served with a Teriyaki Gochujang sauce!
Booth #213
LIMONEIRA
Santa Paula, CA
Limoneira is spotlighting its extraordinary Pink lemons. They are nature's way of creating a distinctly new variety. The outer appearance ranges from rose blush to more yellow with stripes, with the interior varying from light to darker pink. Similar to a classic lemon, they are sour, yet they have a hint of grapefruit with slightly less acidity. The Pink lemons will surely delight consumers while offering them a unique and distinctive flavor profile. This lovely citrus will brighten and enhance beverages to meal presentations. Pink lemons typically have a strong shelf-life and are available year-round.
Booth #321
LIVE OAK FARMS
Le Grand, CA
From field to table, we are committed to bringing you fresh and flavorful tomatoes, bell peppers, jalapeños, and organics that will keep you wanting more. Live Oak Farm's dedication to meet your produce needs is second to none. Stop by our booth to learn more about what we can offer.
Booth #917
LOCAL BOUNTI
Hamilton, MT
Local Bounti is redefining indoor farming with its proprietary Stack & Flow Technology,, which significantly improves crop turns, increases output and improves unit economics. Local Bounti operates advanced indoor growing facilities across the United States, servicing approximately 10,000 retail doors with its two brands: Local Bounti and Pete's. With a mission to Nourish Humankind and Protect our Planet, Local Bounti's food is fresher, more nutritious, and lasts 3 to 5 times longer than traditional agriculture.
Booth #603
MAGLIO PRODUCE
Milwaukee, WI
For five generations, Maglio has proven to be a leader in providing innovative solutions to meet every customer's unique fresh produce needs. We have maintained a steadfast commitment to forward-thinking food safety practices and have not shied away from investments in equipment and facility technology.
Booth #418
MISIONERO
Monterey, CA
Our Wash and Trim lineup is minimally processed and ready to use! Minimizing prep time vs. field-packed options, our washed and trimmed Green Leaf and Romaine is versatile, fresh, and can be used as a gluten alternative for tacos, wraps, and many other items! Stop by Booth #418 to check out our lineup.
Booth #234
NATIONAL MANGO BOARD
Orlando, FL
Stop by booth #234 for a snack, to learn more about fresh mango and to talk about the National Mango Board's foodservice program. Did you know that mango is found on nearly 40% of all restaurant menus, with an 8% predicted growth rate, and that mangos are expected to outperform 81% of all other foods, beverages and ingredients over the next four years? Eighty-two percent of consumers say they would pay more for fresh mango when featured on the menu! Visit mango.org/foodservice for information and to be inspired. (Source: Datassential).
Booth #505
NATURIPE FARMS
Salinas, CA
Stop by booth #505 to check out Naturipe's full line of foodservice berries, avocados and value-added products. Offering conventional and organic strawberries, blueberries, raspberries and blackberries in a variety of sizes ideal for foodservice operations. Washed and ready-to-eat blueberries save time and labor for back-of-house operations, available in 18 oz and 32 oz packs. And introducing 3 oz. Smart Cups from Naturipe Snacks, containing USDA recommended snacking portions for K-12 schools. These convenient, grab-n-go packs with washed and ready-to-eat fresh fruit are perfect for students, teachers, or anyone seeking a healthy snack.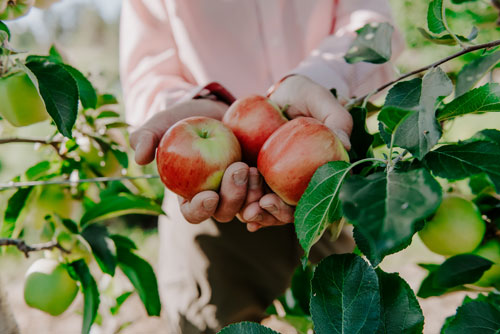 Booth #704
OKANAGAN SPECIALTY FRUITS INC. – ARCTIC APPLES
Summerland, BC
With a 28-day shelf life, Arctic apple slices stay orchard-fresh longer! Arctic apples are available in multiple package sizes, cuts and varieties — including our new 20 oz. foodservice pack and Arctic Fuji variety. Come meet our president Neal Carter and taste the difference for yourself at Booth #704.
Booth #309
PRIME TIME INTERNATIONAL
La Quinta, CA
As the largest year-round grower, packer and shipper of peppers in the U.S, Prime Time is committed at all levels of the production chain, providing premium quality produce 365 days a year. In addition to peppers, asparagus and sweet mini peppers, Prime Time offers a variety of seasonal produce items.
Booth #904
PROCURANT
Los Gatos, CA
Procurant is transforming the global food supply chain with technology to reduce waste, increase visibility, improve food safety and digitize business from production to consumption. For more information, go to www.procurant.com.
Booth #616
PRODUCE PRO SOFTWARE
Woodridge, IL
Since 1990, Produce Pro Software has been the leading all-in-one ERP software providing innovative business and technology solutions specifically designed for all business types within the produce and perishables industry. Combining powerful, cutting-edge software solutions while leveraging perishable food industry expertise and consulting services, Produce Pro can increase organizational efficiency, minimize waste and loss, reduce operating costs and provide real time data. For more information, visit us at Booth #616, or visit producepro.com.
Booth #210
PURE FLAVOR
Leamington, ON
Fresh greenhouse-grown vegetables available year-round. Pure Flavor is a family of greenhouse vegetable growers who share a commitment to bringing A Life of Pure Flavor to communities everywhere. Our passion for sustainable greenhouse growing, strong support for our retail and foodservice customers, and focus on engaging consumers is built on a foundation drawn from generations of growing expertise. We are the next generation of vegetable growers, inspired to put quality, flavor, and customers first by providing greenhouse-grown vegetables from our farms that are strategically located throughout North America.
Booth #224
RED JACKET ORCHARDS
Geneva, NY
Since 1958, three generations of the Nicholson family have mastered the art of harvesting and pressing premium fruits and juices. Our 100% cold-pressed juice is never from concentrate and we never add water, sugar or preservatives. You can taste our commitment to quality and freshness in every sip!
Booth #706
RIVER POINT FARMS
Plymouth, WA
River Point Farms, located in the Umatilla Basin of Oregon and Columbia Basin of Washington, is a large grower, packer and processor of red, yellow and white onions. As a unique, single source supplier, River Point Farms has all the necessary capabilities to be your food safe, secure onion supply partner. Please come and visit us at our IFPA Booth #706.

Booth #914
SPICEOLOGY
Spokane, WA
Founded in 2013, Spiceology is the fastest-growing spice company in America and is on a mission to bring the magic (and quality) back to spices. We're a chef-owned and operated, one-stop spice provider that develops innovative blends and offers over 400 ingredients that are ground fresh in small-batches and shipped fresh. Visit us at booth 914 to meet the team and snag some free samples!
Booth #419
THE GARLIC COMPANY
Shafter, CA
The Garlic Company will be featuring freshly, peeled garlic from its new 2022 garlic harvest. Whole bulb garlic and peeled shallots will also be on display, amongst other items. We look forward to seeing everyone at the show.
Booth #1004
WESTMORELAND SALES – TOPLINE FARMS
Leamington, ON
Third generation and family-owned, Topline Farms has a strong background in bringing quality greenhouse vegetables to market. A grower/packer/shipper that's located in Leamington, Ontario, Canada, they're always growing and improving to meet the demand of their consumers. Topline Farms takes great pride in their new packaging innovation partnership — Apeel treated, plastic free, English cucumbers. With their own fleet of trucks and a strong quality management system, Topline Farms can satisfy the needs of foodservice customers across North America.