Originally printed in the May 2018 issue of Produce Business.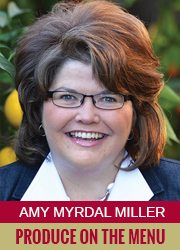 At the recent Produce for Better Health Foundation's 2018 Consumer Connection conference in Scottsdale, AZ, executives from the produce industry heard from leaders in the foodservice industry about trends prompting development of plant-forward menu items. These trends included the influence of global cuisine and consumers' changing views of health and wellness.

Not discussed was the myriad factors that affect whether a plant-forward menu item will ever make it onto a menu. New menu items start in the mind of the chef or menu R&D professional charged with leading menu development. After creating the concept, many others get involved in the process, including supply chain and marketing.
New menu concepts for large chains go through extensive consumer testing, including online screening to assess purchase intent and in-person sampling to see if the menu item appeals to the target or core consumer. Many new concepts are launched as limited time offers (LTOs) to see if the consumer research insights hold up to a real-world test. Some LTOs go on to menu permanence, and others wander off into the sunset never to be seen again.
This rigorous evaluation process is used for mid-size to large restaurant chains, but there are many other foodservice operations that never test menu items. In contract dining, for example, chefs in kitchens create new menu items nearly every day. Some do well, some become food waste, and little is tracked in terms of the factors that influence consumer acceptance.
One of the challenges facing everyone in menu development is menu marketing, starting with the name. In large restaurant companies, the process of naming and describing a new menu item is led by marketing. What words or phrases will attract the consumer, and which ones will make a diner opt for something else? In other operations, the person who created the dish gets to name it.
So how do names and descriptors impact acceptance of new dishes? This is a field of research that has much to teach the restaurant industry and those who supply it. What works in one setting may not work in another. For example, a cook in a K-12 kitchen may have success calling a spinach salad "The Popeye Special," whereas a chef in an independent restaurant may have success calling her spinach salad, "The Power Bowl Salad."
What many in marketing know is that emotional reactions to products are critically important. A name or descriptor that evokes positive emotions trumps a name or descriptor that evokes no emotion, or worse yet, negative emotions. Some words such as "crispy, crunchy, creamy" get our taste buds excited about what's to come, which is a good thing. Descriptors or icons that suggest deprivation or lack of flavor — think the heart icons of 1980s restaurant marketing — create negative emotions.
What works in one setting may not work in another. For example, a cook in a K-12 kitchen may have success calling a spinach salad "The Popeye Special," whereas a chef in an independent restaurant may have success calling her spinach salad, "The Power Bowl Salad."
A recent example of how these marketing insights have been applied in real world menu marketing is the SONIC Slinger. The company's March 1, 2018, press release stated:
"SONIC Drive-In revamped the traditional American cheeseburger with its new SONIC Signature Slingers, a first of its kind in fast food. The perfect-sized cheeseburger patty is made with three simple ingredients: 100-percent pure beef blended with savory mushrooms and seasonings to create a juicy, flavorful patty that is almost too good to be true. Starting under 350 calories, the SONIC Signature Slingers let you get away with all the flavor of a cheeseburger with none of the guilt, starting at $1.99*."
Here the company was transparent about the ingredients, taking care to describe the mushrooms as "savory," but nowhere in the television ads do the spokeswomen talk about the mushrooms. The emphasis is on lower calories and guilt-free enjoyment of a burger. It's likely that although the flavor of the burger was appealing in test market, there was concern about core customers who avoid mushrooms. Marketing sought to "have it all" by attracting new customers while not alienating current customers.
Anyone who is interested in putting more produce on American menus needs to keep menu marketing in mind. What attributes could your product contribute to a new menu items' success? Everyone in produce already owns the most powerful menu descriptor used on menus today — fresh. What else does your product provide? Crunchy, crispy or cooling and refreshing? Savory, juicy, sweet or spicy? These positive attributes that evoke positive emotions are essential ingredients in menu marketing success.
---
Amy Myrdal Miller, MS, RDN, FAND is a farmer's daughter from North Dakota, award-winning dietitian, culinary nutrition expert, and founder and president of The Culinary Institute of America Healthy Menus R&D Collaborative and a consultant for the Produce for Better Health Foundation. You can learn more about her business at a href="https://www.farmersdaughterconsulting.com/" target="_blank" rel="nofollow">www.farmersdaughterconsulting.com, and you can follow her insights on food and flavor on Twitter @FarmFlavorFun.