Originally printed in the February 2018 issue of Produce Business.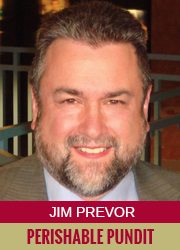 One of the great dilemmas in foodservice is not how to utilize more fresh produce but how to do so in a scalable way. The career of Chef Scott Uehlein (Vice President of Product Innovation and Development, Sonic Drive-in, Oklahoma City, Oklahoma) has been a journey from a specialized spa to a large-scale QSR operation. When we heard he was participating in the Ideation Fresh Foodservice Forum, we asked Carol Bareuther, contributing writer for Pundit Sister Publication Produce Business, to find out more about his journey:
Q: How did you decide that being a chef was your professional calling? I understand one of your early memorable food experiences as a kid was at a QSR.
A: I was always a foodie-type kid. When I was really little, my parents gave me a choice for my birthday. It was either to go to the little Carnival-type amusement park in town — Bridgewater, NJ, where I grew up — or to the new KFC that just opened. I chose the KFC because it was something new to our area. As I got older, I enjoyed cooking for family and friends, moved on to a job in the restaurant business and soon-after attended and graduated from the Culinary Institute of America in Hyde Park, NY. I did my externship in New York City, worked up and down the East Coast, and then headed west, where I worked as the executive chef at the Los Abrigados Resort in Sedona, AZ. I went to work as the corporate chef at Canyon Ranch in Tucson, AZ, in 1999.
Q: Could you describe the evolution of your culinary career, especially as it relates to fresh produce? For example, let's start with the role produce played on the plate when you attended the CIA?
A: In the 80s at the CIA, the principals of Escoffier focused primarily around the protein, and the animal protein specifically. A vegetable was there to surround an animal protein. You learned how to cook and coddle the high-dollar items and make them shine.
Q: How did your views of fresh produce change over the 17 years you worked in the upscale health-and-wellness side of the industry at Canyon Ranch?
A: I began to think in a different way when I came out of the world of big steaks and big baked potatoes, Flavor is first. It has to be. After all, people are not going to eat something if it doesn't taste great. I adopted this philosophy when I started at Canyon Ranch. Not that this way of thinking wasn't there before me, but when I arrived it coincided with an era that ushered in an emphasis on more simple food — food that isn't a science experiment or something that's highly processed.
Not only did we adopt this flavor-first philosophy, but we also looked at simpler ingredients. Produce has great flavor. Take mushrooms. Even back in my CIA days, mushrooms were used with protein because they enhanced flavor in a natural way. We emphasized this flavor-first philosophy more, and as time went along, there was gradually a de-emphasis of the animal protein.
Q: What led you back to the protein-centric world of QSR? What excited you about making this change?
A: To begin, I felt like I had made all the impact I was going to at Canyon Ranch. So, it was time for a change. I had to decide if I wanted to continue in the health and wellness world or not.
I sat on my first panel at CIA's Menus of Change Leadership Summit in 2016, about six months after I started working for Sonic. The audience was filled with people in the big restaurant and QSR worlds. I felt like I was on a soapbox saying they should do this, this and this. I had a bit of a heckler, and I shut that person down by saying, 'Look, you want more people like me to move into this world. Why? Because it's possible to have a bigger impact."
I learned a lot about flavor at Canyon Ranch. If you're going to take calories out, you have to put something else back in, and many times that was fresh produce. So, I thought it would be fun to spread my wings and thought it would be amazing to be part of something as big as Sonic is, to see my products on a national scale and impact the quality of food and how people eat in a positive way. I no longer have the nutrition restrictions of Canyon Ranch to contend with, yet there are other restrictions in QSR. The challenge of these restrictions is pretty exhilarating, because you have to innovate in a very specific way.
Q: Just how do you innovate? What does it take to come up with something that's successful on a national scale?
A: You do a lot of trend watching, and you eat a lot of food! You eat fast food, slow food … you just eat. You mine for data with Datassential and Trend Hunter and some of the other services that are out there. You read magazines, blogs, look at Pinterest and Instagram; so, you're always mining for trends information. Then, there are things you try at home, you like and think, "Could I scale this up to millions and millions of servings?" And the answer is that we probably can find a way to do it. It's part art, part science, with a definite process behind it.
It's a very creative and dynamic time to be in QSR. We have a busy calendar next year with many produce-based initiatives, test products and national launches with some really creative things. I'm very happy I made the jump into this world.
pb