Originally printed in the September 2019 issue of Produce Business.
The pulse of the region can be taken at this 8-year-old, dynamic and evolving terminal market.
Since historical days on Dock Street, the Philadelphia Wholesale Market has regulated the inflow and outflow of produce through the community. Even today at the "new" Philadelphia Wholesale Produce Market (PWPM), wholesalers are continually pushed forward through the competitive nature of the terminal market model.
"If you look at the history of terminal markets in this country, the process has followed the same course," says John Vena, president of John Vena Inc. (JVI). "When this market operated at street level on Dock Street, there was another competing market on Callowhill. When we moved to Galloway, there was a loss of merchants and a consolidation. Business changes — wholesalers move to get bigger, merge and strengthen themselves. That process still goes on today. For example, we have fewer merchants than when we moved in, but we're 100 percent full, and the merchants who are here are strong."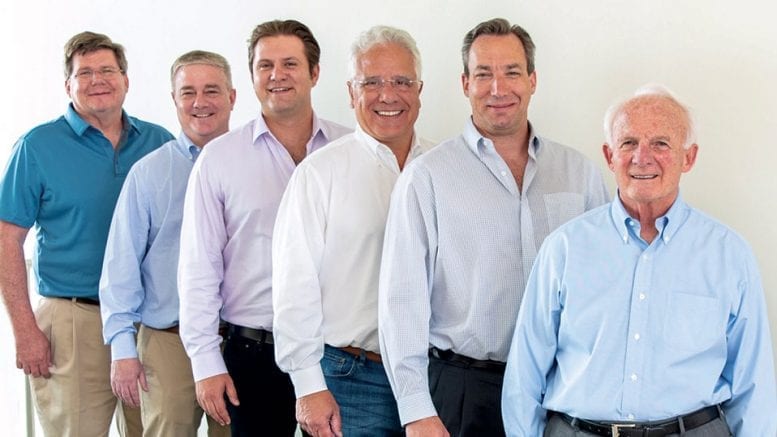 J. M. Procacci, chief executive of Procacci Holdings, thinks terminal markets are the future for wholesaling. "Fifteen years ago, one of my dearest friends told me every year there are 7% less trucks on the road," he says. "You compound that, and there are probably half of the trucks available now than there were then. Terminal markets will provide services where it's hard for smaller wholesalers or retailers not connected to a terminal to get less-than-truckload service — whether pickup or delivery."
Vena witnesses change and opportunity. "In a terminal market like ours, the biggest challenge is the evolution of the business model regarding sourcing and distribution," he says. "Terminal markets have to work extra hard to stay relevant. PWPM has an advantage because of our facility, but there's still a lot we have to do to maintain the business with our customers. Our challenge is to determine how we move forward as a market, paying homage to the evolution of business and maintaining our atmosphere to encourage new business."
Procacci says the continued squeeze in transportation, including a shortage of drivers and trucks, along with the challenge of the new regulations, will result in terminal markets providing services to alleviate transportation issues. "Because of this and the value we see our market location providing our customers, we decided to expand on the market," he says. "In early Spring 2019, our PWPM division merged with A. Vasallo, increasing from three units to four. Their crew is now working under our Garden State operation."
The company separated the PWPM entity from its other divisions by rebranding it Garden State Farms (GSF). "We reignited the GSF brand to make it easier for our customers to distinguish between our various divisions," says Procacci. "This move aids us in continuing to ensure freshness and timely delivery on a daily basis. It emphasizes our belief in the value of the terminal market model for the future."
MARKET RELEVANCE
The PWPM celebrated its eighth birthday this past June with a bright outlook. "We continue looking for innovative ways to meet our customers' needs," says Mark Smith, PWPM general manager. "As a whole, we've redoubled our efforts to achieve efficiency and safety for our customers, employees and produce. We've hired new staff and vendors who are taking a fresh approach on how best to perfect the buying experience for our new and existing customers."
Despite doubters and some initial moving pains, market merchants report increasingly positive results. John Hickey, managing partner at Coosemans, notes his business has doubled over the past 2 years.
Stephen Secamiglio, owner/sales at Colonial Produce, reports the company has grown during the seven years it's been in business. "Why?" he says. "Because we have integrity; we treat the growers well; and we work closely with our customers — so they're satisfied."
E.W. Kean has experienced many benefits since moving to the new PWPM facility, according to Jessica Kean, marketing and sales. "The new market allows us to easily maintain the cold chain, which is paramount for food safety, quality control and increased shelf life," she says. "Additionally, the layout and design of PWPM is outstanding — it helps make us more efficient in everything we do and in turn, it gives our customers an overall better experience."
Customers and shippers alike benefit from PWPM's state-of-the-art facility. "It's fully food safety compliant, enclosed and temp controlled," says George Binck, chief operations officer of Procacci Holdings and PWPM chairman of the board. "It makes for the best product experience coming in and out."
The Market's larger footprint also facilitates in-and-out for shippers and customers. "This is another huge advantage with the encroaching transportation issues and driver log times," says Binck. "Drivers aren't running out hours waiting in line to unload or get into the Market. Increasingly in the future, the Market will be a holding place to facilitate product so people can turn it around and get it into the Northeast markets. We call this 'third base to home'."
Smith notes the PWPM's 224 dock doors make for efficient loading and unloading for truckers. "When a shipper's cargo is perishable, timing is everything," he says.
COLD BENEFITS
The facility also allows customers room to stage within refrigeration. "Customers don't feel pressured to get stuff on the truck," says Rick Milavsky, president at BRS. "They have more opportunity to pick and choose what they want as they go along because they have more room to work."
Milavsky notes the forecasted refrigeration benefits of the new market have been realized for the past eight years. "We expected it, but we and our customers are seeing it for sure," he says. "Product comes off the truck cold, stays cold and goes out cold. It lasts a lot longer, so you have less spoilage."
Because PWPM's "mall" is enclosed, it creates much more of a food-safe environment with a better shelf life for product, according to Filindo Colace, vice president operations for Ryeco. "You can't argue the fact if you're loading on an outside terminal market in 90-degree weather, you're losing shelf life," he says. "As we educate our customers, they understand how we can be more valuable because of increased shelf life, meaning reduced shrink, which ultimately means more profit."
As concern over food safety continues to mount, buyers look to PWPM for this too. "Food safety is enforced, especially by top customers," says RJ Durante, sales and director of food safety at Nardella. "The days of selling off the back of a truck are slowly slipping away."
Todd Penza, salesman with Pinto Brothers, agrees that maintaining the cold chain and food safety issues continue to increase in importance to customers. "Customers are demanding the highest standards, and our facility allows us to offer those to them."
Food safety certification will only increase in importance in the future. "There are a lot of customers, especially in foodservice, who aren't allowed to buy from other facilities or markets because of food safety concerns," Procacci says.
The cold chain integrity and cleanliness of PWPM's facility becomes more relevant with each day, says Frank McDonald, sales at Nardella. "Years ago, requirements may not have been as strict, but now everything is inspected and big buyers are stringent," he says. "It's about knowing what we're getting, how it's handled, and what we're giving to the customer."
CUSTOMER CHANGES
PWPM's customer base remains steady yet diverse. "Our current customer base is comprised of wholesalers, retailers, independent chain stores, big box stores, foodservice distributors, as well as corner stores and bodegas," says Mark Levin, chief executive of M. Levin and Company. "Over the past 10 years, we have seen an increase in the number of customers who shop daily for their corner stores and bodegas."
NAPCO owner John DiFeliciantonio says the customer base is different than decades ago, owing to consolidation of bigger chains. "This means less buyers on that level in general, but there are more people in the market from different parts of the world," he says. "There is also more electronic communication day in and day out, so more delivery services are required."
Technology and communication developments have affected the dynamic of how some customers shop. "More customers are ordering via phone, email or text and getting it delivered to their store or warehouse," says Hickey.
John Collotti, sales manager for Collotti & Sons, emphasizes the need for solid relationships. "With customers coming in less and added deliveries — the relationship is more important than ever," he says. "Customers must trust the relationship they've built with us — that we'll get them what they need and what we've promised."
Ultimately, emphasizes Dan Vena, sales with John Vena Inc. (JVI), it's about serving customers the way they want to be served, and not the way it was done 25 years ago. "For example, years ago most ethnic customers were happy to come buy and load their own product," he says. "But now in the changing landscape, we have to look at how we make ourselves and our product available to them. While we still have customers walking the floor at 3 a.m., we also have more customers calling us at 3 p.m. asking questions or ordering."
Levin adds, "In our age of social media, with text messaging and emails — we are constantly connected," he says. "In a way it's good, we're always available to our customers through these venues — but in a way it's also bad, there's less face-to-face with our customers."
Tom Kovacevich, general manager at T.M. Kovacevich (TMK), deems the company's strength is in understanding the market and competitive forces. "The typical retail buyer has more and more on their plate, and their ability to trust us to know their business is key to our success," he says. "This is where we get to prove our value in steering our customers down the right path with proper offerings for their specific clientele."
OPENING NEW AVENUES
Market forces stimulate new pathways of service for PWPM merchants. "Produce buyers are savvier and more educated than ever, and we do our best to keep up with trends in the industry, whether that means food safety certifications, faster and more efficient delivery, or value-added services," says PWPM's Smith. "However, we never lose sight of the fact that old-fashioned customer service never goes out of style."
John Vena reports the new facility has allowed him to do things that couldn't be done in the old market. "We have repacking and ripening facilities that require a higher food safety level," he says. "We've put in new software to manage purchase orders and bills of lading. We're better able to service the customer and make the order process more seamless."
Ripening represents another significant service area for some PWPM businesses. "Our company has been in the ripening business for 113 years," says Levin. "We ripen and distribute more than 35,000 cases of bananas per week. We have a team of ripening veterans with our company for 30 plus years, and we pride ourselves on our ability to ripen bananas to our customers' specifications."
Embracing technology allows for forward movement, and E.W. Kean has been working to leverage various technologies. "We're working on making the ordering process as streamlined as possible, and we eventually plan to offer the option to place orders on our website for customers that might prefer that," says Kean. "We're also hoping to expand delivery. We've always had a customer-centric approach to everything we do and think this is the next step in satisfying our clients."
Ryeco has implemented a warehouse management system (WMS). "We are working to barcode every area of our facility and track movements of all product in the computer to improve the speed of service to our customers," says Colace. "With so many different commodities and brands, it can be time-consuming for team members to find and get product. After our WMS is implemented, we will begin our e-commerce initiative to give customers the ability to order online."
New packaging choice and forward distribution are other areas of expansion. "Procacci is investing in a new bagger to move into more pouch-type options," says Maxwell. "We're listening to customer requests for more packaging possibilities. And, the transportation crunch has resulted in us doing more forward distribution for our partner-shippers."
Procacci notes the company is also excited about developments at its storage business NANCO. "In the near future, we'll be upgrading our packing and repacking facilities and putting in all new machinery and lines," he says.