Originally printed in the September 2020 issue of Produce Business.
Wisconsin distinguishes itself as the third-largest potato-producing state.
Wisconsin potatoes stand out, which makes retailers' job of selling them to hungry consumers less of a challenge and more of a labor of love.
While the coming of COVID-19 has undoubtedly had a marked and lasting impact on the business, those behind this state's respected tubers continue to delight consumers with new varieties, value-added products and exciting merchandising and marketing.
Wisconsin is the third-largest potato-producing state in the nation, and the largest supplier east of the Mississippi. Thanks to the state's geographic location, growers are able to provide quality product in a short amount of time and with a lower carbon footprint. Its potatoes generally flow east and south, which is where most of the customer base is. In fact, more product is said to be migrating west each year.
Wisconsin potatoes are distinguished from varieties grown elsewhere. "Solanum Tuberosum is the same species everywhere on the planet earth," Dick Okray, co-owner and president of Okray Family Farms in Plover, WI, points out. "Saying that a Red, Yellow, Russet or Fingerling is not is disingenuous. It is akin to trying to drive a wedge between the varied homo sapiens of the world. We may look different, but all of us are more alike than different. Having said that, Wisconsin potatoes taste better because, in most cases, they are fresher as they have travelled less distance."
Indeed, growers and marketers from the state claim that Wisconsin Russets, Reds and Whites tend to have lower specific gravities. Which means more water and the characteristics of making a creamier potato for the consumer.
TRACKING SUCCESS
According to IRI's Topline Potato Monthly Scorecard for the 52-week period ending August 9, 2020:
• Potatoes have continued to see a spike in growth supported by both commodity and small potato segment growth driven by an increase in demand, but this growth has slowed as the summer has worn on.
• Dollar gains are far outpacing volume gains for potatoes, with average retail price/lb. increases of 9% for commodity potatoes in the latest 12 weeks.
• Small potatoes were up 19.4% in dollars in the past year, with trends accelerating in recent periods as growth accelerates.
• Organics have seen a spike in growth in recent periods due to the COVID-19 pandemic, primarily driven by small potato organic gains of +14.1% in the past year.
• Most packaging types have seen accelerated growth in recent periods, with bag and bulk leading the segment. Micro trays are seeing relatively flat growth of late.
The industry is still waiting to see how long it will take for the foodservice sector to rebound from the pandemic, notes Rachel Atkinson-Leach, brand and category manager for RPE Inc. in Bancroft, WI, "as that will affect the total supply available in the U.S." Another factor is a major new customer for the fresh potato segment, the USDA. "This new outlet may affect movement to traditional retail channels. Regardless of the outcome, demand and pricing will remain strong throughout the 2020 crop season."
Size profiles within the Russet category are on track to be bigger than it has in the past two years, creating an opportunity on the 5-pound baker potatoes. However, it may limit 10-pound availability at times.
'SHIFTED SIGNIFICANTLY'
To no one's surprise, sales trends "shifted significantly for retail and foodservice when COVID-19 became more prevalent in the United States," notes Dana Rady, director of promotion, communication and consumer education for the Wisconsin Potato & Vegetable Growers Association (WPVGA) in Antigo, WI. "When people found themselves forced to stay at home for a period of time, potatoes of all colors and package sizes flew off the shelves to the point that retail stores struggled to keep them regularly stocked. Wisconsin shippers found themselves shipping at higher levels in that time than they had in the past. Additionally, when the restaurants closed down, the processing companies found themselves with excess product."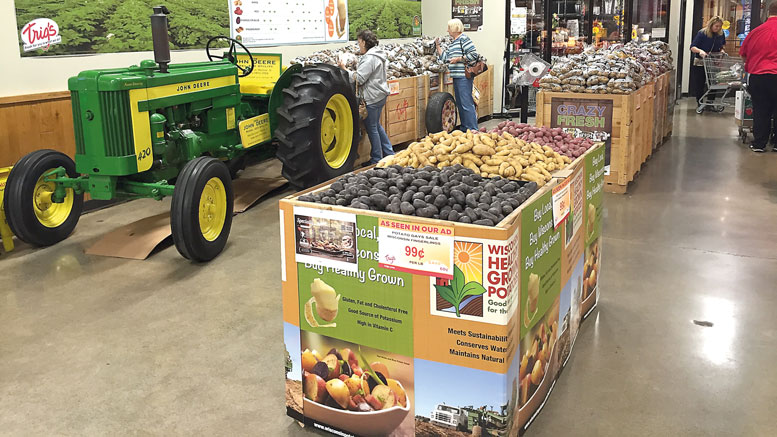 One of the most successful displays pointed out by WPVGA's Rady is at Rhinelander, WI-based Trig's, which incorporated a "something potato" into every department. "This took displays to new levels and truly raised the bar on creativity in reaching consumers in new ways," says Rady.
PHOTOS COURTESY OF WISCONSIN POTATO AND VEGETABLE GROWERS ASSOCIATION
Consequently, they directed some of that product to the fresh market, which ended up helping some Wisconsin growers lengthen their crop after increasing their shipments at the beginning of the pandemic. When the restaurants began opening back up, Rady continues, "they pulled some of that product back from the fresh market, which prevented that sector from becoming over-saturated with supply. All in all, potato sales at retail skyrocketed to unprecedented amounts at the onset of the pandemic and remained high even as restaurants began opening back up."
COVID-19 "has changed everything, including consumers' behaviors," agrees Mike Carter, CEO of Bushmans' Inc. in Rosholt, WI. "We have seen a huge swing toward the retail market and a softening of the foodservice market, as consumers are eating at home more. This means our challenge is to help consumers who haven't consistently cooked at home re-learn how to use potatoes in nutritious and interesting dishes."
"The proximity to market and the desire for locally-grown produce is a huge advantage for Wisconsin suppliers."

— Mike Carter, Bushmans' Inc.
In the wake of the pandemic there has been a greater need to meet consumers on "an emotional and empathic level," suggests Christine Lindner, marketing manager for Alsum Farms & Produce Inc. in Friesland, WI. "It's important to speak to the consumers' emotional connection to how potatoes are good for them and their families and are a great value to stretch a family's food budget. Potatoes are a nutritious staple that builds our immune systems and are packed full of vitamins and minerals. The storability and versatility of fresh potatoes lends itself as a go-to staple for the home cooks to bring together delicious and nutritious meals for their family."
According to Lindner, with COVID-19, the large majority of potatoes moving through the retail channel to grocery stores are 5- and 10-pound bags, as most consumers prefer picking up a bag or two rather than hand-picking bulk potatoes. "Plus," says Lindner, "consumers prefer that others are not touching their food within the produce aisle."
The pandemic has also accelerated online grocery shopping. According to Kantar Research, 75% percent of consumers plan to continue using curbside pickup with a permanent increase, "and the use of online grocery shopping is here to stay for the long term."
Starting in mid-to-late March, Alsum was washing, packing and shipping high volume to its retail partners and could not keep up with the demand. In April, Lindner says, demand continued to be above last year's levels. It stabilized in the summer "and has been nearly turn-key. Overall, we've been fortunate, as a majority of our potato customers are retailers and supermarkets. In this time, we have seen consumers adapting by consolidating to one trip per week to their local grocery store to pick up a bag or two of potatoes as a staple in their pantries."
Okray agrees that the COVID-19 pandemic "has changed sales points dramatically. More USDA food boxes are evolving how people receive spuds." He is confident that "within a year things will settle down and resume some sense of normalcy."
VARIETIES, VALUE-ADDED AND MORE
Other changes taking place in the Wisconsin potato market are significant, if less traumatic. For example:
New varieties: RPE is introducing a new proprietary potato variety this fall, the RPE Golden Red. The process started 12 years ago, according to Atkinson-Leach. "Trials take years to bring a new variety to the market. Compared to common Red potatoes, these have a vibrant red skin with a rich yellow interior and a sweet creamy taste. We expect to have 50 loads available this fall. We are very optimistic on a few new Russet varieties."
Each growing season, Alsum Farms trials new potato varieties based on attributes that grow best in its local soil. The company works closely with the University of Wisconsin to test and identify new potato varieties that grow a quality fresh market potato that yields well and is found desirable by consumers. This year, it planted four new Russet potato varieties.
Value-Added: Grower/packer/shippers are responding to the changing consumer taste and preference since COVID-19, says Lindner, by offering value-added potato products to provide the consumer with ready-to-serve healthy potato offerings and meet the growing trends for fresh foods that are fast and flavorful. "Convenience is still key, as consumers prepare for back-to-school whether it's in-person, virtually at home or a hybrid. All demand parents' time, and (they) will look to healthy meal solutions for their families."
"It's important to speak to the consumers' emotional connection to how potatoes are good for them and their families and are a great value to stretch a family's food budget."

— Christine Lindner, Alsum Farms & Produce
Marketing: As an association, WPVGA's Rady explains, "our focus is on featuring the growers who supply the product as well as the nutritional benefits Wisconsin potatoes provide. We have found that featuring prepared potato dishes helps to show consumers all the creative and healthy ways to prepare potatoes at home. We also love seeing retail stores get creative in their displays."
One of the most successful displays Rady says she has seen was in Rhinelander, WI, when Trig's incorporated a "something potato" into every department. "They not only showcased potatoes in the produce department, but also in the bakery with potato breads and cakes, in the deli with a loaded baked potato bar, and in the liquor department with potato vodka. This took displays to new levels and truly raised the bar on creativity in reaching consumers in new ways."
Local: Bushmans' believes the local movement is a "significant factor" in consumers' minds as they make purchasing decisions. "We have seen a large boost in interest in our products closer to home. This results in a fresher product with less of a carbon footprint, which is clearly something consumers appreciate. The proximity to market and the desire for locally grown produce is a huge advantage for Wisconsin suppliers."
Pricing: The potato market for the Bakers, Reds and Golds this summer has stabilized. Wisconsin has come on in early August at competitive prices that allowed retailers to run promotions on new crop potatoes during the latter half of the summer months and into fall.
Recipes: According to WPVGA's Rady, are incorporating recipes into their delis and prepared foods sections to help make it easier for consumers to grab a healthy meal on the go that incorporates nutritious and delicious potatoes. Also, retail dieticians are helping to influence consumers by sampling healthy potato recipes in-store (pending the retailer's sampling policy due to COVID) and sharing information about the health and nutrition benefits of potatoes.