Changing demographics influence produce.
There is an evolving South — if not a new South — showing itself in new types of retail outlets and in the appearance of new varieties in the produce departments of the traditional outlets. Today in many southern produce departments you will find, just a few feet away from the Muscadine grapes, boiled green peanuts and sweet potatoes, ample displays of Jalapeno peppers and Malanga roots.
No change is more visible in parts of this evolving region as the emergence of a large and growing Hispanic population. "The Hispanic population has
grown," says Stan Ahl, senior merchandising manager for C&S Wholesale Grocers, which acquired the South Carolina Piggly Wiggly stores in 2014. "They have either migrated to the stores here, or they have specialty stores." Piggly Wiggly is a century-old chain with more than 600 stores throughout the South and extending north to Ohio and Minnesota.
Still Southern After All These Years
The South may be changing, but it is still a region with long-held culinary tastes that produce retailers serve. "Collard greens are huge," says Ahl. "We have green peanuts; you harvest them green and boil them. We grow and eat quite a few Muscadine grapes; they are part of the culture. Sweet potatoes are a big item. What we do is the same as the other regions of the country, but we have quite a few products that are unique to the South. Those are all seasonal, except for collards, which we sell 12 months of the year. Around Thanksgiving, we would be getting collards by the pallet." Piggly Wiggly has remained a localized chain, and may be better positioned than the national supermarkets to offer these regional produce items.
"We're still a Southern retailer," says Ahl. "The Wal-Marts of the world don't understand Muscadine grapes or other similar items. Muscadine is a big summer item." Piggly Wiggly is just one of the chains that remained a Southern retail operation as the establishment grew.
"I know of retailers in Florida or Texas that started in those states, and cater to the people in those states," says Brett Bergmann, president of Branch: A Family of Farms, which was formerly Hugh H. Branch, Inc. of South Bay, FL. "Some chains are based and operated from the South, and independently owned."
Many consumers in the South also look to buy local produce, both to support the local farmers and to get regional items. "Produce sales are driven by quality and origin now," says Kaylyn Bender, manager of marketing at Market Fresh Produce, Nixa, MO. "Today's consumer is looking for local or regional products that support their local areas." There is a strong desire in much of the South to support the important agricultural sector of the regional economy. "With this part of the country being a large provider of produce as well, local consumers are helping drive the produce industry by looking for and purchasing local and regional product in support of their growers," says Bender. "All retailers can takeaway that local and regional products will help drive your market but don't forget to always keep your quality. A key element of any product is being able to rely on consistent, good quality every time."
---
"Produce sales are driven by quality and origin now. Today's consumer is looking for local or regional products that support their local areas."
— Kaylyn Bender, Market Fresh Produce
---
Trendier produce tastes have also reached the South, but are maybe not as strong as in, say, Northern California. "Potatoes are still a strong category, tomatoes are right up there with them and these two categories alone represent close to 15 percent or more of our sales," says Mike Roberts, produce merchandiser at Harp's Food Stores Inc., which is a Springdale, AR-based chain throughout Arkansas, Missouri and Oklahoma. "Bananas, salads, berries and citrus sell well also, and we are seeing a rise in our organic and local sales."
Another characteristic of the region is that produce, on average, accounts for a smaller share of total supermarket sales than in some other regions. "Average distribution of produce sales to total store sales in our trade area is around 6.5 percent to 8.5 percent depending on the time of year, so I believe it is less than what you would find on the East and West Coasts," says Roberts.
The Evolving South
Changing demographics led to the emergence of stores that cater to particular ethnic groups in much of the South, as in many other areas of the country. "The number of new store formats that are entering into already saturated markets amazes me," says Bender. "This clearly supports the point that customers are looking for more out of their shopping experience. While the additional formats meet the customers' needs, the fact remains there is a finite amount of products to purchase, so with the additional competition comes reduction in prices and profit margins." Market Fresh is a produce packer-shipper with special emphasis on sweet potatoes, tomatoes, onions, potatoes, peppers and avocados.
"Collard greens are still important, and if a retailer has Hispanic customers, they'll have Malanga root and some yuca," says Bergmann from Branch. "The Southern retailers market to the ethnic mix of the region. There is a heavy Mexican and Cuban population. They focus on some of the micro-markets. The biggest trend in the population has already taken place, and that is the increase in the number of Hispanics. The mobile and ever-changing landscape of the overall population makes produce retailing more challenging. The produce items would be whatever their market might demand."
Branch sources and ships nearly 20 vegetable varieties from enough growing areas to offer year-round supply, and the company is one of the largest distributors of sweet corn in the country.
As in most of the country, Thanksgiving, Christmas, Easter, Memorial Day, Fourth of July, and Labor Day were joined in the South as holidays with culinary traditions of the holiday on May 5.
"Cinco de Mayo has become likened to celebrations on Memorial Day, Easter, or the Fourth of July," says Bergmann. "Whether you're in Texas, Florida, or New York, you'll see Cinco de Mayo ads. It's a big time for sweet corn as well as avocados and tomatoes."
To a certain extent, the region's population reflects the shift of the nation's shrinking industrial base from the Midwest to the South.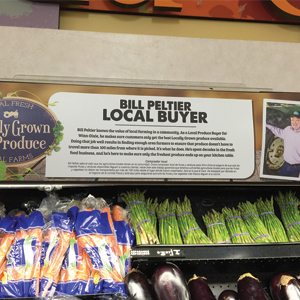 "The South is getting more large industry, but not enough to change the population," says Ahl of C&S Wholesale Grocers. Along with demographic changes, Southern retailers are navigating challenges that come with the changing generational tastes and habits.
"Definitely the demands of Baby Boomers and the Millennial generation make produce retailing more challenging," says Roberts from Harp's Food Stores. "Trying to cater to both can be challenging; the Baby Boomer generation is still looking for traditional items and lower prices, while the Millennial generation is wanting more information and more ready-to-eat or prepared items."
Harp's Food is a medium-sized regional chain, with 72 stores in Oklahoma, Arkansas, and Missouri. "We offer an everyday-low-pricing structure that makes us competitive in our market," says Roberts. "We may not have the lowest ad offerings, but we offer the overall lowest price we can every day on items. We also offer more customer service and usually more variety than our big-box-store competition."
The influence of the Millennials and Boomers is seen in the emergence of natural foods outlets more commonly associated with the coasts.
"Companies such as Fresh Market and Whole Foods Market are starting to infiltrate our trade area," says Roberts. "While being in Wal-Mart's back yard, we are located or based out of Springdale, AR. We are not seeing a real influx of independent niche competitors."
Younger shoppers are not only looking for different produce items, they are also going to the store more frequently and making smaller, more convenient purchases.
"Today's Millennials are not making the typical weekly shopping trip," says Bender from Market Fresh. "They tend to make more daily trips to stores and create more diverse dishes that call for ingredients outside of the basic ingredients their parents purchased at the same grocery each week. This trend alone creates a challenge to find innovative ways to market our products. Also, the convenience of goods is becoming more necessary from fast food to store-bought items. This requires more time and money to package convenience products, so finding a balance is a big task at hand."
As the region's demographic changes, and the tastes of new generations make their mark, mainstream retailers try to keep pace in their produce departments.
With more than 1,100 stores in Florida, Georgia, Alabama, North and South Carolina, and Tennessee, Florida-based Publix is the largest employee-owned retailer in the country. The company maintains its position in the face of shifting competition by building much of its business model on offering quality service by workers who have a share in the company.
"Competition in our sector is always popping up from farmers markets to independents," says Maria Brous, director of media and community relations at Publix Super Markets, Inc., Lakeland, FL. "Regardless of the competitor, we stay focused on offering our customers stellar customer service, and high-quality products at competitive prices."
New World Produce Order
Produce retailers in the evolving South, as elsewhere, face both new opportunities and new challenges that come with the "New World Produce Order."
"There is more competition coming from independent stores that cater to specific ethnic tastes, and also from Amazon," says Bergmann of Branch.
While online shopping is an option for many stores in the South, it seems to have not gotten much of a foothold in the region. "We really have not seen any impact from Internet sales in our trade area at this time," says Roberts of Harp's Food Stores. "There is only one operation like this in our trade area." There may be a stronger regional preference in the South for face-to-face interactions with familiar staff as an indispensable part of buying produce.
"We tried online delivery service in the early 2000s," says Brous. "And while we had raving fans with PublixDirect, we also heard our customers say they still preferred to come into our stores and visit with our associates, their neighbors and complete their daily/weekly shopping. Our customer service is a differentiator. Associate ownership makes us unique. Our associates have skin in the game. They want to protect and promote what's theirs."
The "New World Produce Order" also, however, gives retailers ever greater ease in sourcing items desired by a changing consumer base.
"If a retailer has a population that wants mangos, they'll find them," says Bergmann. "So much of it is a world economy." It is also an ever-smaller world as retailers see the advantage in looking around the country to see what is working elsewhere. "The retailers are all so competitive; they travel and see what other people are doing," says Bergmann.