Is your store making the most of its mango potential?
Originally printed in the February 2023 issue of Produce Business.
Mexican mangos come in red, green and yellow, and they taste as spectacular as a rainbow looks. Their flavor is sweet, delicious and wildly satisfying. As Mexican mangos have grown in popularity, they've shifted from exotic fruit status, to tropical fruit status, to the mainstream fruit category.
"Mangos are the most popular fruit in the world," says Tammy Wiard, retail manager for the National Mango Board (NMB) in Orlando, FL. "Retailers can continue to build their sales by carrying multiple varieties and sizes."
The National Mango Board says the total volume of fresh mango exported from Mexico to the United States has increased from 123 million boxes (4kg size) in 2019 to 139 million boxes in 2021.
"Mangos sell fantastic — they have been increasing year over year for the last several years," says Chris Ciruli, chief operating officer of Ciruli Brothers LLC in Nogales, AZ. "And we see no reason for that growth to stop. As the trend of the U.S. moves into more Hispanic and Asian, we continue to grow in popularity as a fruit category."
Ciruli Brothers imports 4 to 5 million cases of Mexican mangos per year. Ciruli says in the last 15 years, average mango consumption in the U.S. has increased from under 1 pound to over 3.3 pounds per person.
The U.S. Department of Agriculture reports 65% of U.S. mangos are imported from Mexico. The majority are Tommy Atkins, Kent, and Ataulfo varieties, according to the NMB. Ataulfos (also called Honeys or Champagnes) have a sweet, creamy flavor. They're small, yellow, kidney-shaped, and firm with no fibers. Tommy Atkins (red), Hadens (red), Kents (red blush) and Keitts (green with a red blush) are larger, and round.
"You can have Tommys for quite a long time because there are so many trees in Mexico. Tommys are full of fiber, which is just a trait of theirs," says Cindy Schwing, vice president of marketing for Splendid by Porvenir LLC in Nogales, AZ.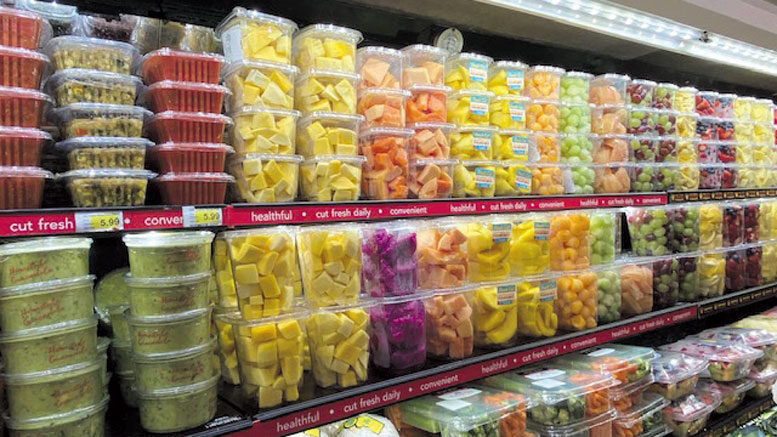 "The Kents and Keitts are the most known to consumers. The quality is always great, they are really sweet, very delicious," says Denise Gomez, marketing lead at J&C Tropicals in Miami, FL.
Mango harvest in Mexico extends from January to early October. It starts in the southern states of Chiapas and Oaxaca, moves north along the west coast through Guerrero, Michoacan, Jalisco, Nayarit, and ends in Sinaloa.
"I start in the first or second week in February," says Jerry Garcia, vice president of London Fruit Inc. in Pharr, TX. "It could be mid-January, but I wait for good mature fruit. I can go all the way through September because I buy from different states in Mexico."
Two to four mango varieties grow in each state. Honeys ship from January to August, Tommy Atkins from February to July, and Kents and Keitts come to market from spring/summer to fall. That's why retailers can offer mangos for so many months of the year.
Specialty varieties of mango, and those grown in the southern part of Mexico, need to be treated to kill fruit flies before they are exported to the U.S. "Irradiation, hot water or hot air can be used. All work," says Ciruli. Some grocers do not carry irradiated mangos because of consumer feelings about that process.
FLAVOR AND PRESENTATION
NMB's Wiard recommends retailers keep mangos in a highly visible area in the produce section. "Mangos are a mainstream fruit and need a permanent home where consumers can consistently find them."
Mangos are ready to eat when they are soft to the touch and have a nice aroma. It's important the fruit be displayed at the right time by produce managers — not when they are green, but when they are almost ready for consumption.
"You want to buy the mango and put it out when it is almost ripe, so consumers have a good experience and they'll come back for more," says Garcia.
"Some produce managers will stick them in the cooler, and I let them know it takes away a lot of flavor. Mangos ripen best at room temperature," says Tommy Melton, produce supervisor for G.E. Foodland in Carrollton, TX. Melton manages four Foodland stores and five Elrod's Cost Plus Supermarkets.
Mangos can be sold sliced and diced, with an agent added to stabilize the fresh-cut product.
"Across the board, with a lot of sliced and diced product, you see a wide range in flavor. There is something to be gained when you perfect that flavor. You will probably see improvement., because sliced is growing at a faster pace than whole mangos," says Ciruli.
Retailers can position Mexican mangos as a flavorful frozen delight, a delicious topping, a unique baked good ingredient, and other tropical uses.
"For cereal, try mangos — they are different than bananas. Just like you can make a peach pie, you can make a mango pie. It is a versatile piece of fruit. There is nothing you can't do with it," says Ronnie Cohen, principal at Vision Import Group LLC in Hackensack, NJ.
"The flavor profile is expanding — when you go into some of the stores and see the coverage throughout — in whole product, fresh-cut, the waters (aquas frescas) retailers make from it, and even how it's being incorporated into dishes in the deli department, it's exciting!" says Schwing.
CROSS-PROMOTION AND MERCHANDISING
Mexican mangos can be easily cross-promoted. They mix well with avocados, pineapples, spoon fruit. They partner with limes, lemons and melons.
"They can be cross-promoted with anything that is tropical. We list recipes with mangos and papaya, dragonfruit, passion fruit — with that combination you can make a drink, a salad," says Gomez of J&C Tropicals.
Mangos are an ingredient in margaritas and Mangonadas (a Mexican drink). They can be a jam, smoothie or chowder ingredient. Many retailers incorporate Tajin and Chamoy in their mango displays, as consumers enjoy pairing the fruit with spice or sauce. Chicken and fish work with mango, too.
"You can add mango to ceviche. Or make a salsa to go with fish. Seafood in general pairs very well with mangos. Combine onions, mangos, peppers and tomatoes to add flavor and bring out the flavor," says Schwing.
To assist retailers with consumer engagement, the NMB provides inserts, videos and messaging. Its bright display bins, some of which include the tag line "Grill. Dice. Blend. Spice," help boost store sales of Mexican mangos. "Our retailers have seen an aggregate lift of over 40% when using the NMB-provided in-store bins," says Wiard.
"Having promotions like Cinco de Mayo, promoting multiple varieties instead of one, having retailer displays playing along with all the holidays — all help with merchandising," says Maria Cavazos, manager at MC Produce Inc. in Montreal, Quebec.
Retailers can also promote the nutritional benefits of mangos. The current Dietary Guidelines for Americans recommends consuming 1.5 to 2.5 cups of fruit per day. At just 70 calories, a 3/4 cup serving of sliced mango provides 50% of daily Vitamin C. Mexican mangos also contain fiber, Vitamin A, Vitamin B6 and other to support immune function.
Mixing mango varieties on the produce shelf adds pops of color and builds interest.
"Because the Honeys do look different than the red and green mangos, sometimes there may be a reluctance to try the Honeys, so we encourage our retail partners to mix the Ataulfos/Honeys with the display of round mangos," says Wiard.
PRICING OF MEXICAN MANGOS
Mango pricing is by item. Common prices are $1 to $1.75 per item, two for $3. During peak season when volume is high, retailers tend to run sales on mangos.
"When mangos are in their prime and flooding the market in May, June and July, you get the best prices at the store level. A lot of chain stores are running mangos on ad at that time," says Schwing.
"I like to promote them, and don't need to make a lot of money on them, because they are a draw. Customers will come in to buy Mexican mangos, and then buy other things to go with them," says Melton of G.E. Foodland.
Prices of Mexican mangos vary depending on the size of the fruit and the variety. Ads can be in-store or online.
"Some of the bigger retailers do the online ads — big and small pieces of fruit at the same time. Is not uncommon now for some stores to carry up to four varieties at a time, with multiple pricing schemes," says Ciruli of Ciruli Brothers.
"Ataulfos (Honeys) have a smaller supplier and more of a niche variety when compared to Tommy/Kent/Keitt/Haden, so they also are much higher in price," says Matt Matalucci, East Coast sales manager for Amazon Produce Network LLC in Vineland, NJ.
DISPLAYS BOOST SALES
Retail displays can tune in to consumers, particularly younger ones, by adding QR codes that can be scanned with cell phones. With the QR code, shoppers can learn how to cut mangos, store mangos, cook with mangos. One unique idea is to grill mango cheeks on the barbecue, which caramelizes the fruit and brings out the sweetness.
Large, colorful displays can draw store customers toward Mexican mangos.
"We see people build extremely large endcaps. If you build an overwhelming display with beautiful colors, it encourages people to put mangos in their shopping cart," says Ciruli.
G.E. Foodland did so, and competed in the nationwide Mango Mania Display Contests. The retail chain won prizes for both its large and small stores. Melton says the display themes and cartoon characters were the brainchild of the company's marketing manager.
Elaborate displays make a splash, and so do fruit-oriented displays.
"Positioning has so much to do with increasing sales of mangos. I love seeing them displayed with avocados. Or with pineapples in the middle of a display surrounded by mangos — now that is beautiful," says Schwing of Splendid by Porvenir.