Get Ready for the Big Game With Some Big Time Produce Promotions.
Originally printed in the December 2022 issue of Produce Business.
It's a bird, it's a plane, it's the Super Bowl! On Feb. 12, 2023, two NFL teams will clash at State Farm Stadium in Glendale, AZ. While 63,000 fans jam the stadium (home to NFL's Arizona Cardinals), another 100 million will watch on TV. They'll cheer their favorite teams, and feast on their favorite foods.
That's why the Super Bowl is a huge grocery holiday. Across the nation, retailers will see an increase in foot traffic and grocery spending. Statista reports $14.6 billion of consumer spending on the Super Bowl in 2022, with 79% of that spent on food and beverages.
FIRST AND TEN: PRODUCT TIE-INS
On Super Bowl Sunday, retailers can get an automatic first down by pulling together a team of fruits, dips and vegetables. Barbecue or taco toppings can include lettuce, tomato and onion, as well as jalapeno, avocado, dressings and dips. Both the traditional and the original are welcome on Super Bowl Sunday.
"Consumers can use our ¡Yo Quiero! queso to dip chips, and wings, or top their burgers; our salsa and bean dips can be used for dipping or topping; and our guacamole/avocado items are perfect for veggies, chips and brisket tacos," says Jay Alley, owner and vice president of sales for Fresh Innovations, LLC/Yo Quiero! Brands in Rhome, TX. Its small-batch products include Classic Guacamole and Red Salsa.
Fresh fruits can play a star role. Since the 2023 Big Game falls two days before Valentine's Day, party hosts can add a platter of long-stem strawberries and a bowl of powdered sugar.
"For Super Bowl parties, we'd circle the berries up with the stem on them so they could be dipped nicely in the powdered sugar," says Kristen Hitchcock, CFO and director of finance and business development at Parkesdale Farms in Dover, FL. Sliced strawberries with sliced pound cake and whipped cream are another sweet option.
SPECIAL TEAMS: HEALTHY EATING
For smart retailers, a plethora of produce items enter the lineup for Super Bowl Sunday.
"There are few (if any) other foods that can combine great taste, nutrition (good fats and nearly 20 vitamins and minerals) and fun times like avocados do," says Stephanie Bazan, vice president of shopper and trade marketing for Avocados From Mexico in Irving, TX. She suggests merchandising avocados with companion items like tomatoes, onions, lemons, limes and chips.
"Guacamole is a definite hit. Combined with other fresh veggies, it's a healthy and indulgent appetizer," says Peter Shore, vice president of product management at Calavo Growers Inc. in Santa Paula, CA.
Pistachios are healthy, too — their high antioxidant capacity rivals blueberries, pomegranates, cherries, beets and red wine.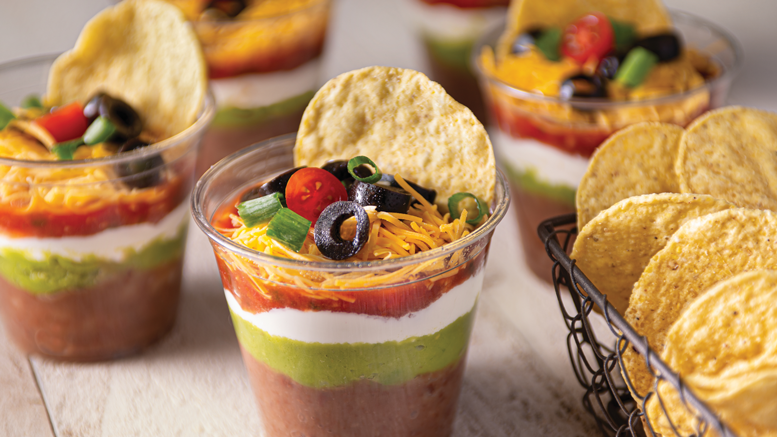 "Pistachios are also a complete protein because they contain all nine essential amino acids that our bodies need, but don't naturally produce," says Joseph Setton, executive vice president of Setton Farms in Terra Bella, CA. Its Seasoned Pistachio Kernels have no shells, contain no oil, and are plant-based. Varieties include buffalo wing, scorpion pepper, salt and pepper, jalapeno and garlic onion.
Vitamin-rich vegetables have been the favorite Super Bowl food for the past 30 years, per the independent research firm NPD. "Food trends for the Super Bowl in 2023 should be similar," says David Bright, vice president of marketing at Grimmway/Cal-Organic in Bakersfield, CA. "Fresh fruit and vegetables enliven any table with color and texture that cannot be found in other foods."
THE BLITZ: BIG WINNERS IN PRODUCE
The Super Bowl is the No. 1 occasion for serving delicious avocados and guacamole. Retailers should be aware of this "green wave" — and prepared to ride it.
"Leading up to the Big Game, shoppers spend two times more on groceries when avocados are in the basket. And, football fans made 1.6 times more shopping trips a year, compared to the average avocado shopper," says Bazan.
Pistachios also make a surge: The week leading up to the Big Game is the largest retail volume sales week for Wonderful Pistachios.
"Our in-shell pistachios products, especially our larger pack-sizes, are perfect for those hosting Big Game watch parties," says Diana Salsa, associate vice president of marketing, Wonderful Pistachios in Los Angeles, CA. "On the flip side, our no shells are ideal for cooking and baking and are a great crunchy addition to tons of game day recipes."
Because of their convenience, vegetables are right at the line of scrimmage. "Bags of baby carrots, carrot chips, carrot sticks, vegetable trays, and cut fruit platters will be in high demand by hosts intent on keeping their crews well fed, while still being able to enjoy the game day festivities themselves," says Bright.
Retailers are advised to stock a wide selection of dips to go with the fresh vegetables. "Dippable produce that makes for easy game day snacking, like celery, carrots, cauliflower, tomatoes and sweet peppers, are often popular choices for Big Game entertaining, and a perfect pairing for Litehouse dressing," says Heidi Wieber, brand manager, Litehouse Inc. in Sandpoint, ID. Its new Garlic Ranch, as well as Southwest Ranch and Dilly Dip, are ideal.
LINE OF SCRIMMAGE: CLEVER MERCHANDISING
To put points on the board, retailers employ clever merchandising strategies: Super Bowl decorations, targeted shippers, fun contests.
Setton Farms has preloaded shippers that can hang from quarter pallet bins and existing fixtures. "Showcasing our Seasoned Kernels, Seasoned In-shell, Premium Blends, and Organic Pistachios (our most in-demand products) while using minimal to no floor space makes this display an extremely easy way for retailers to add more pistachios to their produce section," says Setton.
¡Yo Quiero! suggests a cold case in front of the store with dips, ground meat, chicken wings and pre-cut vegetables. "Just add some football decorations, maybe some paper products and other items, and the store will help the customers get all they need in one spot," says Alley of Fresh Innovations.
Retailers can garner consumer interest through celebrity contests, too. Avocados From Mexico has partnered with NFL legend Deion Sanders and entrepreneur Tracey Edmonds. The power couple will create guacamole recipes, and shoppers will vote for their favorite in the "Tasty Good vs. Good Fats Delish" showdown. There are weekly prizes and a $100,000 grand prize.
"As part of the program, we're encouraging retailers to display our attention-getting merchandise displays featuring the dynamic duo, and their delicious guac, to bring the program to customers and take in-store excitement to a new level," says Bazan of Avocados From Mexico.
Another option is for retailers to "fly the colors" in the produce aisle.
"Carrots can be an attention getting part of a Super Bowl display representing one of the five 'Orange' teams of the 32 teams in the league. Cal-Organic Farms Organic Rainbow Baby Carrot and Chips extend the available colors beyond orange to include yellow, purple, and white. Fresh produce offers a fantastic palette of colors to create a display with one side representing each team," says Bright of Grimmway /Cal-Organics.
ONSIDE KICK: GROWING IN-STORE FOOT TRAFFIC
Per Statista, the Super Bowl party host spent an average of $118 in 2022. Promotional pricing will continue to be a crucial part of shopping for the Big Game in 2023, especially in the face of inflation.
Leading up to the Big Game, stores across the nation, and particularly in Arizona, will likely see higher than normal foot traffic. "For the Super Bowl, we expect increased traffic across all categories in our stores, due to the number of visitors that will travel to Arizona," says Pam Giannonatti, corporate affairs manager for Fry's Food Stores in Tolleson, AZ.
Super Bowl shoppers are looking for recipes, party inspiration and fun ideas.
"Strategically tying retail promotions around key sales periods, like the Big Game, helps drive category growth and increase basket size," says Wieber of Litehouse. The "Litehouse in the House" campaign will use short-form video, podcast ads, and in-store signage to show how dressings and dips elevate any eating experience. It runs from the start of football season through Super Bowl 2023.
Wieber says retailers that promote with Litehouse see at least a 10% increase in sales the week before the Big Game.
"Advertisements and promotions always aid in consumer awareness. Multiple sizes, bags and organics with displays throughout store in nontraditional areas help. Having ripe fruit on display is a must for high volume ads," says Shore of Calavo.
Wonderful Pistachios offers retailers POS with blimp balloons and bright pistachio bags in a color block pattern. Its bins say "Tackle Snack Time" and incorporate football helmets and life-size field goals. "Retailers can increase in-store foot traffic by ordering our larger-than-life, football-themed bins that we know can more than double sales," says Salsa of Wonderful Pistachios.
SPIN MOVE: USE SOCIAL MEDIA FOR MARKETING
With the help of Instagram, Facebook and TikTok, producers and retailers can have a victory formation for Super Bowl Sunday. Setton Farms creates social media content that keeps pistachios top of mind as a super food. Grimmway Farms and Cal-Organic Farms feature recipes bursting with colorful, vibrant vegetables. These strategies drive consumers to shop for their desired snacks and ingredients.
"The Big Game is a key time period when consumers are looking for recipes, party inspiration and fun ideas," says Wieber. Its influencers feature Litehouse dressings, dips, spreads, cheese and freeze-dried herbs in recipes, and offer Super Bowl party planning tips.
Other companies team up with grocery stores. "Partnering with retailers to promote Wonderful Pistachios as the perfect 'big game snack' has also been an effective tool for driving awareness through their social media pages as well as sales through their e-commerce channels," says Salsa.
And there's another option: passing and rushing directly with an NFL team. "The partnership with the Dallas Cowboys allows us to co-brand our dip products with their marks and we utilize their social media and stadium signage to promote the Yo Quiero! brand," says Alley of Fresh Innovations.
TOUCHDOWN: CROSS MERCHANDISING
When it comes to the Super Bowl, cross-merchandising wins both touchdowns and extra points.
"Most consumers buy on impulse when shopping in-store, so displaying Wonderful Pistachios next to Wonderful Halos or Wonderful Pomegranates makes it easier for consumers to find healthy snack options all in one place," says Salsa.
Bright says baby carrots can be cross-merchandised with other cut vegetables (e.g. broccoli florets, cauliflower, celery sticks), spices for grilling or roasting carrots, and meats for stews and soups.
Grocers should ensure fresh produce items maintain maximum freshness, appearance, and flavor. "This includes ensuring fresh produce items are merchandised at the proper temperature and humidity levels and ensuring ethylene sensitive items remain separate from ethylene producers," says Bright.
Cross-merchandising also puts points on the board. "We've seen great success cross-merchandising across store departments, such as promoting Litehouse dressing with pre-packaged salad and take-and-bake pizzas in an end cap, or adjacent to chicken wings in the deli department, with two of the biggest game day rivals: Chunky Blue Cheese and Homestyle Ranch Dressing," says Wieber.
And retailers, remember to tackle the drinks section. For example, add snacks via clip strips on endcaps in the beverage section. "Our full line of premium in-shell California pistachios are the perfect salty snack to merchandise with soda and beer," says Setton.
• • •
THROUGH THE GOALPOSTS: END HUNGER/MISSION 57
As a tie-in to Super Bowl LVII (57), Fry's Food Stores has partnered with GENYOUth to end student hunger. Fry's, headquartered in Tolleson, AZ, has 125 food stores across Arizona. GENYOUth, a nonprofit organization founded by the NFL and America's dairy farmers, creates healthier school communities.
The project is called Mission 57: End Student Hunger. It will provide 57 high-need Arizona schools with equipment that increases access to school meals. The goal is to increase access to over 8.5 million school meals for over 31,000 Arizona students each school year. The U.S. Department of Agriculture school nutrition program provides the meals. Fry's Food Stores, Dairy Council of Arizona, Frito-Lay North America and The Quaker Oats Company will donate funds to provide carts to hold the food.
"We want students to be able to focus on their studies rather than be distracted by hunger," says Monica Garnes, president of Fry's Food Stores. "This donation will help provide additional access to nutritious school meals for thousands of local students helping to ensure no student goes hungry."
Breakfast participation is viewed as particularly important for high-need school children, and with this equipment children will feel encouraged to partake in breakfast as well as lunch.
"Equipment like grab-and-go meal carts take meals out of the cafeteria to where students can easily access them, which makes this equipment more inclusive and popular among students," says Karen Kafer, RDN, chief wellness officer, GENYOUth. "Fry's Food Stores has funded, in partnership with GENYOUth, 11 meal equipment packages for delivery to 11 high need schools in the Glendale Elementary School District."
The meal equipment packages include a hot and cold mobile meal cart/kiosk, a mobile "Got Milk?" cooler, and an NFL FLAG-In-School kit. Nerf footballs and flag football belts, for PE and after-school play, are in the NFL FLAG kits.