Originally printed in the December 2022 issue of Produce Business.
2022 has been a challenging year. Ongoing COVID fatigue, inflation, gas prices, the war in Ukraine and a mid-term election put pressure on many of us. For me, stress arose again when I learned the deadline for this article was earlier than expected. I opted to review my 2022 columns to see where I hit the mark.
My January column focused on how produce fits with the National Restaurant Association 2022 What's Hot survey. The 2022 list included sustainability, plant-based foods, comfort foods, health and immune-boosting foods, and global fare and flavors. These trends are apparent on menus, as restaurants are trying to recover from pandemic losses, capture the attention and dollars of loyal diners, and manage labor and staffing challenges.
In February, I focused on Gen Z's impact on the restaurant industry. My prediction that "Gen Z will support government mandates to increase wages, add benefits, and improve working conditions for people in the food industry," has proven true in California with the recent passage of the Fast Food Accountability and Standards Recovery Act of 2022. The act, among other things, includes a $22 per hour minimum wage for restaurant workers in restaurants consisting of 100 establishments nationally that share a common brand or other standards. Unless repealed, this act will have a negative impact on produce in restaurants, as operations strive to control costs.
In March, I posed the question: What if there were more Irish pubs in the U.S.?, which was simply a way of sharing my wishes for more vegetables in restaurants. "I wish more restaurants would focus on making vegetables the most delicious, tempting part of any meal…. I wish more diners would stop thinking they should have the salad instead of the fries, and order both."
April provided an opportunity to focus the green menu trends of spring, including LTOs (limited time offers) that feature asparagus, avocados and peas, and sauces like salsa verde. I anticipate we'll see more of these produce items this coming spring.
In May, I looked at the growing demand for plant-forward menu options and encouraged produce companies to consider how value-added produce items fit with bowl concepts that meet the diner's desire for customization and the operator's need for labor-saving ingredients. Demand for plant-forward will continue in 2023, and labor-saving produce ingredients will dominate nearly every sector of the foodservice industry.
June provided an opportunity to look at variety specification and its impact in foodservice. With many companies showcasing new varieties and creating demand among chefs for "the next big thing" in produce, I expect this level of procurement specification to increase dramatically in the coming years.
In 2023, I'm hoping I'll never be asked, 'Do you want fries or a salad with that?' Give me both, please.
In July, I turned my attention to K-12 foodservice operations and the impact of California's Farm to School Program. This program will continue to expand its impact as the state invests more funds to secure support for locally grown, minimally processed foods.
My August column was such fun to write, as I focused on produce on pizza. Innovation featuring produce in pizza crusts and as toppings is limitless. Given how much American diners love pizza in all its forms, I expect to see more innovation and more growth for fruits and vegetables in pizza operations.
September, which is National Fruits and Veggies Month, presented an opportunity to look at operations supporting the Produce for Better Health Foundation (PBH) Have A Plant Movement. PBH is merging with the International Fresh Produce Association (IFPA) in 2023; I expect the merger to enhance resources for supporting and growing the impact of Have A Plant in foodservice, especially among K-12 operations.
In October, when every news media in the country talked endlessly about the impact of inflation, I focused on the power of potatoes on menus in inflationary times and featured menu concepts for all day parts, including a host of new french fry concepts featuring flavor profiles from around the world. I expect to see more fry innovation in 2023, and I'm hoping I'll never again be asked, "Do you want fries or a salad with that?" Give me both, please.
And finally, last month, I looked at the produce items influencing the flavors of fall on American menus, including Brussels sprouts, squash, apples, and pears. I hate to report this, but I had an awful experience with Brussels sprouts and squash at a recent event featuring a buffet. Someone on the culinary team thought it would work well to put steamed Brussels sprouts in a steam table pan with butternut squash ravioli and a rich cream sauce. The Brussel sprouts were bitter and soggy, the raviolis were too sweet, the cream sauce was curdled, and the people who took that item left it on their plates.
I hate food waste, especially when it includes vegetables. But this shows how important culinary execution is when it comes to vegetables. We need to focus on giving produce the attention it deserves, including using preparation techniques and ingredient pairings that drive liking and consumption.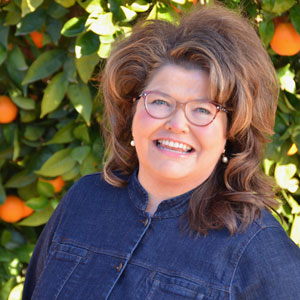 Amy Myrdal Miller, MS, RDN, FAND is a farmer's daughter from North Dakota, award-winning dietitian, culinary nutrition expert, and founder and president of Farmer's Daughter Consulting, Inc. She is the foodservice strategist for the Produce for Better Health Foundation, a member of the Texas A&M AgriLife External Advisory Board, a member of the Bayer Vegetable Seeds Horticultural Advisory Council, the registered dietitian for the Buy California Marketing Agreement / California Grown, and co-author of Cooking á la Heart, a 500-recipe cookbook based on plant-forward eating cultures from around the world that will be published by Workman Publishing in early 2023. Learn more at www.farmersdaughterconsulting.com, and follow her insights on social media @AmyMyrdalMiller.