Originally printed in the October 2019 issue of Produce Business.
Complementary items trigger impulse buys and double register rings.
Convenience is king. No matter how many recipe guides you distribute or YouTube videos you create to try and boost sales, the nearby placement of compatible non-fresh produce items can often be enough to trigger fruit and vegetable purchases.
Salad toppers, banana bread mixes, dipping chocolate, snack crisps, herb crystals, seasoning mixes; these are all options for nudging rings in the produce aisle, and there are countless more foods that can be utilized depending on a store's region and demographics.
Tie-ins are about selling an idea or an occasion to a consumer through the synthesis of products that intuitively pair well together.
"Building an easily visualized meal or side dish opportunity for consumers is always a win," says Paul Laubscher, director of marketing with Calbee North America, based in Fairfield, CA.
Laubscher — whose company is known for its Harvest Snaps snacks made from dried green peas, lentils and black beans — says the key to successful tie-ins is to find the point of consumer relevance, which can come from variety, usage occasion ideas or added value.
"Given the breadth and variety of fruit or vegetable options in the produce department, a tie-in promotion provides a special opportunity to help encourage consumers to feed themselves and their families in a nutritious way," he says. "For most accounts, Harvest Snaps are under the purview of the produce buyer, and we are happy for this consumer association, because our snack crisps are actually made from vegetables."
The Calbee executive explains the optimal amount of promotion space is dependent upon the account and what works at the store level.
"Harvest Snaps come in a display-ready 'knock out' case, with an interlocking design that gives our produce partners maximum flexibility," he says. "For specifically themed promotions, a four-case integrated shipper provides an attractive focal point for consumers to engage with the limited-time value proposition."
Fresh Origins in San Marcos, CA is a company that skirts the line between fresh produce and tie-ins. On the one hand, it sells microgreens, shoots and edible flowers and on the other it sells colorful crystals made of herbs, flowers and fruit.
These products are shelf-stable and can last for six months. Owner David Sasuga says they are best merchandised in the fresh herb or fresh salad areas of the produce aisle.
"They would require about 12" to 20" depending on the number of flavors. We recommend four to five flavors," says Sasuga. "The vibrant colors make an attractive eye-catching addition to this area and can stimulate creativity for home cooks wanting to try new ideas.
"They are a delicious addition to fresh fruit," he says. "The Basil Crystals pair well with watermelon, strawberry and even jicama. The Rose Crystals are fantastic on white nectarine or honeydew. "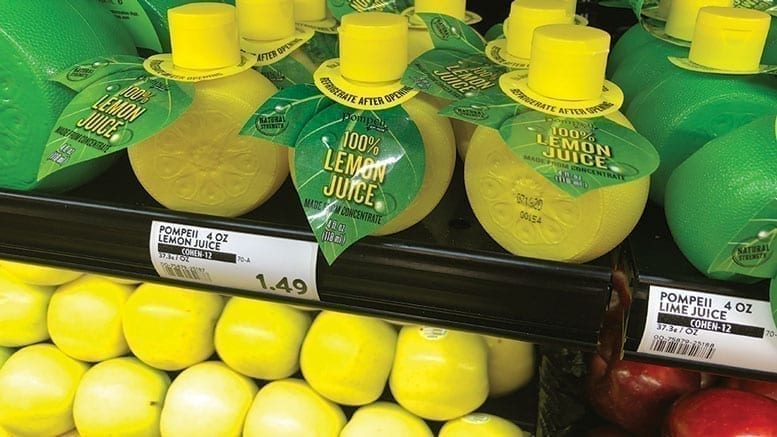 PROXIMITY MATTERS
For a tie-in to be successful, it is not sufficient to just simply place it in the produce aisle but to do so strategically.
Chad Hartman, executive director of sales and marketing at Charlotte, NC-based Truly Good Foods, recommends merchandising the complementary produce item right next to, above or under the tie-in product.
For Truly Good Foods, which sells a range of trail mixes, nuts and its flavored 'Dip & Devour' snacks for fruit, complementary items are often placed under the table of the tie-in.
"It will only grow sales if it is easy for the shopper to grab both at the same time," says Hartman. "For example, if a shopper wants to dip strawberries in chocolate, they will impulsively buy the chocolate if they are seeing it right by the product."
Hartman says bananas are also a great complement to flavored coating, such as chocolate, while nuts and dried fruit are a great complement to berries.
"Shoppers expect to see produce in a produce department, but as shoppers are looking more for convenience, it is good to allocate 10-15% of a produce department to complementary items," he explains.
Hartman notes temporary price reductions (TPRs), and sampling can also be incorporated into a produce merchandising tie-in strategy for an added boost.
"We have seen the best success with TPRs right on the shelf. Shoppers' eyes are drawn to TPR's, especially if it is part of a tie-in promotion," he says.
Samantha McCaul, marketing manager at Concord Foods in Brockton, MA, says some of her company's prime tie-in displays include: bananas with Chiquita banana bread mix; avocados with guacamole mix; apples with caramel dips and apple crisp mix; and potatoes with roasted potato season mix.
McCaul points to a few seasoning mixes that are getting a lot of interest at the moment.
"These are trendy recipes that are hot in a lot of restaurants today, such as Buffalo Cauliflower Seasoning Mix, Garlic Parmesan Sauce Mix for Veggie Noodles and Street Taco Seasoning Mix," she says. "These mixes help sell more cauliflower, zucchini noodles and peppers."
Calbee's Laubscher says the company stays open to consumer suggestions about how its dried veggie products can be used with other products in the supermarket, including as a baked dipper for hummus or adding them to salads for a bit of crunch.
BEING CREATIVE
Fresh Gourmet Company of Westlake, CA, is leveraging mixes for fruit or vegetable-based bread.
"Bananas are something I don't think people even have to put on the list," says Cassi Shindelblower, Fresh Gourmet's retail marketing director. "I think having the banana quick mix nearby helps consumers grab a bigger bundle of bananas because they don't have to worry about them going bad.
"We've extended our line beyond banana bread to items like berry crisp and peach crisp and zucchini bread, so throughout the course of the year as seasonal produce such as fresh berries really come into season, there are relevant cross-tie ideas for those things as well."
Shindelblower says these introductions have had positive feedback thus far, and she thinks it's because consumers don't see them there every day and because they're tied to highly seasonal items. This all comes back to staying creative and building excitement.
"Right-sizing and trying to make room for growth is certainly important, and we try to allocate the right amount of space to products that are well established and have a certain number of sales behind them," she says. "We also try to discontinue things we think aren't driving enough sales, and we try to come up with something more innovative.
"I think it's about bringing innovation to each of those ancillary categories, and not letting any of them get tired or dusty."
One of the stand-outs for Fresh Gourmet has traditionally been its crispy onions. The company has also extended the dried onion concept into fried jalapeños, fried red peppers, crispy beets, crispy hatch chilies and crispy garlic. More recently it has also added its Grower Direct line of premium dried fruit, including figs, dates and sun-dried tomatoes.
But can offering so many products induce choice overload? Shindelblower says it's important to allocate a merchandising fixture that's proportionate to the opportunity of the category, and Fresh Gourmet brings value by bundling smaller categories together.
"So if we've got lemon juices and sun dried tomatoes and salad toppings, and we find the space for all of those on one rack, it allows retailers to have the flexibility to still show a good assortment of these things" she says.