Mangos are mainstream, papayas are ready to emerge, and the possibilities are endless
If the produce department is looking a bit boring and predictable, the answer could be an expanded selection of colorful and flavorful tropical fruits.
"People want to have more flavors, more excitement, and more variation in their produce," says Lorenz Hartmann de Barros, director of sales at HLB Tropical Food USA, Plantation, FL. "Everyone is bored with the same items. You go to a supermarket and have your same routine, but secretly you hope someone will offer you something new to try."
Demand for these fruits is sure to increase, as our population includes more Hispanics and Asians, and Anglos come to appreciate that tropicals include far more than bananas, pineapples and avocados.
"There is a growing demand for tropical products in the United States, due to the change in the American demographic," says Marion Tabard, director of marketing at Turbana, Coral Gables, FL. "Hispanic and Asian-Americans will experience the highest growth rate, 142 percent and 167 percent respectively, between 2010 and 2050. This new demographic landscape has led to a boom in fusion restaurants that integrate ethnic tropicals into their menus."
This change sweeping the country is already evident by double-digit growth in sales of many tropical fruit mainstays.
The following tropicals experienced sales increases during the past year: mangos (18 percent); papayas (12 percent); dragon fruit (18 percent); coconuts (13 percent); passion fruit (9 percent); lychee, rambutans, and baby pineapples (10 percent); and variety bananas (7 percent) reports Robert Schueller, director of public relations at Melissa's/World Variety Produce, Los Angeles.
While mangos have already gone mainstream, and the entire tropical category is showing robust growth, the next tropical star in the produce department could very well be papayas.
Get Ready for Papayas
While bananas, pineapples, and avocados lead the way, and mangos have joined the mainstream, papayas are poised to make a splash.
"Papayas are on the radar, but there are big challenges," says Ronnie Cohen, vice president of Vision Import Group, River Edge, NJ. "It's a unique item,but it is sensitive in terms of growing conditions and flavor profile. They are trying to create proprietary varieties that will overcome that, but it will take time. Sampling helps."
HLB's de Barros is bullish on papayas, and believes much of the variety work has already been accomplished.
"We tree ripen Formosa papayas and fly them in to differentiate the product from the Maradol papayas," says de Barros. "The flavor is enough to differentiate it. The Maradol has to be 100 percent ripe to be eaten, but the Formosa can be eaten when it is half ripe. We went to the existing Maradol market and said we have a better fruit. It tastes better and lasts longer. Many retailers stopped with the Maradol and only carry the Formosa."
---
"I think papaya can become very big. Twenty years ago mangos were unknown, but then came the Mango Board, and now everyone knows about them.
— Lorenz Hartmann de Barros, HLB Tropical Food
On the retail level, de Barros believes it is important to carry two sizes of papayas, in order to give individual consumers a convenient choice.
"There's the large papaya, the family pack, and the small one that an individual consumes in one sitting," says de Barros. "It is important to be able to eat it all right away because it starts losing its vitamins after you cut it open. In Brazil, everyone eats papayas everyday. It is very healthy; it has more vitamin C than oranges. Papayas are a superfood."
For retailers to increase sales, Doria Blonder, with sales and marketing for Princeton, FL-based New Limeco, says it's good to provide customers with information on how to choose a papaya. "If the fruit is green, then show customers how to finish ripening the fruit at home," she says as an example.
"Group them with other tropicals such as mangos, pineapples, and our brand of Powerful Harvest Coconuts," adds Blonder.
"Increase sales by offering papayas at different ripeness stages, which encourages customers to buy ripe fruit ready to eat and to buy a not-so-ripe one to eat later. It's also good to cross-merchandise with limes. Suggest squeezing limes over papaya to enhance its flavor."
In some areas of the country papayas already rival mangos, at least during part of the year."Mangos and papayas make a strong duo in sales growth across all demographics," advises Mary Ostlund, director of marketing at Brooks Tropicals, Homestead, FL. "Mangos may beat out papayas in their season, but it's hard to beat large papayas, like Caribbean Red papayas, for year-round sales."
Let the Party Begin
Although the variety of tropical fruits is almost endless, there are five fruits that anchor the category if you include avocados. "The most popular tropical fruits are bananas, pineapples, avocados, mangos and papayas," says Tabard. "Regarding ethnic items the most popular nowadays are yuca, chayote, malanga and yams. The volume of these roots and tubers has seen a dramatic increase as immigration from Asia and Latin America continues to be on the rise."
In addition to the now familiar tropical favorites, however, there are enough options to offer exciting tropical fruit surprises on a regular basis.
"Dragon fruit has found popularity with kiwi lovers," says Ostlund. "The juicy dragon fruit is similar in texture and taste. Passion fruit's gel and seeds are fabulous simply added to eggs, oatmeal and even pancakes. Added to salads, its exotic taste will turn an ordinary salad into something quite extraordinary. Groovy Coconuts are finding a market with consumers loving coconut but not loving the added preservatives and sugars added in processed shredded coconut."
Arrival of some of these fruits can make for special occasions because they are only available for import a few months out of the year.
"Rambutan and lychee are seasonal," says Schueller. "Lychees are available from May to August and December to February; and rambutans sporadically throughout the season. Coconuts are a big category worthy of mention, and many newer varieties of mangos are available in the U.S. as of recent."
Most tropicals are imported but there are, in addition to avocados, a handful of other U.S.-grown fruits.
"There aren't many tropicals grown in the U.S.; one is Florida starfruit," says Ostlund. "It's a fun fruit that could be eaten as an apple. Another U.S. tropical is guava."
There are many answers to the question of what makes for the right tropical fruit display, and the question is worth some thought.
"Merchandise both mainstream and specialty tropicals together," advises Ostlund. "Make one of your displays of mainstream tropicals — avocados, mangos and pineapples — in the tropicals aisle. Then add tropicals nearing mainstream status like Caribbean Red papaya. But build on the large papaya's popularity and add Solo papayas. Then add up-and-coming tropicals such as starfruit, Groovy Coconut, guava, and dragon fruit. A well-appointed tropical produce section will draw consumers sensually both with gorgeous colors and wonderful smells."
One question to consider when planning the display is how to combine the familiar with the more exotic.
---
""Temperature is everything. Temperature can affect fruit tremendously. Bananas, for example, have to be at a certain temperature. If you go too low, you can lose the flavor profile."
— Randy Cohen, Vision Import Group
"Show a smattering of mainstream and almost mainstream tropicals in the tropicals aisle," says Ostlund. "You'll want to also display them elsewhere. Those Florida avocados really sell next to tomatoes. And those Caribbean Red papayas have earned their place next to the melons. Up and coming tropicals will gain star status both in the tropicals aisle and in displays highlighting salad, guacamole or salsa displays. Don't limit upcoming tropicals to the tropicals aisle."
Retailers can display all the tropicals together and use signage with graphics to create excitement.
"We've noticed more retailers are building tropical 'destination displays' with signage as a way to make a statement to shoppers that they do have variety," says Oakley Boren, communications and trade show manager at Frieda's Specialty Produce, Los Alamitos, CA. "Group all the tropicals together with signage and keep it stocked."
There are standard locations that work for displaying a variety of tropicals built around the mainstays.
"Typically tropicals are a section by or near the bananas end cap," says Schueller.
"Winter opportunities include cherimoya from the USA. All the other fruits are basically imported in the winter time." Tabard from Turbana, however, advises adding a wrinkle to this formula in order to appeal to both mainstream and ethnic markets.
"While tropical foods are staples for most Hispanics and Asians, they are relatively unknown to white Americans," says Tabard.
"This demographic shift and the greater availability of tropicals have given them the opportunity to discover some of these products. Turbana recommends tropical items be grouped corresponding to the target audience they are being merchandised to. The tropical roots and vegetables targeted to Hispanics and Asians should be merchandised together while the tropical fruits such as pineapples, bananas, mangos that cater to a wider audience should be merchandised separately."
Although the question of display is worthy of attention, there is no one right answer.
Consumer demand for tropical fruits is large and diverse, but the category takes a commitment by the supermarket.
"Not all retailers are jumping on the tropical trend," says Boren of Frieda's. "But if they have room and are willing to train their produce personnel to know what to do with them, then by all means, they should!"
Some of the tropical fruits have climate control requirements that make them difficult to display.
"Rambutan and lychee fruit should be refrigerated to maintain their bright color and shelf life," says Boren.  "That's a challenge for retailers."
Getting the climate right not only affects shelf life; it can make or break the taste of the fruit.
"Temperature is everything," says Cohen of Vision Import Group. "Temperature can affect fruit tremendously. Bananas, for example, have to be at a certain temperature. If you go too low, you can lose the flavor profile."
If a store devotes the resources to care for and display the fruit, however, the tropicals add exciting new variety to produce.
"North Americans want to add more fruits and vegetables to their diet," says Ostlund. "Sure they'll try a different apple variety, but it's still an apple. Tropicals open up a new fruit and veggie vista to enjoy."
The interest of the trendsetting young generation bodes well for the continued growth of the tropicals. 
"Millennials are definitely more adventurous," says Boren. "When they see a fruit or vegetables on Instagram or on YouTube, they look for them in their local stores, and they aren't afraid to purchase them, even if they have never tried them before. The scarier looking, the better — like rambutans that look like red sea urchins or horned melons that look like something from another planet altogether."
The tropicals are so refreshing, beautiful and interesting that there really aren't limits on who you can attract.
"With the right display, you can attract anybody because people want surprises, especially with flavor," says de Barros.
The Mango Miracle
Papaya protagonists in particular, and tropical fruit lovers in general, are encouraged by the incredible increase in mango consumption in a short period of time once the industry organized a united promotional effort.
"Since the National Mango Board's inception in 2005, the board's mission has been to increase the consumption of mangos in the United States," the Mango Board said when reporting impressive market expansion in 2014. "The marketing, research, and industry relations programs have been working hard every day to achieve this mission, and as of the end of 2013 mango consumption has increased 53 percent since 2005 to an estimated 2.87 pounds per year."
This eye-popping increase in consumption has not stopped, as evidenced by impressive growth figures from last year. Six-year Mango Board member Cohen believes the best is yet to come for this rising tropical star.
"Mangos will be a category of their own in 10 years," says Cohen. "In 15 to 20 years it's going to be like stone fruit, as they develop more varieties. Years ago you had yellow flesh peaches; now you also have white peaches, nectarines, and saucers. Mangos are almost a stand-alone item in a lot of stores."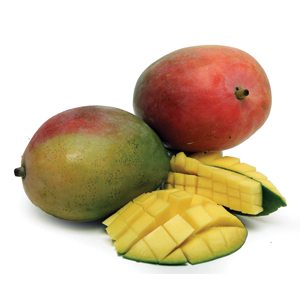 Part of the variety work has been done, and it is up to the shippers and retailers to let consumers know their first choice in mangos may not be their best choice.
"The Tommy Atkins mango is beautiful and lasts long, but the reason it lasts longer is it has so many fibers," says de Barros.
"You have to floss your teeth afterward. The Keitt mango doesn't turn red, but it tastes better and you don't have to floss your teeth."
As Cohen looks back on his six years with the board, the lesson he draws above all others is the tremendous difference made by a good educational campaign for all interested parties.
"Education is No. 1," says Cohen. "I just finished my sixth year on the Mango Board, and we learned the importance of education. You not only have to educate the consumers, but also the produce managers, backroom/receiving guys, and distribution center staff."