Research from Datassential tells us potatoes are American's most loved vegetable, and the Produce for Better Health Foundation 2020 State of the Plate report shows that potatoes are the top growing vegetable, in terms of annual eating occasions, compared to 2015. We know potatoes are easy to find on American menus, but is there potential to grow consumer interest in and appreciation for potatoes? I asked three culinary and foodservice leaders to share their thoughts on these issues.
Rafi Taherian, associate vice president of Yale Hospitality, says, "Potatoes are comforting and incredibly versatile. They can be included in any menu, converted to any texture through processing or cooking technique, and they come in so many varieties, shapes and colors with so many other sensory and nutrition properties that most people don't appreciate." Taherian went on to say, "We're working to educate our students about potatoes, to help them appreciate potatoes aren't all the same. We're also partnering with local growers to bring new varieties to our campus — 2021 will be a big year for potatoes at Yale."
Ken Toong, executive director of auxiliary services at the University of Massachusetts, Amherst, says he and his team are building appreciation and love for potatoes in many ways. "We're making potatoes fun again, telling the story of potatoes and sharing nutrition benefits and sustainability information through social media. We're promoting potatoes through special events and showcasing potatoes in modern and ethnic recipes. Gen Z and Millennials may see potatoes as time-consuming and unhealthy. We're showing them potatoes' full potential by using exciting flavor combinations, beautiful presentations, and new products like potato noodles."
Alex Ong, director of culinary excellence at UMass, commented, "We know our customers know what potatoes are, but they don't understand them. We're working on education programs for both our staff and our students to enhance their appreciation for potatoes, including introducing them to newer or lesser known varieties. We're also harnessing and embracing the diversity and culinary skills of our culinary team members who represent so many world cultures to showcase and celebrate potatoes in world cuisines."
Chef Ong says now more than ever UMass students are excited to see new potato concepts on menus. "Our students are seeking comfort food, foods they know, foods they love. Sure, students want to experiment with new foods and flavors, but familiarity is important. If we can give them something they already know in a fun, new way, that's a win for us."
Chef Ong says he and his culinary team have been working the past few months to recreate their baked potato bar. "We start with the basics first. We focus on questions like, 'Are we using the right potato? What is the best variety for this purpose? Are we cooking it perfectly? Is it hot when the customer gets it?' Execution is key," he declares. "From there we look at the toppings we're offering. Are the green onions and chives cut perfectly?"
I asked what's next for their baked potato bar in 2021. "I'm excited to present plant-forward concepts, like crispy Brussels sprouts and caramelized shallots or crispy tempeh and marinated chickpeas to top a baked potato." What else, I asked, knowing Chef Ong always has endless ideas for culinary creativity. "I'm also interested in using smaller size Russet-type potatoes for more indulgent concepts. Can we offer a two-bite baked potato topped with crispy pork belly or crispy chicharrones?"
When I asked Taherian about a potato preparation he's eager to see on menus in 2021, he said, "As a chef, I know a really great potato variety with creamy texture and alluring aromas doesn't need much. I want smashed potatoes with the skin, topped with extra virgin olive oil, fresh herbs, salt, and pepper."
Toong agrees that simple is sometimes the best option. "When I was in Greece, I enjoyed a simple meal of boiled potatoes and red onions, served with plenty of lemon juice and olive oil. It was simple, delicious, and the flavor was so memorable!"
Chef Ong has something else in mind for his menus in 2021. "We're creating miniature Hasselback potatoes with bacon and Vermont Cheddar, Swiss, and American cheeses between the slices. We top them with extra virgin olive oil, crème fraiche, and chives."
Based on these insights from these leaders, I have no doubt that appreciation and love for potatoes will grow in foodservice in 2021!
---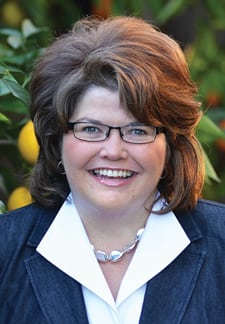 Amy Myrdal Miller, MS, RDN, FAND is a farmer's daughter from North Dakota, award-winning dietitian, culinary nutrition expert, and founder and president of Farmer's Daughter Consulting, Inc. She is consultant for the Produce for Better Health Foundation, a member of the Texas A&M AgriLife External Advisory Board and a member of the Bayer Vegetable Seeds Horticultural Advisory Council. You can learn more about her business at www.farmersdaughterconsulting.com, and you can follow her insights on food and flavor on social media @AmyMyrdalMiller