With an array of varieties, building an exciting display not only adds a splash of color, but drives sales.‬
Winter squash brings a splash of color to the produce department when it is drab and gray outside, and, even more importantly, this newly popular category offers a highly nutritious warm culinary sanctuary in the coldest time of the year.
Many hard squash dishes are most appealing in cold weather, which makes the late fall and winter a natural season for merchandising. "Butternut soups do very well from November on," says Chris Ciruli, chief operating operator at Ciruli Brothers, Rio Rico, AZ. "We expect butternut to do well through the holidays. There's also good demand on spaghetti squash. It is helped by the Paleo diet; some club stores are selling two packs."
For many customers, the best hook for squash is its place at holiday meals, but for another group of younger consumers, the most effective appeal is the nutritional value.
"Depending on a retailer's marketing goals and customer demographic, we might use a more traditional marketing push that emphasizes squash's important place in a holiday table setting," says Megan Schulz, director of communications at Giumarra Companies, Los Angeles. "Younger consumers are really interested in nutritional benefits and would respond to a 'squash as pasta replacement' marketing hook. Squash provides nutrients and complex carbohydrates that fit into a variety of dietary choices ranging from vegan to Paleo."
The Eyes Have It
Just as hot squash dishes fill a need in the winter, the colorful squash fills a display need in produce as the bright summer fruit recedes. "What a relief the cooler months of autumn and winter provide for produce display-making," says Simcha Weinstein, director of marketing at Albert's Organics, Charlotte, NC. "Although the winter squash season extends from August through March, they are at their best in October and November."
Hard winter squash are most inviting in large colorful displays that draw the eye to the colors. "Large bulk variety display is most effective," says Robert Schueller, director of public relations at Melissa's/World Variety Produce, Los Angeles. "The pallet merchandisers are quite popular now. They can be merchandised near potatoes, sweet potatoes, yams and onions."
The display must be large and bold, but the varieties can be shown next to each other, or they can create a whimsically chaotic image of many squash types and colors together. "We recommend displaying all squash varieties together in a large, colorful display," says Schulz.
There are markets, however, that find it is most effective to display the varieties separately. "Some retailers separate the varieties and others jumble them all together," says Karen Caplan, president and chief executive of Frieda's Specialty Produce, Los Alamitos, CA. "In the fall, retailers tend to build large, end cap displays. It's really retailer preference."
One approach is to build a display with a small number of introductory, exotic squash in the midst of a larger number of the more familiar varieties. "The other part is carrying the new varieties and displaying them in an eye-catching manner," says Michele Youngquist, president of Bay Baby Produce, Burlington, WA. "One way we've helped buyers do this is with our organic mixed squash bin. It has known varieties, as well as new ones. This approach is less risky for the buyer and us, because we customize the bin so there is only a few squash of the new variety."
Because some squashes may be unfamiliar to consumers, it is a good idea to include signage that lets them know which varieties are in the bin, and how to prepare them. "Especially with a mixed squash display, it's imperative that a retailer has some sort of chart or signage available that helps shoppers distinguish and understand the varieties that are available to them," advises Weinstein. "At Albert's we have a chart that our customers can download from our website, print out and have available for their shoppers."
The hard winter squash category is an opportunity to build an exciting display that adds a splash of color in the grayest season. "No doubt, the lusciousness of those summer fruits is certainly missed, but working with product that is durable and has a long shelf life is a pretty nice break for a few months," says Weinstein. "Apples and citrus will take center stage during the fall and winter season, but particularly during October and November, it's important not to let the opportunity of promoting winter squash slip away. A large, mixed, bountiful display of hard squash is one of the more beautiful sights in a produce department."
The splash of colors that comes from mixing the main winter squash varieties together makes for an inviting display. "In my opinion, the best way to display squash is to have multiple varieties mixed together," says Youngquist. "The contrasting colors and textures are eye-catching. Great store displays are another must. You want the consumer to see it."
The Basic Varieties
It may take extra effort to introduce consumers to the more specialized winter squash varieties. "We encourage our customers to use demos to introduce the Asian specialties in conjunction with mainstream items in familiar recipes," says Robert Bennen Jr., president of Ta-De Produce Distributing, Nogales, AZ. "This way the shopper can see how he/she can substitute, say, a yellow squash for a new Opa squash in a stir-fry dish that is easy to prepare. This makes it a less risky venture when introducing unfamiliar items."
Ta-De Produce supplies a variety of ethnic squash types, many of them unfamiliar, which add color, intrigue and adventure to the category. "Our focus has been on Asian varieties of squash, such as moqua, sinqua and other related, like bitter melon, which is not technically a squash, but more like a cucumber," says Bennen. "The ribboning effect of various colors and ethnicities can make the squash category more exciting, especially during this season. Some of our customers help shoppers identify the squash display by signing 'Great for Baking' or 'Ideal for Stir-Fries,' to prompt purchase."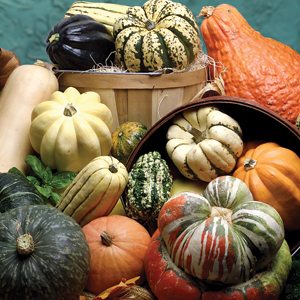 These varieties attract specific groups of ethnic or young consumers who typically spend more than most in produce. "We are focused on introducing these Asian varieties to more adventurous Millennial shoppers, as well as supporting our core demographic, the Asian nationals," says Bennen. "Asians spend more than $27 on produce per shopping trip… and they shop several times a week, so this is a growing target market for us. We have retained an Asian consumer expert to help us identify the best customers for our items."
Most suppliers believe the hard winter squash category, however, is built on a few main varieties.
"Kabocha, acorn, butternut and spaghetti ­— it's pretty much the same four," says Ciruli. Butternut, acorn, kabocha, and spaghetti are the top sellers year-round, agrees Schueller; and butternut, acorn, delicata, carnival, sweet dumpling and gold nugget are the leaders from September through December.
Merchandise these four varieties well and the category should be a success. "Melissa's Produce is the largest variety supplier of fall/winter squash in the United States," says Schueller. " The Melissa's Steamed Butternut Squash is the newest item featured and was debuted at the PMA Expo Fresh Summit. I'm not sure if retailers have tried the more than 12 varieties of fall/winter squash, and if they know the difference in taste beyond the visual size and shape of the squash. Education is needed in this category."
But Younquist offers: "The past couple of years we've seen an increase in delicata, red kuri and kabocha. Delicata is great because it has fabulous flavor and is super easy to cook."
Caplan also says there may be a fifth variety among the staples, as she adds the easy-to-cook delicata to the list of top sellers. Although they are called "winter" squash, some suppliers are set up to deliver these basic varieties year-round.
"Between here and Arizona, California, Texas and Mexico, we're year-round on hard squash," says Ciruli. "We'll do November in California and at the end of the month we'll start bringing it in from Mexico."
L&M, Raleigh, NC, ships winter squash from various locations. Lee Anne Oxford, marketing director, says there is still room for significant growth in sales among the familiar varieties. "We still see strong interest in acorn, spaghetti and butternut squash," she says. "We have winter squash year-round. We grow squash at all our farms — we grow it in South Florida, North Florida, Georgia, North Carolina, Michigan and Colorado. We import some from Mexico and Honduras, as well. It's an up-and-coming crop. It's not one of our top three, but it's growing."
Show Them And They Will Cook
Very few retailers include point-of-purchase materials, recipes or cooking instructions as part of their hard squash display, but that may soon change because a major selling point is how easy they are to prepare, if only consumers knew how. "I rarely see recipes on retail displays," says Caplan. "Most consumers search for recipes on the internet. I have not seen sampling of squash."
Some producers are now delivering their winter squash with use and cooking instructions right on the label. "A recent trend with unfamiliar produce is to put directions on how to use the product right on the label," says Bay Baby Produce's Youngquist. "You want the consumer to feel comfortable buying the product, so easy instructions with no more than three steps are perfect. With winter squash, it doesn't take much to make a delicious dish."
With so many consumers, especially among Millennials, perusing the produce department with smartphone in hand, it may help to put directions to the recipes available on the internet. "We still see opportunity with the mainstream winter squash," says Oxford. "We're working on in-store promotions with signage. We're working on additional labels that show you how easy it is to cook it, and direct you to the website."
Even when they are not using their smartphones to scan labels, many younger consumers are learning about foods through social media. "Retailers are making good use of social media by posting recipe content, especially in the form of videos," says Giumarra's Schulz. "We offer tailored promotion services to our customers that take advantage of our marketing library."
In the computer age it is also possible to mine the data for tips on how to best tailor squash pitches to different consumer groups. "With the help of consumer data, retailers can now target their customers with specific promotions designed to appeal to what they value, such as flavor, convenience, price or health," says Schulz. "Squash fits well into all categories."
Because increased familiarity with how to use winter squash is driving sales, these preparation tips are helpful. "Recipes help," says Oxford. "We're focusing on helping people learn how to cook, and how easy it is to cook acorn, spaghetti and butternut squash. They've got great flavor and are healthy, and people are learning how to cook them. People have learned how to enjoy winter squash."
Squash is easy, a highly nutritious source of vitamins and fiber, and, not to forget, among the most shelf stable of all the items in produce.
"I think a key marketing point for winter squash that retailers are not highlighting is its shelf life," says Youngquist. "There is not a lot of produce that you can buy and prepare a month later. My friends and family love to decorate their porch with winter squash until one by one they are prepared for dinner. It's decoration, it's food, it's healthy and it lasts."