A broad potato assortment and an appreciation of the potato's value in tough times pave the path for greater sales.
Originally printed in the September 2022 issue of Produce Business.
Always a great value, potatoes are primed for even more profit.
Potatoes have ranked No. 1 for five straight years as America's favorite vegetable, according to Kayla Dome, global marketing manager at Potatoes USA in Denver, CO, citing the 2021 Attitudes & Usage Consumer Study. "Sales are higher for 2022 compared to where we were prior to 2020," she says.
Indeed, potato consumption is expected to hit an all-time high in sales dollars in the 2022 calendar year, reports Ross Johnson, director category management for the Idaho Potato Commission in Eagle, ID. "The increase will be mainly due to increased demand from consumers who are more conscious with purchasing decisions," he says.
Potatoes continue to be a driver of sales in the produce department, relates Brian Gibbons, produce director, Highland Park Market, Farmington, CT, with four stores. "The category is increasing with loose potatoes, 5-pound bags, baby potatoes and fingerling potatoes," he says. "Consumers are looking for variety in organic potatoes, including russet, red, Yukon Gold and sweet potatoes."
The category has evolved beyond the basics, adds Vanessa Dremonas, executive officer at Pete's Market, Chicago, IL, with 17 stores. "It is adapting to a new set of customer needs, such as the need for efficiency, convenience and an overall healthier product," she says.
Potato purchasers represent a great customer. "Data from Potatoes USA shows baskets containing potatoes are more than twice as big as baskets without potatoes," says Mike Carter, chief executive at Bushmans' in Rosholt, WI. "Consumers with potatoes in their basket spent $90 per trip compared to $42 per trip without potatoes. The key is to get consumers to think outside of the box and consider buying russets and experiment with yellows and medleys."
Stores can get outside the typical potato box and encourage greater shopper sales through these 10 merchandising suggestions.
1. Promote Value
Call out the value offered by potatoes. "In our economic environment, potatoes are becoming popular again as we deal with inflation," says Eric Beck, director of marketing for Wada Farms in eastern Idaho. "As budgets tighten, consumers can't beat price per pound for potatoes."
Potatoes have long been the best value in the produce department, agrees Rachel Atkinson-Leach, vice president category and brand excellence at RPE in Bancroft, WI. "With inflation driving pricing up double digits across the grocery store, the demand for potatoes, specifically commodity potatoes, is showing recent growth compared to historic trends," she says. "Russet potatoes are driving category growth, up 16% in dollars and 1% in pounds. Yellows and blend/medley potatoes also continue to show growth."
Carter advises retailers to keep in mind that 76% of potatoes are purchased at full price, so value doesn't mean they always need to drop the price. "Sometimes it's OK to just highlight potatoes to see the same lift," he says. "Also, potatoes are already one of the best food deals on the shelf, so deep discounts really aren't necessary."
The variety of pack sizes also appeals to a value-conscious consumer. "Consumers are shopping more often, maybe a couple times a week, so we are finding that smaller pack sizes are more convenient," says Rod Gumz, co-owner of Gumz Farms in Endeavor, WI.
2. Call Out Health
Retailers should counter the myth that potatoes are unhealthy. "Potatoes are a nutritious staple that builds our immune systems and are packed full of vitamins and minerals," says Christine Lindner, marketing manager at Alsum Farms and Produce in Friesland, WI. "The storability and versatility of fresh potatoes lends itself as a go-to staple for home cooks to bring together delicious and nutritious meals."
Potatoes are a healthy food and gluten-free alternative, adds Dana Rady, director of promotions at Wisconsin Potato and Vegetable Growers Association (WPVGA) in Antigo, WI. "Furthermore, potatoes help fuel performance. They are the perfect food to eat prior to activity as well as after, since they help your body recover."
It's a matter of getting out the word that potatoes are healthy, emphasizes Brian Lee, sales and transportation for Okray Family Farms in Plover, WI . "Potatoes have more Vitamin C than an orange. Sales will increase with more promotion of potato health benefits."
3. Offer Beyond The Basics
The potato category has become very exciting over the past decade and variety sells. "It's important to have a decent assortment of potatoes to cater to a wide variety of shoppers," says Wada's Beck.
Lee notes the importance of the potato category diversity. "Potatoes are exciting again," he says. "There are so many new and different varieties."
According to Potatoes USA's Merchandising Best Practices Guide, more variety in types of potatoes leads to increased potato sales for top-performing retailers. "Russet, red, yellow, white, petite, medley, and all other types of potatoes are important for increased growth, but there are regional SKU differences, and knowing what they are can increase sales, depending on the area of the country," says Dome.
Highland Park's Gibbons recommends offering a different potato in your flyer every week. "This encourages customers to try potatoes they would not typically buy," he says.
Petite, medley, fingerling, and purple potatoes are all newer categories with less familiarity, explains Donavon Johnson, president of Northern Plains Potato Growers Association in East Grand Forks, MN. "Through research done with IRI, the retailers performing best across the country are carrying eight types of potato consistently," he says. "Not only are these retailers selling a lot of the types consumers are most familiar with, like the russet, red, yellow, and white types, they are selling the other types to the same consumers."
Raphael Echevarria, produce manager at at Lucky's in Boulder, CO, operating three stores, believes the specialties in the category will continue to grow. "Purple potatoes have grown in demand," he says. "We offer a mixed variety of local fingerling, or a medley with purple, yellow or red. Those sell much quicker than just regular yellow or red potatoes. It's easier for the shopper since they don't require as much peeling."
Pete's lineup includes microwavable bags of pre-seasoned, non-GMO, organic, multicolored potatoes. "The farmers and manufacturers have also gotten more creative and attractive with their packaging," says Dremonas. "Even the traditional net bags have been spruced up. We've now got red netting with gold labels, orange and blue sacks, aluminum pans, and microwavable bags."
4. Include Value-Added and Organic
A value-added potato line enhances retail potato category offerings to customers. "This is an opportunity for retailers to capture a higher price per pound on a value-added potato offering versus bag product," says Alsum Farms' Lindner. "Value-added potato products appeal to consumers seeking convenience and they are willing to pay for it."
Value-added is a segment continuing to see growth, agrees Dave Masser, president of the Masser Family of Companies in Sacramento, PA, and vice president of the Pennsylvania Cooperative Potato Growers. "Product such as steamable, microwaveable, single-serving, and fresh-cut packaging grow as customers look for easy and convenient options," he says.
Okray has ventured into four-pack trays, foil-wrapped trays and foil-wrapped individual for grilling. It also offers microwaveable shrink wrap potatoes, says Lee.
Production and demand in organic is also rising. "Organic potatoes have been the biggest change over the last 10 years, along with value added items," says Gibbons. "We typically carry three to four different organic potatoes."
Cal-Organic Farms in Bakersfield, CA, offers organic golden, red, and russet potatoes as well as Rainbow Fingerling potatoes. "Organic potatoes must be merchandised prominently as organic," says Bob Borda, vice president of Cal-Organic Farms sales. "The display should highlight the palette of the different colors and shapes of the potatoes merchandised to attract the shopper to the display."
5. Don't Forget To Rotate
Potatoes do keep longer than other produce items, but Okray's Lee cautions store personnel to keep an eye on them and keep them rotated. "No shopper wants to pick up a bag and see a bad potato. Rotate the bags every few days so the same potaotes aren't exposed to the light for the same amount of time."
Displays should be tended to frequently, agrees Bushmans' Carter. "Bags and individual potatoes with greening or breakdown need to be culled." While throwing product out appears to have a negative affect on the bottom line, getting rid of non-salable produce means consumers will buy more product. "It's a good investment to make the display look good."
Donavon Johnson of Northern Plains advises retailers to focus on four key areas to optimize potato shelf-life: elevate, first in first out, rotate, and light.
"Elevate — keep potatoes off the stock room floor to keep them from getting wet and help them stay well ventilated," he says. "First in First out — potatoes that came in first should be the first out on the floor to sell. Rotate — the oldest potatoes on the floor should be the ones displayed on top. This helps ensure potatoes will be sold before they turn green or go bad. Light — store potatoes in a cool, dark room before they go onto the sales floor. Excessive light causes greening and can give them a bitter taste."
Cleanliness of product is another consideration. "Some farmers don't clean their potatoes as well as others," says Lucky's Echevarria. "Clean potatoes sell twice as fast. I will specifically look for suppliers with cleaner potatoes, even if they're more expensive, because I can turn them quicker."
6. Allocate Size And Space
The top two elements of a successful display are adequate size and space. "Simply put, the best-performing retailers dedicate more space for their potato display," says Carter. "Also, prioritizing space by potato type matters. Top-performing retailers distribute their space more evenly among types of potatoes, providing shoppers more opportunities to see faster-growing product."
Donavon Johnson cites research completed with IRI that shows the top-performing retailers dedicate 15 feet of space on average to fresh potatoes. "Those same retailers are also creating interesting displays through diverse fixtures," he says.
Being creative with shelving can be a big factor, adds RPE's Atkinson-Leach. "Top-performing retailers diversify displays by using display-ready cartons, bins and vertical shelving to offer visually appealing displays to drive traffic."
The Idaho Potato Commission has found vertical blocking as the most important to creating an impactful and captivating display, according to Ross Johnson. "The amount of space for each variety of potatoes depends on the region and the commission's promotion directors take rest of market data to build a personal recommendation for each retailer," he says. "Retailers who do build displays will generate a 22% sales lift."
Stores should not forget the power of secondary displays. "Secondary displays for value-added are great incremental sales drivers," says Atkinson-Leach. "Color break displays combining larger and smaller bags and bulk are also a hit. Spicing it up in the space provides inspiration to shoppers who are looking to add variety to menu planning."
Pennsylvania's Masser suggests secondary displays in or near the meat and seafood department and deli. "These drive future and impulse sales," he says. "Retailers are in a unique position to pursue strategic cross-promotion partnerships with food industry producers that sell complementary items."
7. Get Creative With POS And Social Media
Having a fresh, uniform and merchandised potato category with POS recipe ideas, educational signage on storage and preparation of fresh potatoes is key to increasing sales of potatoes at retail, advises Lindner of Alsum. "Placing new, value-added items at the beginning of the potato display will encourage consumers to try new offerings while picking up pantry staples of bags," she says.
Signage is a crucial display aspect. "The retailer needs to focus on signage that draws awareness to the potato category," says Cal-Organic's Borda. "Given that potatoes are a staple in the produce category, they can often go unnoticed during the consumers' shopping excursions."
Showcasing how to use potatoes through recipes on retailer social media is a great cross-promotional opportunity, according to Donavon Johnson. "Over half of consumers use online resources before going shopping for potatoes and showing usage reminds them to buy," he says.
There is always room to get creative, suggests Borda. "For example, a produce merchandiser can create a cross-promotion with the components for a flavorful stew," he says. "These items can be displayed together, or around each other, with effective signage utilizing QR codes to highlight recipe ideas."
Creativity also means diversifying displays. "Leading the ad or the category with your sales leader, normally russets, doesn't mean that only russets should be on the display," says Ross Johnson. "Increase sales of gourmet potatoes by merchandising them near featured items. We had a retailer who tried this strategy and they increased total category sales by 32%."
8. Maximize Sales Year-Round
Potatoes are a traffic driver in the produce department and should be promoted at least nine to 10 times a quarter, according to Atkinson-Leach. "The most efficient promotions include multiple varieties or multiple packaging types in one promotion," she says.
Every holiday can be marketed as a potato holiday, advises Pete's Dremonas. "Utilize social media and in-store recipe cards to inspire customers with the versatility of the potato," she says.
Though Christmas, Thanksgiving and Easter are big traditional variety holidays, Lucky's Echevarria recommends pushing small heirloom medleys during these times because they have a higher ring. "We even sell purple potatoes on those holidays for people who like to experiment," he says.
Dome of Potatoes USA points out potatoes fit into any holiday. "There are suggestions in the Potatoes USA Retail Promotions Guide showing how to position product in-store and online," she says.
Being creative through displays and promotion during the spring and summer will increase sales. "During this time, stores can promote easy-grillers with steak or a potato salad recipe," says Wada's Beck. "Utilize the tools for Idaho Potato Lovers Month in February. The Idaho Potato Commission spends massive amounts to promote potato consumption during that time, so why not take advantage?"
Retailers can use the Potatoes USA Retail Tool Kit for year-round promotions. "This robust resource provides monthly thought starters for seasonal promotions, along with images for social media posts, blog and website," says Alsum's Lindner. "It also includes store messages and a retail resource for weekly circulars, online publications, and in-store magazines."
9. Highlight Regions
Stores can highlight local and regional growing areas to increase consumer connection. "Regional differences should always be taken into consideration," says Dome. "There is guidance when it comes to the mix of varieties and colors that make up an effective potato display, but there are also regional differences that really matter."
WPVGA's Rady recommends featuring grower information. "Featuring growers and their stories and farms resonates with consumers in their desire to learn more about where their food comes from," she says.
Gibbons says Highland Park receives support from the Idaho Potato Commission and the Prince Edward Island Board to help promote regionally when the seasons are at their peak.
Lucky's also particularly promotes local product. "We a get a majority of our potatoes from Colorado, so we take advantage to call out the farm and region," says Echevarria.
10. Utilize Promotional Support
Retailers can take significant advantage of promotion entities that are experts. "Commodity boards are a wealth of knowledge and have a lot of resources for long-term growth of the potato category," says Masser.
Potatoes USA offers a variety of tools created for retail including pictures, overall category improvement, and research. "These resources can be used by retailers at no cost," says Dome. "Our resources can help retailers increase their potato sales long-term through merchandising improvements."
WPVGA's retail opportunity specifics vary from year to year, according to Rady, but always include various signage regarding nutrition and the encouragement to buy local. The WPVGA also utilizes a Healthy Grown Program launched in 2002 as a sustainable standard for growing potatoes.
Individual grower/shippers also offer support. Okray uses a QR code on its bag to provide consumer information. "When shoppers scan it, it goes right to our website and shoppers will find recipes," says Lee.
Alsum Farms & Produce offers uniform farmer-grown messaging, recipe inspiration and potato nutritional facts as well as providing retailers signage, POS materials and promotions to boost store sales of the potato category, says Lindner.
"Today's consumers have a growing interest in locally grown produce and connecting with the farmer who grows their food."
• • •
Idaho Commission Supports Stores With Data
Region: Idaho
Uniqueness: Idaho's growing season of warm days and cool nights, ample mountain-fed irrigation and rich volcanic soil give Idaho potatoes their unique texture, taste and dependable performance.
Products and Seasonality: Wide variety — No. 1 supplier of yellow potatoes, also known for red, fingerling and baby; available year-round
Representative Organization: Idaho Potato Commission
Idaho is perhaps the best-known name when it comes to potatoes, thanks to the Idaho Potato Commission. The organization provides tools and personalization to retailers, especially through its retail promotion directors.
"The Idaho Potato Commission purchases sales data from multiple sources to be able to analyze, inform, and discuss how to grow overall sales," says Ross Johnson, director category management for the Idaho Potato Commission in Eagle, ID. "In the Northeast, we find that white potatoes sell better in that region than anywhere else in the country. The best-selling region for russets happens to be the Southeast. The value the promotion directors provide for retailers and their category managers is invaluable."
Johnson shares an example of a retailer whose objective was to grow the gourmet section of his category. "He focused all of his advertising on the 24-ounce package sizes in his set," says Johnson. "His category manager noticed great dollar growth in the 24-ounce pack size, but it was coming at the expense of the other categories. In fact, he was losing market share to his competition at a pace of 13% in sales per month. He felt he was doing great when looking at his internal numbers, but when we showed him his performance against his competition, it opened his eyes. After we analyzed the data, we worked with him to better understand total category growth. We built a program specifically designed to help grow his entire category which resulted in a 22% growth in total category sales."
Idaho potatoes are known for reliability, high standards and promotable qualities. "Many people don't realize that Idaho has taken giant leaps in producing some of the cleanest varieties on the market," says Johnson. "Idaho is the No. 1 supplier of yellow potatoes, our reds have some of the best quality available, and our fingerling and baby potatoes are in high demand. Additionally, the Idaho potato is the only potato to carry the American Heart Association's seal of approval."
Idaho suppliers expect a high demand year and encourage buyers to form relationships for best results. "Given the 2021 crop year and with the increased demand we're seeing with potatoes due to people watching their budget, it's more important than ever to be developing partnerships," says Eric Beck, director of marketing for Wada Farms in eastern Idaho. "You want a good grower/shipper who will be able to take care of you when product is tight. Try to avoid being solely transactional and start developing those longer term relationships."
• • •
Wisconsin Capitalizes On Regional Locale
Region: Wisconsin
Uniqueness: Proximity to the market.
Products and Seasonality: All varieties and types — russet, red, white, golden and fingerling potatoes. Harvest begins end of July and runs through mid-October; year-round availability of Wisconsin russets. Wisconsin red, gold and fingerling potatoes available end of July through end of December.
Representative Organization: Wisconsin Potato and Vegetable Growers Association (WPVGA)
Wisconsin's potato variety and its proximity to market provide significant advantages for buyers. "Wisconsin has excellent quality and a full array of potato types and size profiles to offer our retailers," says Christine Lindner, marketing manager at Alsum Farms and Produce in Friesland, WI. "Being in the Midwest gives us the ability to deliver to most of our customer base the next day. Retailers can look to Wisconsin and Alsum Farms & Produce for potatoes 52 weeks a year."
Okray Family Farms in Plover, WI, pushes awareness of Wisconsin potatoes. "It's surprising how many people don't know Wisconsin grows potatoes," says Brian Lee, sales and transportation. "We're not trying to cut other growing regions out; we're just trying to broaden consumer knowledge."
Proximity to market is an even greater factor with current supply chain and transportation issues. "We can get product to the population centers faster and for less money than other areas," says Mike Carter, chief executive at Bushmans' in Rosholt, WI. "With difficulties in finding drivers, food will continue to be grown as close to consumers as possible, which means the locally grown trend will likely continue."
Lindner points out Wisconsin's logistical advantage allows for a quicker response to order needs and delivery resulting in fresher product for distribution to customers in the Midwest and East Coast. "In addition, Wisconsin potato farmers are able to grow all potato types to offer a full spectrum of the potato category to retailers," she says.
Environmental aspects of the proximity also come into account. "Centrally located in the Midwest, Wisconsin potatoes reduce carbon footprint and transportation issues," says Rod Gumz, co-owner of Gumz Farms in Endeavor, WI.
Wisconsin potatoes offer a formal bonus for eco-minded customers with the Wisconsin Healthy Grown Program. "Wisconsin has been a leader on the sustainability front since the late 1990s through our work with Healthy Grown," says Carter. "While that label has had some challenges, it has continued to push production to be a leader in sustainability."
The Wisconsin Healthy Grown Program has guided Alsum's farm sustainability practices for the last 25 years, according to Lindner. "As a founding member of the Healthy Grown Program, Alsum Farms utilizes the program's regenerative agriculture approach to farming that works to strengthen ecosystems and community resilience. The 50 acres that have been dedicated to prairie restoration and pollinator habitat to cultivate a sustainably grown food supply is an example of Alsum Farms' commitment to regenerative agriculture."
Wisconsin's Healthy Grown program is unique, adds Lee of Okray Family Farms. "A lot of the growers commit to using less of everything, including fertilizer and pesticides," he says. "Shoppers like to see this commitment to sustainability. We're working on getting all the growers in Wisconsin into it and we're making good progress."
• • •
Colorado Ranked As Second Largest Producer
Region: San Luis Valley (Colorado)
Uniqueness: With 350 days of sunshine a year, San Luis Valley potatoes are packed with important sun-drenched nutrients, yet at an elevation of 7,600 feet, summer temperatures remain mild — ideal for potatoes.
Products and Seasonality: Russets make up most of the Colorado crop. Products also include yellow potatoes, fingerling potatoes; red, orange, purple or white skin; and specialty varieties such as All-Blue, Purple Majesty, Mountain Rose and Kennebec.
Representative Organization: Colorado Potato Administrative Committee (CPAC)
Colorado's San Luis Valley is the second largest fresh potato growing region in the U.S. Over 150 potato growing families have made the San Luis Valley their home for generations. "Colorado is a big potato growing region of the U.S.," says Raphael Echevarria, produce manager at Lucky's in Boulder, CO, operating three stores. "The state sends a lot of potatoes outside to other states."
Together with Colorado potato growers, the CPAC has expanded into new potato varieties and a multi-level inspection process that ensures over 2 billion pounds of Colorado potatoes each year are the highest possible quality.
"There are a lot of trendy things happening in Colorado potatoes," says Echevarria. "Producers are really changing the potato game — really pushing the specialty potatoes, such as the fingerling."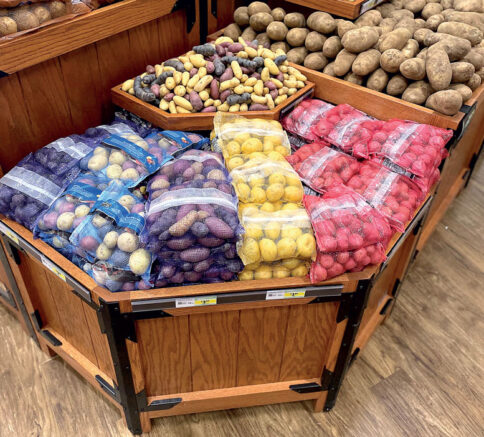 CPAC supports a variety of retail activities and resources on its website, which includes display and merchandising tips as well as information on all of Colorado's varieties.
• • •
Central Pennsylvania Growers Close To Major U.S. Markets
Region: Central Pennsylvania Growing Region
Uniqueness: Mineral soils that create a unique and desirable flavor profile; proximity to major markets.
Products and Seasonality: White, yellow, red, russet and creamers. Harvest on early varieties begins as early as mid-July and runs through October. Can be stored into June of the following year.
Representative Organization: The Pennsylvania Cooperative Potato Growers (PCPG)
Pennsylvania potatoes have a unique flavor profile, taste and texture and can be transported within hours to major population centers. "Potatoes grown in this region reduce food miles," says Dave Masser, president of the Masser Family of Companies in Sacramento, PA, and vice president of the PCPG. "Potatoes can reach New York, Washington Metro, Pittsburgh and Philadelphia within three to four hours. They can be in Boston, Buffalo, and Richmond between five and six hours. They're also sustainably grown, stored and packaged."
The region also grows varieties for fresh-cut value-added products. "We also provide dehy and chipping varieties to service the many potato chip companies in central Pennsylvania," says Masser.
PCPG helps support both growers and retailers. The organization helps buyers decide when, where and the quantity of potatoes to purchase. It monitors market conditions on a continual basis to help buyers locate alternative sources if necessary.