Originally printed in the May 2018 issue of Produce Business.
As the food retail sector undergoes radical change and disruption to its structure and conduct, Sprouts Farmers Market, the 300-store, Phoenix-based chain revs up its major Eastern U.S. expansion with unwavering clarity. Retail chains (and produce suppliers) battle to differentiate, reinvent, remodel and rebrand themselves. Yet, Sprouts' identity is set in stone, its underlying culture solidly intact, its philosophy and mission resolute, according to Dan Sanders, Sprouts chief operations officer. Coming from many years in conventional grocery, including as president of Acme Markets, Malvern, PA, Sanders contrasts how Sprouts diverges and what makes it unique. [See Q&A with Dan Sanders, next page]

The Sprouts business proposition to consumers is premised on a "Healthy Living for Less" formula, and its mantra communicated to the community is more holistic: "Good Food. Good People." With produce at the heart of each store, the concept is built around four pillars of sustainability:
Environment — fighting hunger through its Food Rescue Program, diverting food waste, and reducing carbon footprint are critical components;
Sourcing — ethical and sustainable practices across the supply chain;
Team — extraordinary collaborative training and leadership development;
Community — charitable involvement through impactful partnerships.



Everything emanates from there, explains Carlos Rojas, vice president – legal, risk and sustainability. [See Q&A with Rojas, the man at the helm of Sprouts sustainability initiatives, next page]
Flipping the conventional grocery model to generate a transformational phenomenon, the center of each Sprouts store is the produce department. A collective energy of vibrant, well-laid-out displays and friendly, active associates radiates outward from the produce center and pulls shoppers toward it. From the moment they walk through any of the stores' entrances, shoppers see the movement of produce staff members unloading boxes of fruits and vegetables at multiple stations throughout the day.
At recent tours of Sprouts' newest Eastern stores — Ellicott City, MD, marked Sprouts first entrée into the Mid-Atlantic, and Charlotte, NC, its third store in the state — well-versed employees (some appropriately wearing "Every Day I'm Brusselin" T-shirts) scurry around the colorful fresh expanse, actively engaging and educating inquisitive customers. The welcoming open layout with high ceilings and low sightlines — void of visually impairing, traditional numbered grocery aisles — is by design to facilitate customer interaction.
Guests easily find receptive team members, who prioritize each guest's needs amid restocking shelves, tweaking displays, and also training and supporting each other. Team members knowledgeably answer questions, temporarily stopping their stocking duties and walk with customers to help them find what they're looking for, rather than dismissively sending them to "Aisle 5."
Without grocery aisles blocking the center view — and mainly consigned to the left side of the store, also with lower profiles, hence no out-of-reach shelves like at traditional supermarkets — Produce, with its visual appeal, is the biggest traffic-driver, representing approximately 25 percent of Sprouts' total store sales and around 15 percent of each store's 28,000 square-foot, physical floor space. However, its dominant, central presence and signature importance to Sprouts' identity and mission resonates throughout the store.
"With our focus on fresh right in the center, it really encourages team-member engagement and accessibility to guests."

— Diego Romero, Sprouts corporate communications manager
"Our stores are relatively small, and right in the heart of our store is produce, which sets the stage for the Sprouts concept," says Diego Romero, corporate communications manager. "With our focus on fresh right in the center, it really encourages team-member engagement and accessibility to guests."
In fact, shoppers can view the entire produce department and other perishable areas, including a fresh juice blends station, salad bar and produce-laden market corner deli (as well as sustainably sourced seafood and meat departments), almost anywhere they stand.
The store carries more than 2,400 Sprouts Brand products that must meet strict ingredient requirements, while maintaining exceptional taste (down to the BRIX levels) and value standards, according to Kalia Pang, senior public relations specialist, noting more than 500 Sprouts Brand products are USDA-certified organic, and 70 percent are non-GMO certified.
At the Charlotte grand opening, team members in front of customers were briskly filling clear Sprouts-branded bags with fresh green beans to stock colorful displays. "Bagging produce like this in the produce department creates excitement," says Pang. However, pre-packaged Sprouts Brand products, such as bagged salads, grape tomatoes and pre-cut organic butternut squash, pervade across the department, in addition to freshly juiced and bottled health drinks and other in-store prepared fresh-cut options lining shelves. Whether an item comes with a Sprouts Brand label or not, the Sprouts banner is becoming synonymous with health and wellness characteristics, according to Sanders.
Even the "flipped" peripheral areas continue counter-traditional supermarket themes and speak to the Sprouts healthy lifestyle reputation, whether it's the section devoted to vitamin and nutritional supplements (team members are equipped to help customers understand which drugs they're taking may counteract or impact the efficacy of certain vitamins), or the mindfully selected natural and organic dairy and frozen food products.
True to its farmers market insignia and personality, the produce department is encircled by eye-catching and prominent signage, depicting words such as organic, as well as farm fresh, all complemented by catchy slogans throughout the store, reinforcing its messaging.
AFFORDABILITY AND APPROACHABILITY
A founding tenet of the chain's mission also flips another retail enigma; the stigma that eating well comes with a high price tag and highbrow mentality. Seeing a gap in the market, Sprouts set out to make healthy, quality food affordable and approachable to the mainstream, and within reach for the everyday consumer. According to Sanders produce prices at Sprouts are on average 20-25 percent below supermarket prices.
"We want to be inclusive, not exclusive," says Sanders, wherever one may be in the spectrum, from delighting a diehard organic vegan to providing non-judgmental guidance to a less-seasoned, more flexible inductee testing the waters of healthier food alternatives. "A lot of folks are misguided they can't afford to eat well. Sprouts is a contradiction to that," he says.
"Produce is our signature department, and we're striving to bring value to our customers every day, but especially in produce because we understand how important that is to making healthy choices and beginning that journey toward eating better," say Sanders, pointing to a popular Sprouts saying, "Every meal is a choice, and healthy living is a journey."
Since Sprouts takes an untraditional grocery path, and many of its product offerings may be unfamiliar to people, training and education become paramount to its operations, according to Sanders, who stresses the importance of having educated team members on the sales floor to help in purchasing decisions.
In more colloquial terms, "Doing things the Sprouts way," is a phrase echoed from numerous employees throughout the store. Last year, Sprouts devoted more than a half-million hours of formalized training for its team members. But Sprouts isn't looking to hire specialists particularly. "Actually, what we're looking for are great personalities. And we train on the skills," says Sanders, adding, "We place an enormous focus on equipping our team members for success."
"Employees may have worked in other retail stores, but because our model is so different, we really put an emphasis on new team member training, especially in new markets that might not be familiar with our stores, and also the level of engagement in the store, which is a little more in-depth than a conventional grocery store," says Pang.
To that end, Sprouts brings in regional produce trainers, produce managers and other specialists from across the chain to guarantee new stores hit the ground running, and maintain the momentum long after. Produce suppliers also get involved.
Melissa's World Produce, based in Vernon, CA, and a Sprouts partner, had a lively presence at the Ellicott City, MD grand opening, cooking up samples of spicy edamame and interacting with new customers. "This is a new market for Sprouts and an important store for them and we want to give them as much support as we can," says Dale Roberts, regional sales manager for Melissa's in San Diego.
"We've been partnering with Sprouts for around five years, pioneering some projects together where we're really in lock step, not only in product and merchandising but in educating consumers," says Matt Bergholz, Melissa's business manager out of Phoenix, where Sprouts is headquartered. "We love to do grand openings but we have teams come to the stores all the time," says Bergholz, adding, "Sprouts is produce-centric and unique. It's a real community here. You find a lot of passion with the associates, from the store managers to the checkout clerks."
GREEN LEADERS
"Each one of our stores has a green leader, a dual role the assistant store manager plays to champion sustainability initiatives," says Romero. Specific sustainability responsibilities are embedded within the job position, including tracking and reporting progress to corporate, and advancing new procedures and processes to their teams at the store level, according to Rojas.
When building the sustainability platform the executive suite wanted to ensure sustainability initiatives pushed out to the stores would be readily adopted and progress to maximum potential, according to Rojas. This would require sustainability leaders at the store level solidly vested in their success.
At the Charlotte grand opening, Joseph Williams, a Sprouts assistant produce manager and green leader from Tampa, FL, was getting his exercise, running around the produce department, busily merchandising and training new store employees. "I take my sustainability role seriously. It's a big responsibility," he says. "I've worked at other grocers, and Sprouts is a whole different company, from the culture to the opportunities Sprouts provides for its employees," he says. "It's a healthy environment. Look how everyone gravitates to the produce department. The interaction between team members and guests is wonderful. That's what makes Sprouts exciting. There are no walls," he says, both literally and figuratively.



"The best to me is our relationship with customers," he continues, asking a mother if she would like a banana for her child. The mother happily accepts, as Williams is summoned to help another produce employee. His parting words: "There's nothing better than sustaining your personal well-being and the well-being of others, and the life of our planet."
Sprouts may epitomize the expression "being in the right place at the right time" on its journey, to capitalize on heightened awareness around CSR, sustainability and healthy-eating/lifestyle trends. These touchpoints have become increasingly relevant to a much broader and diverse customer base and are influencing purchasing decisions. Retailers and suppliers jockey to preserve and attract the demanding, and often fleeting, loyalties of customers as well as employees. Sprouts spawns a culture enveloped in purpose and passion, which can appeal to both.
"Ninety percent of the store's 17,000-plus products is organic or natural, and the other 10 percent really caters to our more conventional shopper that's just learning to eat better," says Romero.
"We're constantly looking to strike the right balance between quality and value," adds Romero. "That's a guiding philosophy for Sprouts. We've always been at the intersection of quality and value."
Using eggs as an example, Sprouts offers a conventional egg, but also a free-range antibiotic-free variety, Romero explains, educating an inquisitive customer while correcting her misconception that a brown egg is healthier than a white one. "We know we have a broad customer base. Similarly, we have organic apples and also regular varieties…"
"On any given day, we'll have hundreds of organic fruits and vegetables available. Customers can see a tally of organic produce items on sale that day, the percentages vary, but organic produce as a makeup of total produce offerings is growing significantly each year," says Rojas.
"Our farmers market reputation comes from our longstanding relationships with local growers and vendors, coupled with our ability to sell a high volume of fresh produce at great prices," says Pang.
As Sprouts moves into new states and territories, so does the chain's commitment to extend its distribution network and to develop new local sources. "Not only do we need to operate sustainably, and profess and be active in sustainability with our customers and team members and in our community, we also need to take into account the products we sell," says Rojas, adding, "Our products might be healthy when you consume them, but is the supply chain of our product healthy within itself."
Sprouts has taken a variety of steps, including third party supplier audits, to hone its supplier base to those meeting certain sustainability and ethics standards and practices, looking to bring in new suppliers, while weeding out offenders. "Produce was one of our first initiatives," says Rojas, reaching out to and working with suppliers on their sustainability measures, including use of pesticides and herbicides, and fair treatment of workers. Rojas says it is critical decisions are fact and science based, as opposed to opinion and hearsay. In that respect, Sprouts sees a place for both organic and conventional produce responsibly grown.
SPROUTING COAST TO COAST
Emboldened by a produce-centric, intricately synchronized sustainability mission, Sprouts, a relatively new player in the retail scene, is well-positioned to increase market share.
With the first Sprouts store only opened in 2002 in Arizona, the chain is one of the fastest growing in the country, according to Sanders.
Driving its expansion coast to coast, Sprouts will operate in 19 states by the end of 2018, targeting 30 new stores this year, Pang said, including entry into Pennsylvania and Washington, as well as expansion in Florida, Maryland and North Carolina. The local media exposure and internal excitement that bubbles around the grand openings is part of the Sprouts story, drawing crowds and stirring up the competition.
From a corporate vantage point, Sprouts' relatively small footprint makes it easier to slot into new locations. Its size and ethical business practices make municipal decisions by local governments a little easier than those faced by much larger retail entities. "Our eastern expansion is supported by a new distribution center in East Point, GA, that enables us to continue to grow up the coast," says Romero. [Sprouts also has DC's in Glendale, AZ; Wilmer, TX; in Colton, CA, and Union City, CA.]
"I'm proud we are a high growth company," says Sanders. That growth extends to many aspects of the business. "Progression at our company can be realized in short order," he says, adding that last year Sprouts promoted 23 percent of its employees. "So, if you think of a person who is hitching his or her wagon to a brand in retail, this is a company that has a lot of runway in front of it. This company also provides an opportunity for people to realize their potential both professionally and personally, in terms of their responsibilities. And that's not always the case."
---
FOOD RESCUE/HUNGER RELIEF. COMMUNITY OUTREACH
Fighting hunger in its communities propels Sprouts Food Rescue Program, and donating fresh produce is a cornerstone, according to Carlos Rojas, vice president for legal, risk and sustainability at Sprouts Farmers Market in Phoenix, AZ.
In 2017, Sprouts recovered more than 155 million pounds of food and other recyclables from its waste stream, resulting in an overall diversion rate of 55 percent. At the pinnacle of that food recovery hierarchy, Sprouts donated 23 million pounds of food last year, working in partnership with some 350 hunger relief agencies, he explains.
Developing the Food Rescue Program involved an incredible effort, Rojas says, from getting executives comfortable with the liabilities of donating perishable foods, to setting up guidelines and standard operating procedures for the stores and the entire structure around that.
After a successful pilot in 2013 with St. Mary's Food Bank Alliance, based in Phoenix, AZ, "the response from our team members was overwhelming; they welcomed the idea that they no longer had to deal with one-off programs for food donations, and having a structure in place to make a positive impact on the community. Our store managers, regional directors, vice presidents, our executive team, everyone from top down, were ready to get on board, and we said, 'full steam ahead, let's start rolling out the program across the chain.' "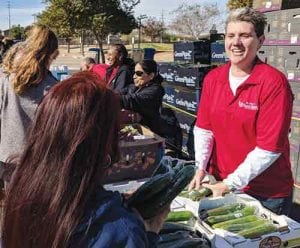 "When Sprouts came aboard and started their Food Rescue Program, it was a match made in heaven for St. Mary's Food Bank, because fresh fruits and vegetables were exactly the types of foods we were looking for," says Jerry Brown, director of public relations. "There's no way we could have a better partner. Sprouts has really done everything in their power to rescue as much food as possible since the partnership began."
"St. Mary's Food Bank distributed 86 million pounds of food to our clients last year, and 30 million to 35 million pounds of that was fresh fruits and vegetables, some coming directly from the ground from the border of Nogales and Yuma, but a lot from food rescue, with Sprouts as a leader in that effort."
Handling perishables items comes with added challenges.
"The time clock is escalated with fresh fruits and vegetables, and product for food rescue is already at the tail end of its lifecycle," says Brown, emphasizing the importance of maintaining the cold chain from the retailers' refrigerated space to the refrigerated truck to the food bank cooler. St. Mary's is in the middle of a $4.5 million project to expand its refrigerated space to accommodate. "We send out 40 food trucks every day to pick up at food sites," adds Brown, noting it collects from 21 Sprouts stores. "This year, we're on track to rescue 2.5 million pounds of fruits and vegetables from Sprouts, and the number continues to grow each year."
Fresh produce donations are important.
"Not only do we want to feed people, we want to provide healthy foods, and get fresh fruits and vegetables on the tables of those in need," says Brown. In addition, "Stores are doing so much better in reducing shrink, and not over-ordering, so there is less food waste, and discount outlets or dollar stores are willing to purchase that food that used to be diverted to food banks, so we are getting less and less donated canned and dry foods," he says. "St. Mary's also receives hundreds of thousands of pounds of food from Sprouts during its annual Grab and Give Holiday Food Drive, where customers purchase pre-made bags filled with the food bank's most needed non-perishable items," he says.
Community outreach envelopes Sprouts' sustainability platform and is fostered through the Sprouts Healthy Communities Foundation, founded in 2015, with a goal to empower people to live healthier lives by providing health education and access to nutrition and healthy food, according to Kalia Pang, senior public relations specialist. At the top of the Foundation's existing $500,000 commitment, Sprouts partners with REAL School Gardens to develop school nutrition curriculums and build multiple school learning gardens.
As Sprouts enters new markets, it kicks off new learning gardens, with "Big Digs." In addition to monetary contributions, REAL School Gardens and Sprouts volunteers join with teachers, students and community members to transform empty schoolyards into interactive learning spaces, where children learn about the food cycle and sustainability by growing produce, herbs and flowerbeds to benefit the school cafeteria and student's families.