Citrus, leafy greens and mushrooms symbolize prosperity, wealth, and riches in the celebration of the Chinese New Year. That makes this Asian holiday, which began on February 1, 2022, and lasts 15 days, a register-ringing opportunity for produce sales.
"Chinese New Year is the most important holiday for many Asian countries including China and Korea and celebrates the start of the Lunar New Year," says Jack Guan, national sales and marketing manager for Guan's Mushroom, headquartered in Commerce, CA. "It is being celebrated more and more by non-Asian shoppers but is still primarily targeted towards Asian shoppers. The holiday has significantly more meaning in Asian culture and is equivalent to Western countries Thanksgiving and Christmas combined. During this holiday, people celebrate by getting together with family and friends, giving gifts, and most importantly, eating. Chinese New Year is a day where families cook all sorts of dishes and recipes that are only made on special occasions."
Here are steps being taken to maximize retail produce sales for the Chinese New Year.
1. MAKE IT A PRIORITY HOLIDAY TO PROMOTE
If Chinese New Year's seems like a niche holiday or one that may speak to only a few of your shoppers, consider the potential magnitude of consumer impact of his occasion. First, the Asian population in the U.S. nearly doubled in the past two decades, with Asians now making up 7% of the nation's population. Secondly, Chinese is the most popular ethnic cuisine in America, with a popularity score of 64, according to Google Trends data compiled in 2020 by Chef's Pencil, an international food magazine based in Australia.
In addition, Chinese New Year's is more than a single-day celebration.
"For most communities that celebrate, Lunar New Year is an extended undertaking with family events spread across three to seven days. In China, some events span 16 days. That's a lot of celebratory food," says Emily Kohlhas, director of marketing for Philadelphia, PA-headquartered produce wholesaler, John Vena Inc. (JVI).
Plus, fresh produce is valued in more ways than simply an ingredient.
"Not only are fruits and vegetables used as ingredients in many dishes, but are also used to decorate the house and are given as gifts throughout the two-week celebration," explains Megan Ichimoto, marketing and product development manager for San Miguel Produce, in Oxnard, CA.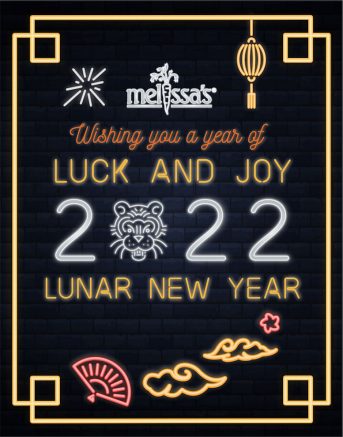 Increasing awareness and demand of the Asian category, highlighting existing variety, increasing sales on mainstream items through cross-merchandising, creating excitement, and an opportunity to educate and involve the entire produce team through event marketing are additional reasons to promote this holiday, recommends Robert Schueller, director of public relations for Melissa's/World Variety Produce, in Vernon, CA. "Plus, it's a good time for retailers to bring in and promote Asian items, and assess their sales potential to see if they should be added as everyday SKUs. This can grow the department's overall assortment and sales throughout the year."
2. EARLY PLANNING IS BEST
With Chinese New Year activities currently in place across the US and Canada, preparations for next year can begin by taking notes of what other stores and suppliers are doing now.
"For retailers serving non-Asian communities, consider ramping up the promotion starting up to a month before the holiday, increasing the prominence and volume as the occasion approaches," says JVI's Kohlhas. "This is a great way to liven up the January post-holiday doldrums."
The ramp-up to Chinese New Year starts in December at Pyramid Foods, a Rogersville, MO-headquartered nearly 50-store retailer whose banners include Price Cutter, Save-A-Lot, and Country Mart.
"We start in December with Asian variety pears like Ya Li, egg roll, and won ton wrappers, both of which are excellent for parties for both the January 1st New Year's and Chinese New Year," says Mark Hendricks, Sr., produce director. "Leeks, Lemon Grass, Ginger, Napa cabbage, Daikon, Bok Choy, Bitter Melon, and Chinese Long Beans work well this time of year for winter soups and stews. Citrus comes in season also, so Pummelos, Mandarins, Kumquats, Lychee, and Starfruit continue to be popular. Many of these items are featured in a special block in our ad depending on availability. Ideally, with these planned promotions leading up to celebrating the Year of the Tiger, our customers have a good idea of where to go to get the items they need for their celebrations,"
3. STOCK WHAT SELLS
In general, Asians are good produce shoppers. Planning to please this customer can be profitable at Chinese New Year's and year-round.
"Our Asian customers want the best of the best and that's a good thing," says Paul Dziedzic, director of produce for Bristol Farms, a 14-store chain based in Carson, CA. "They are also willing to pay more for what they like. For example, they want Asian pears that are the size of two apples. We'll sell these carefully wrapped for $5.99 each and sell a lot of them. If cherries are available, they want the super big sizes, the cream of the crop. Bigger varieties of mushrooms like shiitakes are in demand, as well as a larger selection of mushrooms overall."
Mushrooms are indeed a popular item for Chinese New Year, says Guan's Mushroom's Guan. "Our best items during this time are our Shiitake and Oyster mushrooms. We see significant increases in our sales during this time. One way to promote is to make larger sizes or quantities available as families will buy more food to feed more people. Shiitake and Oyster mushrooms are both used in a variety of Asian dishes including hot pot, which is very popular during holidays."
Napa cabbage and bok choy are two top-selling vegetables for Chinese New Year's, says Alice Choi-Barrick, general manager for Ridgewood, NY-based produce wholesaler, the Tay Shing Corp. "Supply chain logistics are harder this year and freight rates are going up, so we're sourcing as close as possible like Florida and Georgia, and then Mexico."
Consumption of dark leafy greens like bok choy increase after the winter holidays in January when it's 'diet season' and continues strong into February propelled by Chinese New Year demand, adds San Miguel's Ichimoto. "First-generation Asian immigrants will continue shopping at ethnic markets for their bulk produce needs. These consumers will not change their buying habits. However, our washed and wok-ready Jade Asian Greens Shanghai Bok Choy is a great mainstream item that works for many other consumers. Second-generation Asian consumers will value the convenience as they look for their favorite cultural foods in mainstream markets, and non-Asian consumers, who might be unfamiliar with how to prepare these greens, can find recipes and cooking tips on the packaging."
Bok choy, baby bok choy, sno peas, and gai la are on display in the produce departments at Bristol Farms, says Dziedzic. "We sell several of these items, including daikon and white radish, on a price break the week before (Chinese New Year)."
"Chinese okra is gaining in popularity," adds Samit Thakker, sales director at wholesaler Daaks International, in Los Angeles, CA.
Petite Shanghai Choy, sugar snap peas, Opo Squash, Japanese eggplant, bitter melon, yu choy sum, and Chinese long beans are other key vegetables to stock for this holiday, recommends Melissa's Schueller.
As for fruits, Navel oranges are a top item, says Tay Shing's Choi-Barrick. "Large sizes are best, 48s and 56s, even 40s and 36s."
A Lunar New Year-themed 10-pound carton is a tradition at Sunkist Growers Inc., says Christina Ward, senior director of global marketing for the Valencia, CA-headquartered grower cooperative. "This year, the carton holds either Navel oranges or Cara Cara oranges, giving citrus buyers more flexibility with their Lunar New Year promotions. The Year of the Tiger carton is in demand, with the distribution of our Lunar New Year cartons more than doubling in just four years. Whether using the bin or creating bulk stacks out of the cartons, it has a bold, vibrant presence at retail."
Other citrus fruits that sell fast for Lunar New Year, according to JVI's Kohlhas, are pomelo, tangerines, mandarins, and kumquats.
Beyond citrus, Carambola, Dragon Fruit, Uniq Fruit, Passion Fruit, Papaya, and Avocado are all important to the retail display, says Peter Leifermann, vice president of sales and marketing at Brooks Tropicals LLC, in Homestead, FL. "The holiday usually aligns with our second Carambola (Starfruit) peak, so we are promoting with strong volume and delicious fruit."
Rounding out the must-haves to stock in produce are egg roll and won ton wrappers, says Joseph Kaszuba, the New Jersey-based sales manager for House Foods America Corporation, in Garden Grove, CA. "We'll bring in a full trailer every week from California at this time. Tofu is in demand too, especially with more people having air fryers and they are air-frying egg rolls, won tons and even tofu."
4. DISPLAY, MERCHANDISE & PROMOTE
Fresh high-quality produce displays and one-stop shopping is what Asian Americans look for in a retailer, according to Melissa's Schueller. Signage that calls out the Lunar New Year and spotlights key produce is a sure seller. The company's retail kit comes with Lunar New Year-themed point-of-sale (POS) materials. These include a 6×2-foot banner, 30×14-inch bin sign, 22×28-inch ironman poster, 11×7-inch signage, 24×1-inch shelf strip, and 4×11-inch vertical card that shows how to fold wontons.
"We encourage our departments to display a variety of Asian products, use the POS material, and add in their own touches to create an event that the whole store can join in on. We are always looking for promotional opportunities, and this one in the middle of winter gives us something to look forward to," says Pyramid Foods' Hendricks.
For retailers serving non-Asian shoppers with a mainstream assortment, Lunar New Year is a promotional opportunity where the store can highlight its established section for Asian ingredients if it has one. Or focus on basic produce items that apply to the holiday, but that people have some familiarity with too, such as citrus fruits, dragon fruit, baby bok choy, ginger, and daikon radish, recommends JVI's Kohlhas. "It's unlikely that your typical non-Asian shopper will decide to make the complex Vietnamese rice cake banh chung, Chinese whole steamed fish, or labor-intense Korean japchae. But perhaps they would consider making frozen spring rolls and a vegetable stir-fry with orange wedges for dessert as a nod to the occasion. If creating such a display, recipes and strategic cross-merchandising are a good idea. Ensure that signage and promotional materials are also present near the center-store section, as those ingredients will be crucial. Consider creating a frozen end-cap display featuring pre-made Asian items. If the store has a meal kit program, it is a great opportunity to create themed meals and suggest add-ons."
Finally, says San Miguel's Ichimoto, "promoting Lunar New Year ads or recipes on social media provides another place for consumers to see the products. With the rise in delivery and click-and-collect grocery, a post or ad on social media could mean an immediate add to the basket and a purchase."