The tomato category still grows, with snacking varieties, heirlooms, TOV and others gaining ground.
Originally printed in the February 2021 issue of Produce Business.
What's old is new is certainly true. Consider the description of a 16th-century Aztec market in present-day Mexico City by Spanish friar, Bernardino de Sahagun: there were "…large tomatoes, small tomatoes, leaf tomatoes, sweet tomatoes, large serpent tomatoes…" and tomatoes of all colors from the brightest red to the deepest yellow. This passage, in Jonathan Silvertown's 2017-published book, Dinner with Darwin: Food, Drink, and Evolution, could have been written today due to the explosion of specialty tomatoes on supermarket produce departments' shelves.
"We were among the few retailers that did not scale back on specialty SKUs when the pandemic hit, and it's paid off," says Jeff Cady, director of produce and floral for Tops Friendly Markets, a 157-store chain headquartered in Williamsville, NY.
Here are seven ways to sell more specialty tomatoes:
1. KNOW WHAT SHOPPERS WANT
When thinking specifically about specialty tomatoes, consumers are seeking a more elevated experience, and flavor, color, texture and aroma are key, says Joanna Jaramillo, marketing specialist for Amado, AZ-headquartered Wholesum Family Farms, "A recent study we conducted in the fall of 2020 targeting organic tomato consumers across the US helped solidify this notion. Flavor and quality were the two top attributes that consumers rated as most important when selecting tomatoes."
Nutritious ingredients that offer versatility in meal- and snack-making have also become a top priority as consumers cook more at home, according to Harold Paivarinta, senior director of sales at Kingsville, ON-headquartered Red Sun Farms.
Consumers are additionally paying much more attending to the way products are packed, adds Aaron Quan, executive director of greenhouse and Canadian category development for the Oppenheimer Group, based in Coquitlam, BC, in Canada. "We're seeing demand for packages like clamshells and top seal in specialty tomatoes."
2. FOCUS ON WHAT'S TRENDING
Specialty tomatoes have performed well over the past year, according to Red Sun's Paivarinta. "People and businesses have endured the negative impact of COVID, but we have also seen positive trends and results emerging from COVID-driven restrictions. Whether it is expanding the recipe repertoire at home or the need to treat oneself to something special or perhaps because many have been fortunate enough to work from home, kitchens across the continent are being used 3 times a day, 7 days a week. While highly commoditized SKU's continue to perform well, specialty tomatoes have grown exponentially due to those 3 main drivers.
The tomato category represented almost 6 percent of total produce dollar sales for the 52-weeks ending January 30, 2021, up 19 percent from the year prior, according to Nielsen Total U.S. data, as provided by New York, NY-headquartered Nielsen. Of this, round tomatoes, the category staple, constituted nearly half (46.1) of category sales.
Snacking tomatoes contributed just over one-quarter (26.9 percent) of dollars. Of these, grape varieties represent almost half (42.1 percent) of dollars, Cherubs almost a third (31.7 percent) and cherry only 9 percent. Both grape and Cherubs enjoyed double-digit growth over the last year, while cherry tomato dollars fell 11.5 percent.
"Snacking items in general are on-trend, regardless of the type of product.
We have seen a significant spike in our snacking tomato line," says Chris Veillon, chief marketing officer for Pure Hothouse Foods Inc., in Leamington, ON.
While NatureSweet claims its Cherubs red grape tomato is the top-selling branded tomato in the U.S., the company's newest specialty tomato product is its Sweet D'Vines Cherry on The Vine. "This product highlights the consumers' continuing demand for fresher and closest-to-homegrown flavor that they can get from the convenience of their grocery or club store," says Amit Patel, director of marketing for the San Antonio, TX-based company.
Roma tomatoes, including Romas on the vine, represented 19.3 percent of tomato category dollar sales for the 52 weeks ending January 31, 2021, based on Nielsen data, followed by cocktail tomatoes, also including those on the vine, at 3.2 percent of total fresh tomato sales at retail.
"Our Valentino tomatoes have also been gaining a lot of popularity. This is a high-flavor organic cocktail tomato, smaller than a TOV but larger than a snacking tomato. Like our Flavor Lineup, a line of high-flavor snacking tomatoes, the Valentinos are Fair Trade certified," says Wholesum's Jaramillo.
Heirloom tomatoes, both mini and larger, contributed a niche 1.5 percent of tomato dollar sales.
"Mixed color heirlooms are getting more traction than the reds only," says Rick Feighery, vice president of sales for the Procacci Bros. Sales Corporation, in Philadelphia, PA.
3. OFFER ORGANICS
Sales of organic tomatoes have increased significantly alongside conventional in the past year, according to Oppenheimer's Quon. "We see some good demand for organic heirloom tomatoes from OriginO, produced in British Columbia's Lower Mainland. They have very good flavor, but it's quite a niche item."
In organics, both snacking tomatoes and heirloom tomatoes are key players, adds Wholesum's Jaramillo. "When looking at organic tomato performance specifically, a key player is also the heirloom tomato subcategory, driving high distribution points. When in stores, these tomatoes perform well and provide a strong contribution to the overall performance of the organic category. However, heirloom performance is limited by production availability.
"Overall, the top purchase barrier for organic specialty tomatoes is lack of availability. Therefore, if a specific specialty subcategory is not there, that is potentially a missed opportunity for a sale."
4. SELECTION – FOCUS ON THE NEW NORMAL
Customers at B&R Stores, a 20-location chain based in Lincoln, NE, which operates under the Russ's Markets, Super Saver, Grand Center Apple Market and Allen's Food Store banners, can choose from a selection of specialty tomatoes.
"We've been cycling in and out on varietal tomatoes with good success," says Randy Bohaty, produce director. "Our supplier doesn't carry all specialty varieties regularly, so when they are available, we give them a special promotional display and sell through them. With restaurants closed, this gives customers a chance to choose and try something new for their meals at home."
According to NatureSweet's Patel, "Our research shows that retailers that carry an optimal assortment, including a Red Grape, Red Grape Large Pack, Red Cherry, Tomato Medley, Red Cherry on the Vine, and Yellow Grape/Cherry assortment, see the most growth in the category. The decision should essentially be made to carry as many of the varieties/sizes listed in that order to get the most incremental sales and capture the highest value shoppers. These varieties also help to meet consumers' needs on salads, cooking, entertaining, and snacking, which is generally when consumers consider when deciding which tomato they need to purchase."
5. BUILD DISPLAYS & CROSS-DISPLAYS
All tomato SKUs at Tops Friendly Markets are merchandised in a central tomato table. "We use print ads to call out the new ones or give attention to those that need love," says Cady.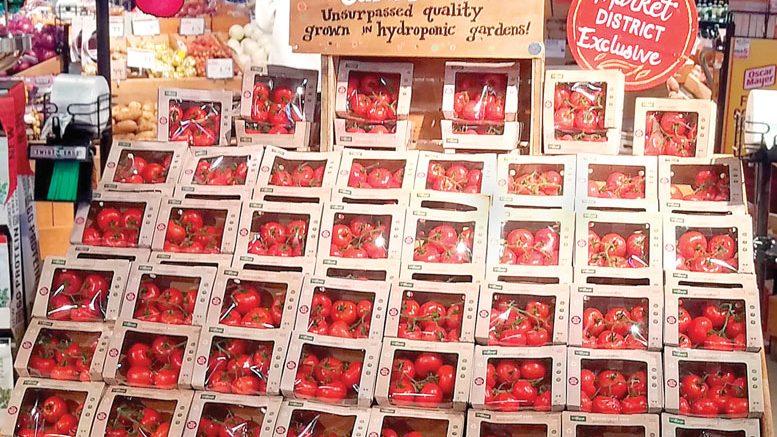 Some of the sizable shifts in shopping behavior over the past year are consumers making fewer trips to the grocery store, shopping from a list and hurrying through the store to get in and out as quickly as possible, explains Helen L. Aquino, Director Brand Marketing & Communications for Village Farms International, based in Lake Mary, FL. "These distinctive changes may be affecting purchase behavior. For example, it could mean that impulse buying or taking the time to discover new products, especially in the specialty tomato category, is being compromised. So, the question becomes how do we differentiate now in this new environment to compel consumers to make the non-price driven spontaneous purchases or to try new items?"
Cross-merchandising is a successful sales tactic employed at Tops Friendly Markets. "We'll tie specialty tomatoes into meal-themed displays," says Cady.
A quick and impactful solution is point-of-sale (POS) signage coupled with attractive displays that fuel a spontaneous purchase, adds Aquino. "We have seen this with our newest addition, Sensational Sara, a lovely tomato-on-the-vine variety type that is stirring up the category in her on-point sustainable packaging. Since consumers crave inspiration, POS should focus on the emotive imagery to drive the impulse purchase, she continues. Healthy snacking, immune-boosting, mood-lifting… all are themes for strong POS messaging that will motivate shoppers. The POS messaging should extend to online, and retailers need to beef up their digital efforts on their website and on their social channels."
Cross-merchandising is also a successful sales tactic employed at Tops Friendly Markets. "We'll tie specialty tomatoes into meal-themed displays," says Cady.
According to NatureSweet's Patel, "The best way we have seen to cross-merchandise specialty tomatoes is with in-store racks or display shippers placed in high traffic cross-sell areas. An example is a shipper or bin placed near the salad wall. Recipes have been a great tool to inspire consumers to use small tomatoes. We have seen some of the highest engagement rates on social media when we post or share recipes, which then trickle down to meal planning and sales."
6. LEVERAGE THE IMPORTANCE OF PACKAGING
Specialty, versus commodity, tomatoes are best merchandised in packaging, says David Bell, chief marketing officer for the Houweling's Group, in Delta, BC, in Canada, "as it is the primary tool for consumer communication in-store."
Aside from protecting the product and keeping it intact, packaging tends to add value and differentiation, adds Wholesum's Jaramillo. "It also creates more opportunities for creative merchandising. For example, stackable top seal packs can be used to create multiple layered displays to catch consumers' eyes and even drive impulse sales. Moreover, packaging adds more marketing real-estate for the item. Through packaging, you can communicate more about the tomato, including flavor, usage, and important product certifications."
However, a new pack style for an existing item might not necessarily increase consumption, says Veillon from Pure Hothouse. "Fresh new items that are focused on convenience or enhanced flavor profiles can help ring the bell on several levels."
7. PROMOTE
Price is one way, but not the only way, to promote specialty tomatoes.
"If introducing a new specialty tomato variety, start off with a price promotion to entice consumers to try it for the first time. If consumers are drawn to the tomato due to flavor and quality, the price will become less of a barrier for repeat purchases," says Wholesum's Jaramillo.
Consumers generally buy one type of tomato per shop. Savvy promotion can build the SKU count in the shopper's basket.
"The best way we have seen to grow purchase is to have trade promotions that push multiples or have the consumer trade up to a larger size," says NatureSweet's Patel. "Longer term, it will be vital to educate consumers on the multiple and unique usage opportunities for different types of specialty tomatoes so that they purchase more than one type per trip."