Dried apricot suppliers are looking to win this season, with merchandising near produce taking center stage.
Originally printed in the July 2022 issue of Produce Business.
Dried apricots are a year-round sweet, tangy, healthy snacking option. But this season, they will be priced slightly higher due to weather and current market conditions, according to some suppliers.
The domestic dried apricot business is in full swing, with the typical harvest starting in late May through mid-July. Turkey, the largest producer of dried apricots, is counter-seasonal to the U.S. market, with the Mediterranean dried apricot season kicking off in March.
This year, the California dried apricot harvest has been impacted by inclement weather, according to Dave Schanzer, chief executive, Traina Foods, Patterson, CA. "This year it's 60% to 67% lower volume in certain sizes. It's been quite disappointing. The jumbo sizes are still in abundance, but the smaller sizes are really down."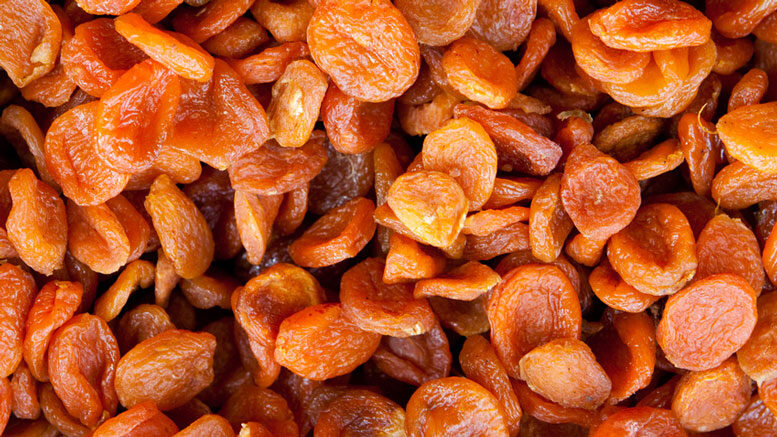 Supply chain costs could also be a factor in the price increases. Even for Traina, which Schanzer points out is more immune as a vertically integrated, seed-to-package supplier, costs have been up. "Trucks are really expensive, with diesel up substantially. Water issues have been pretty bad, and so water costs have also gone up."
Retailers can expect to see at least some price increases across the board, says Schanzer.
"Dried apricots are a $55.7 million retail business, with dollars down slightly by 3.6% compared to a year ago. Factors contributing to the decline are increased shelf prices and a slight loss in distribution," says Tiffany Allen, senior brand manager, specialty portfolio for Sun-Maid Growers of California, Fresno, CA, citing IRI Multi-Outlet latest 52 weeks ending June 12, 2022.
Allen also points to the success of the larger sizes in the dried apricot market at retail. "Larger size packages, those 32-ounce and above, are driving double-digit growth of 40.4% over the last year within apricots. Consumers may be seeking larger sizes due to the price value the larger sizes provide," says Allen.
MERCHANDISE IN PRODUCE
Winners at retail in this category can expect merchandising best practices to remain largely the same.
"Our push has been merchandising with produce displays, carved out by fresh fruit," says Schanzer. "The produce section is very well traveled and there is a convenience factor as well as impulse sales."
"Dried apricots have been around for years, but seem to lack the visibility they deserve," says Katharine Hawkins, director of marketing and e-commerce, Good Sense Foods, New Hope, MN. "With the increasing awareness of the health-conscious consumer and the market demand to provide healthy snacking options, retailers should be promoting and displaying dried apricots to generate awareness and capitalize on revenue. Merchandising dried apricots with other dried fruits and nuts provides the consumer with a known destination."
"Educating the consumer or inspiring them with product usage can sometimes be missed at store level," adds Hawkins. "Providing product claims and nutritional benefits; imagery on usage ideas; recipes on packaging and website; in-store shipper displays with imagery; or cross-merchandising can all help promote the product."
The primary merchandising vehicle is temporary price reductions followed by displays, Allen adds. "Quality merchandising of features and displays result in the highest consumer takeaway and helps drives better visibility for dried apricots and the brand on promotion."
SNACK, BAKE AND COOK
Product introductions are also giving the category more life in the produce department. For example, Traina has introduced Fruitons, diced and sundried blends of dried apricots. Schanzer notes, "These can be merchandised as a salad topper, snack packs and impulse sales."
The reputation of dried apricots as a healthy snacking option can also benefit the category.
"We are finding more millennial consumers are gravitating toward dried apricots as a snack they can take to work or when they go hiking or on other activities," says Schanzer.
Allen notes the primary consumer for dried apricots are boomers and seniors/retirees who account for 57% of apricot purchases. "While millennials and Generation X do not buy more than expected, they still account for 43% of apricot sales," says Allen, noting an IRI Consumer Panel Total U.S. All Outlet, latest 52 weeks ending June 12, 2022.
"The target consumer for dried apricots is the health-conscious consumer who is looking for an alternative snacking option to chips and other salty snack items," says Hawkins. "Keeping these items merchandised together with other healthy dried fruits in produce creates a destination spot for the consumer to easily find what they are looking for."
With millennials a prime growth target, social media and other marketing tactics could be key to sales. "While in-store is an important touch point, it is also essential to reach consumers before entering the store via social media and add to list options," agrees Allen.
And don't forget about the year-round versatility of dried apricots. "The seasonal sales peak for dried apricots is during the holiday season of November and December," says Allen.