Originally printed in the December 2019 issue of Produce Business.
Every year, more and more restaurant chains are jumping on the plant-based burger bandwagon.
In 2018, KFC, Subway, and Carl's Jr. added Beyond Meat products to their menus, while Burger King added the Impossible Whopper, and White Castle started offering the Impossible Slider. Most recently, Dunkin's Donuts and Tim Horton's announced partnerships with Beyond.
Everyone in the foodservice industry agrees these options expand consumer choice and in many cases eliminate the "veto vote" when one or more people in a family or group say no to a restaurant because it doesn't offer something for them, a common occurrence for vegan and stricter vegetarians. But are these newer menu options, which also align with increasing consumer interest in health and wellness and plant-forward menus, helping or hurting the produce industry?
What's in Beyond Meat? Here's the list of 30 ingredients:
Water, pea protein isolate, oil blend (canola oil, flaxseed oil, palm oil, sunflower oil, DHA algal oil), methylcellulose, carrageenan, potassium bicarbonate, caramel color, yeast extract, maltodextrin, potassium chloride, tapioca starch, sorbitol, calcium chloride, natural flavoring, spices, salt, vegetable extract mix (spinach, broccoli, carrot, tomato, beet, shiitake mushroom), L-cysteine hydrochloride, beet juice powder (flavor and color), natural hickory smoke concentrate, calcium sulfate, onion powder, onion extract, mesquite powder, sugar, pomegranate seed powder, ferric phosphate (iron), paprika extract (spice and color), garlic extract, cyanocobalamin (vitamin B12)
And what's in an Impossible burger? Here's the list of 21 ingredients:
Water, soy protein concentrate, coconut oil, sunflower oil, natural flavors, 2% or less of: potato protein, methylcellulose, yeast extract, cultured dextrose, food starch modified, soy leghemoglobin, salt, soy protein isolate, mixed tocopherols (vitamin E), zinc gluconate, thiamine hydrochloride (vitamin B1), sodium ascorbate (vitamin C), niacin, pyridoxine hydrochloride (vitamin B6), riboflavin (vitamin B2), vitamin B12.
"I tell my students they can do better than this," says Sanna Delmonico, associate professor of nutrition and food safety at The Culinary Institute of America at Greystone. "If you want to put spinach, broccoli, carrots, tomatoes, beets, and shiitake mushrooms on someone's plate, add those to ground beef and make the most delicious blended burger imaginable. Better yet, celebrate the simple one-ingredient list of a beef burger and pair it with the most delicious salad your customer has ever tasted."
Replacing a beef patty with a pea protein patty doesn't change human behavior in appreciable ways.
If we look at the "big three" produce items in foodservice — lettuce, tomatoes and onions, components of the classic burger "setup"— there is no downside to changing the composition of the burger patty. These produce items add appealing colors, textures and flavors. But this is doing nothing to drive innovation and new uses for produce in foodservice. It's also not doing anything to change eating habits. Replacing a beef patty with a pea protein patty doesn't change human behavior in appreciable ways. What we really need is an emphasis on making produce the most exciting, cravable, desirable part of any menu.
"The foodservice industry needs manufacturing partners who create solutions for challenging issues like labor and the 'veto vote'," says Maeve Webster, president of Menu Matters, a foodservice consulting firm based in Arlington, VT. "But the industry also needs innovation to ensure the next generation of customers, particularly Gen Zs, are embracing your brand. There's a better story to tell about farm fresh, locally grown, seasonal produce with exceptional flavor than that of a highly processed burger made from pea or soy protein," asserts Webster.
The Culinary Institute of America (CIA) Healthy Menus R&D Collaborative (HMC) will be investigating this very issue at its next meeting at the CIA at Copia in mid-January. Operator members are concerned about potential consumer pushback on the lengthy ingredient statements and levels of processing the plant-based burgers require. HMC members are interested in pursuing culinary solutions that utilize whole foods, especially produce, and culinary techniques that create delicious plant-based burgers with clean ingredient statements.
Now is the time for produce leaders to not celebrate plant-based burgers but to rise up and celebrate foodservice leaders whose culinary skills can showcase the power of produce on plant-forward menus in innovative, appealing ways.
---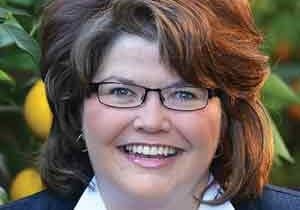 Amy Myrdal Miller, MS, RDN, FAND is a farmer's daughter from North Dakota, award-winning dietitian, culinary nutrition expert, and founder and president of Farmer's Daughter Consulting, Inc. She is the director of The Culinary Institute of America Healthy Menus R&D Collaborative and a consultant for the Produce for Better Health Foundation. You can learn more about her business at www.farmersdaughterconsulting.com, and you can follow her insights on food and flavor on social media @AmyMyrdalMiller