Originally printed in the February 2023 issue of Produce Business.
When Robert Verloop became the chief executive officer of the California Walnut Board and Commission this past July, he quickly started using the phrase, "Walnuts are produce, too," and using the hashtag #WalnutsAreProduceToo in various settings and channels.
Yes, we've all seen walnuts in the produce section of our local stores, but what about on American menus? Where are walnuts found and where might they fit moving forward?
Colleen McClelland, from the restaurant industry research firm Datassential, reports walnuts are currently found on nearly 30% of U.S. restaurant menus. McClellan also shared that walnuts are more commonly found on independent restaurant menus and within fine dining, and there is small regional skew, with more menu mentions occurring in the Northeast.
The most frequent menu category in which walnuts are mentioned on menus is salads.
It is not unexpected to discover that The Walnut Room, located at 3131 Walnut Street in Denver, features walnuts in many of its salads, including their Cranberry Walnut Salad that also features tomatoes, red onions and blue cheese crumbles; the Avocado & Walnut Salad with tomatoes, red onions and croutons; and their Farmhouse Salad with goat cheese, tomatoes, candied bacon and toasted walnuts.
The Walnut Room also features walnuts on their Walnut Room Special, a pizza whose toppings include a tomato-based pesto, walnuts, Roma tomatoes, green olives, onions and fresh garlic. Their Arugula Flatbread appetizer, described as "house-made flatbread, garlic olive oil, mozzarella, crisp arugula, prosciutto, shaved parmesan cheese and lemon vinaigrette," would be the perfect menu item in which to add walnuts. Why? Because the lemon vinaigrette used to finish this appetizer would marry the walnuts with flavors of the other ingredients. It's unclear whether this restaurant's pesto uses walnuts, but that is another classic use for walnuts.
One big area of opportunity for walnuts on American menus is in sauces, spreads, or dips.
Datassential research shows desserts, specifically cakes, are the second most common menu mention category for walnuts. Walnuts in crusts for lemon bars and lemon cheesecake are seen occasionally, while walnut in brownies, pies, cookies, and other baked goods are more common. What has not yet caught on is the use of walnut milk in dairy-free ice creams or coffee-based dessert beverages. This might be a small category for growth on dessert menus, especially if paired with other "free-from" dessert strategies like gluten free.
A number of years ago, the California Walnut Board released a recipe for walnut chorizo, created to capture the attention of foodservice professionals leaning into the plant-based craze. (When presenting this concept to consumers, leaders at the California Walnut Board refer to the concept as "walnut taco meat.") The walnut chorizo has appeared on some campus dining menus, but has yet to catch the attention of a major restaurant brand.
Commercialization for products like this are often the biggest hurdle, especially when labor is tight and quality control is essential. Walnuts' omega-3 content makes them more likely to turn rancid when stored at room temperature compared to other tree nuts. Rancidity can have a major impact on the aroma, flavor and acceptability of menu items prepared with walnuts. One workaround the many independent restaurants employ is creating candied or spiced nuts where the candy or spice coating hides any rancid flavors.
One big area of opportunity for walnuts on American menus is in sauces, spreads, or dips where walnuts have played a star role in many traditional cuisines around the world for hundreds of years. Both Italy and Mexico use walnut sauces to enhance the flavor of dishes like Gnocchi with Walnut Sauce and Chiles en Nogada. Walnuts in sauces like this can either be paired with dairy ingredients like milk and various cheeses or used in place to add richness and flavor to sauces for a wide variety of purposes.
Muhammara is a red pepper and walnut spread found in many Middle Eastern food cultures that create craveable flavors and textures for pairing as a spread for warm pita bread or using as a dip for vegetables.
Meanwhile Greek restaurants may have skordalia, a sauce made with walnuts, potatoes (or stale bread), olive oil, garlic, and lemon juice or vinegar on their menus. Skordalia pairs beautifully with fish and fried vegetables. Sauces like this, that are made with vegetables that make other vegetables more delicious, are needed on more menus around the country.
Do I expect to see more walnuts on American menus in 2023? Unfortunately, I do not. The triple-digit heat in Northern California in early September 2022 had negative impacts on the quality of the 2022 crop. High quality walnuts will be in short supply for the next year, but I have high hopes for walnuts in 2024 and beyond as the walnut industry recovers, as the U.S. restaurant industry continues to recover, and as consumers increasingly seek "better-for-me" produce-centric options on menus.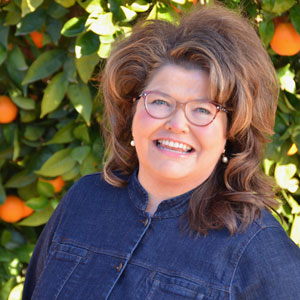 Amy Myrdal Miller, MS, RDN, FAND is a farmer's daughter from North Dakota, award-winning dietitian, culinary nutrition expert, and founder and president of Farmer's Daughter Consulting, Inc. She is the foodservice strategist for the Produce for Better Health Foundation, a member of the Texas A&M AgriLife External Advisory Board, a member of the Bayer Vegetable Seeds Horticultural Advisory Council, the registered dietitian for the Buy California Marketing Agreement / California Grown, and co-author of Cooking á la Heart, a 500-recipe cookbook based on plant-forward eating cultures from around the world. Learn more at http://www.farmersdaughterconsulting.com, and follow her insights on social media @AmyMyrdalMiller.