Originally printed in the March 2023 issue of Produce Business.
I recently spoke at the 2023 Berry Health Benefits Symposium in Tampa, FL. My talk, which focused on berry marketing and messaging, was sponsored by the Washington Red Raspberry Commission. The three-day event included scientific presentations from berry researchers around the globe, along with ample opportunities to enjoy berries in all meals. While the usual suspects (i.e., blueberries, strawberries and cranberries) were extensively covered, some less well-known berries, such as black raspberries and elderberries, were also featured in oral and poster presentations.
The beneficial effects of berries on human health covers many areas, including brain health and cognition, glycemic control and diabetes risk, inflammation and cardiovascular health, skin health, gut health and the microbiome, and bone health. It appears that every system in the human body receives benefits from frequent berry consumption.
In terms of consumer insights on berries, research from the International Food Information Council (IFIC) 2022 Food and Health Survey shows that berries are related to nearly every marketing term consumers associate with health, including "fresh," "natural" and "minimal or no processing." Berries also fit with many popular lifestyle diets IFIC survey respondents reported following in the past year, including clean eating, mindful eating, plant-based, gluten-free and flexitarian.
So, can berries help the restaurant industry boost its reputation with diners seeking "better-for-me" menu options? I believe so. The challenge will be finding the right menu fit across day parts and meal parts. Thankfully, berries can work in both sweet and savory applications, creating value-added ways to add berries to menus versus just offering them as part of fruit cups.
Chef Jill Overdorf, the Produce Ambassador, loves to talk about pickling and roasting strawberries for use in savory applications. Every time she mentions this, I start daydreaming about ordering a medium-rare filet mignon paired with a roasted strawberry-balsamic sauce. If I were ordering this at Ruth's Chris Steak House, I would definitely pair it with my favorite cocktail, the Raspberry Rosemary Martini that features fresh raspberries threaded on a stem of fresh rosemary.
Wild Hive, the marketing agency that works with the Washington Red Raspberry Commission, has done extensive work developing resources for foodservice and culinary professionals, including a flavor pairing guide showing how frozen red raspberries can provide color, flavor and flavor balance across a wide range of menu categories and dishes, including spicy dishes like Kung Pao, root vegetables, tomato-based sauces, cured meats and seafood, and whole grains as well as desserts and cocktails.
The California Strawberry Commission's website features an impressive collection of Hispanic- and Latin-inspired recipes using fresh strawberries. Baja Shrimp Tacos with Strawberry Coleslaw is gorgeous, the perfect menu item for casual beachfront restaurants that feature photos on menus. The tart-sweet taste of the berries, plus the beautiful red color, offers flavor balance for the fried shrimp as well as color and texture contrast.
Berries can work in both sweet and savory applications, creating value-added ways to add berries to a menu.
Driscoll's offers a foodservice guide on its website where most of the recipes feature sweet applications, but a Blackberry Chipotle Glaze for pork ribs caught my eye. Berries pair so well with smoky chipotle.
California Giant has taken a different, yet very smart, approach to berry marketing in foodservice by launching its California Giant Top Chef contest, attracting the attention of talented chefs from across the country who compete for Top Chef accolades. Many of the chef finalists for 2022 work for distributors, thereby increasing the impact of their berry focus. These chefs can share their berry insights and expertise with other professionals who can work to put more berries on more menus in more ways.
It's interesting to note many others in the berry world do not offer foodservice sections of their websites and focus solely on retail sales and consumer engagement versus thinking more broadly about opportunities for berries on restaurant menus. Alas, fresh produce is a difficult segment to work in and, when combined with the complexity of the foodservice channel with so many different segments with different needs, I can see why many choose to focus precious resources on the retail market.
Why should more emphasis be placed on berry marketing for foodservice? There are many reasons. Berries are an item with high perceived value. Consumers believe in the health value of berries. Berry breeders continue to develop new varieties that offer exceptional flavor as well as higher levels of beneficial bioactive compounds. Packaging technology has extended the shelf-life of berries. My hope is that we will all see more berries in more places on American menus in future years.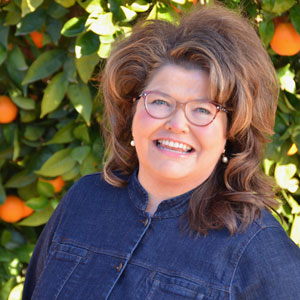 Amy Myrdal Miller, MS, RDN, FAND is a farmer's daughter from North Dakota, award-winning dietitian, culinary nutrition expert and founder and president of Farmer's Daughter Consulting, Inc. She is the foodservice strategist for the Produce for Better Health Foundation, a member of the Texas A&M AgriLife External Advisory Board, a member of the Bayer Vegetable Seeds Horticultural Advisory Council, the registered dietitian for the Buy California Marketing Agreement California Grown and co-author of Cooking á la Heart, a 500-recipe cookbook based on plant-forward eating cultures from around the world. Learn more at www.farmersdaughterconsulting.com, and follow her insights on social media@AmyMyrdalMiller.