Originally printed in the October 2019 issue of Produce Business.
Effective merchandising targeted to Generation Y broadens audience.
As an Instagram-friendly item known for its bold tart flavor and versatility in recipes, horizons are expanding for fresh cranberries as marketers leverage the holiday season to build new usage occasions for one of America's few native fruits with commercial scale.
A 2016 survey commissioned by the Wareham, MA-based Cranberry Marketing Committee (CMC) found 69% of Millennials added cranberries to their meals.
To incentivize this percentage to grow, the CMC has 400 recipes available on its website, in addition to its health messaging and other marketing tools.
"In-store cooking demonstrations are an effective way to get shoppers to broaden their recipe ideas and show them how easy it is to incorporate cranberries into recipes," says Karen Cahill, CMC's communications and marketing specialist. "Demonstrating a cranberry cilantro salsa, for example, is an excellent way to get shoppers looking at cranberries differently," she says.
"Bold and intense flavors are becoming more popular, especially among younger demographics, and introducing cranberries into your dishes is a great way to achieve this flavor profile," notes Ben Johnson, president at Bridges Produce Inc. in Portland, OR.
Cahill says Millennials are more likely than other generations to add cranberries to smoothies or cocktails, while smoothie bowls are also growing in popularity.
"Sampling cranberries in smoothies is an ideal way for consumers to taste them in-store while also describing other ways to consume," says Janice Honigberg, owner of Sun Belle Inc.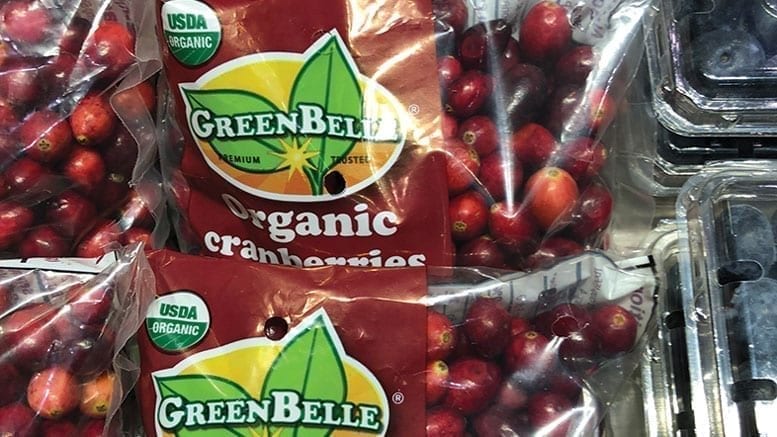 "A prepared relish on crackers can also be a great way to taste cranberries' unique flavor."
It may be too bold to say that tart is trendy, however cranberries are trending. For a fruit that has a short season of just a few months in the fall, there are more than half a million posts for #cranberries on Instagram. That's more than #mangos, often described as the world's favorite fruit.
Some of these #cranberries posts are covers of songs from the 90s Irish rock band of the same name, but for the most part it's pictures of the fruit, smoothies, muffins, cakes and even the colorful and intriguing cranberry bogs — a unique and striking visual for production that not enough consumers know about.
Last year, Bluewater Farms of West Wareham, MA, invited social media influencers from the West Coast to wade into the company's cranberry bog and shoot footage.
"They really got a kick out of it," says Bluewater Farms managing partner Brendan Moquin, whose company offers a variety of fresh cranberry packaging options and juices. "I mean we can't get enough influencers and different ways to show people cranberries can be cool."
"Why we created our company in 2016 was to shift away from cranberry as your 'grandmother's brand,' and how do we make this a year-round brand?"
In line with this trend, Sydney Fairchild, marketing, sustainability and compliance at Bridges Produce Inc., notes #cranberry sauce has just more than 100,000 posts on Instagram.
Merchandising Fresh Cranberries
For a retailer, it would almost be foolish not to promote sales that leverage Thanksgiving associations with cranberries, but growers and marketers are busy building a new source of demand that could drive sales in the future.
How that fruit is presented to consumers at retail ultimately will determine the success of these efforts.
"Ensuring you have steady supply and eye-catching displays in the produce department throughout the fall and early winter months, not just Thanksgiving week, is crucial to capturing this expanded demand and continuing to promote the growth of the category," says Fairchild. "Cranberries have historically been a Thanksgiving staple, but in recent years people's perceptions of this superfruit have gone beyond cranberry sauce and popcorn garlands."
The aim is to keep the fruit at the forefront of the consumer's mind. CarrieAnn Arias, vice president of marketing for Naturipe Farms of Salinas, CA, also highlights the importance of grabbing consumers' attention with attractive displays.
"Thanksgiving is a big holiday for fresh cranberries, and we provide promotional opportunities to retailers to help them continue the momentum with the holidays that follow," says Arias. "Naturipe can provide signage celebrating the peak of fresh cranberries to add to these displays.
"In addition, providing recipe cards in cranberry displays with the ingredients involved in the recipe nearby can also increase sales."
Cahill of the CMC says retailers can also display cranberries near other seasonal items, such as pumpkins and cornucopia, featuring them in rustic wooden crates to connect the fruit with the farms they come from.
"Displaying cranberries with other recipe ingredients for back-to-school snacks and lunches, Halloween treats, and Friendsgiving and Thanksgiving recipes is an effective way to inspire impulse sales," notes Cahill.
"It is prudent to do cross-merchandising displays such as providing an in-store or online roadmap for all ingredients needed for your special holiday dinner," says Sun Belle's Honigberg, whose company markets biodynamic organic cranberries under the Green Belle label, sourced from Nekoosa Family Farms in Nekoosa, WI.
Fairchild notes retailers can encourage consumers to pair cranberries with hard squash, which is also at peak season during the fall. This idea is echoed by Mary-Beth Weiss, associate marketing manager at Decas Farms in Carver, CA.
"Cranberries also merchandise well with other seasonal favorites like apples. Displays of cranberries and apples or squash really evoke the feelings of fall for consumers," says Weiss. "Something as simple as floating the berries in apple cider for shoppers to enjoy could be a great way to showcase the fruit."
Weiss also encourages consumers to 'Buy 2, Freeze 1' when it comes purchasing fresh cranberries in season.
"They can be frozen right in the bag they are purchased in," she says. "This makes it easy to enjoy the fruit in smoothies or popsicles come summer."
If cranberry consumption is to grow — perhaps more important than cross merchandising with other fruits is cross promotion within the category — especially given that the majority of volume is turned into dried cranberries or concentrate.
Even though dried cranberries can last longer than their fresh counterparts, Weiss notes dried cranberry sales also peak around Thanksgiving.
"Placing secondary floor displays of dried cranberries near coolers of fresh cranberries is a great idea for retailers to increase sales during the holidays," she says. "Keep cranberries cool and dry to keep them fresh."
Johnson of Bridges Produce agrees, emphasizing optimal storage is between 38 degrees to 40 degrees to keep the fruit firm and beautiful. Below that temperature, the cell walls will begin to collapse and impact the shelf life of the fruit.
Meanwhile, the Cranberry Marketing Committee has expanded fresh cranberries' footprint in-store, bridging into floral departments.
"Beyond food, fresh cranberries are a decorative secret weapon," says CMC's Cahill. "With their bright-hued reds and pearl-like shape, cranberries enhance table-scapes, brighten floral and candle arrangements, and bejewel wreaths and garlands.
Health And Heritage
In 2015, the committee trademarked U.S. cranberries as "America's Original Superfruit," helping distinguish the product from the fruit grown elsewhere. This taps into the food's origin story, having been used by Native Americans as early as 1550 and first commercially cultivated in 1816.
This brand also harnesses the fact cranberries are a nutrient-rich food, and Cahill points retailers in the direction of the organization's website, CranberryInstitute.org for more details.
"A serving of fresh or frozen cranberries contains 7 mg of vitamin C and 1.8 grams of fiber and provides polyphenols not commonly found in other fruits," notes Cahill. "Scientists have been exploring the relationship between cranberries and heart health, gut health, urinary tract health, as well as the cranberry's unique anti-adhesion properties."
Decas Farms' Benoit describes how his company is taking the health push a step further.
"We have partnered with a major retailer's pharmacy team to sample and reach out to consumers to share the health benefits of the cranberry," he says. "We've sampled our Organic and LeanCrans reduced-sugar dried cranberries that make a delicious stand-alone snack or trail mix ingredient, along with recipes for their use and information about health benefits.
"Consumers have responded well to these demonstrations and we've seen increased sales," says Benoit.
Production Trends
The CMC has forecast cranberry production of 8.8 billion barrels this year, representing a 2% rise on the 2018 crop, which itself was a 6.7% lift on 2017.
Bob Wilson, managing member of the Cranberry Network LLC/Habelman Bros. Co., Wisconsin Rapids, WI, says it's important to remember only approximately 3% of cranberry production goes to the fresh market.
"With the high percentage of cranberry bed renovations — removing older varieties and replacing with high-yield hybrids — over the past 5 plus years, annual North American cranberry production should be on the rise," he says.
He notes most of this fruit has been for the production of sweetened-dried cranberries and cranberry juice concentrate, but some new varieties have been bred for early ripening, which helps fresh cranberry growers compete for Canadian Thanksgiving sales on Oct 14.
"Some of the new hybrids have been bred to last longer in cooler storage, helping us to extend through Christmas and beyond," he says. "Providing a less tart cranberry to produce buyers is also an industry objective.
Bridges Produce's Johnson says his group's organic cranberry-growing partners at Quebec-based Patience Fruit & Co. are now cultivating varieties that are ready for harvest at an earlier date.
"They were bred to allow good availably for Canadian Thanksgiving, which is the second Monday of October," he says. "We do not usually see these early varieties in the United States due to the high Canadian demand during that early shipping window."
Decas Farms' Weiss says, "We try to plant varieties that ripen at different times in order to ensure we can supply the freshest berries throughout the season."
Honigberg says, Nekoosa Family Farms, is ramping up production of its certified-biodynamic organic cranberries, with volume set to be up 43% in 2019, followed by year-on-year growth of 33% in 2020, 25% in 2021 and 60% in 2022.
"We have found excellent demand for certified-biodynamic organic cranberries. Volumes have been short the last two seasons due to poor weather and pollination," she says. "We are planting more acres in order to supply the increasing demand for our certified-biodynamic, Wisconsin-grown organic cranberries."