Originally printed in the December 2022 issue of Produce Business.
Broadway isn't the only star in New York City — the Big Apple is made for foodies. From the street vendors to Michelin-star eateries, and from corner bodegas to upscale supermarkets, New York's food scene plays a starring role in the lives of its residents and visitors.
Shopping for groceries shouldn't be a bore or a task to avoid, and it's the fun and inspiration that makes Stew Leonard's the place to go. There are seven locations in the greater New York region, including three in New York, and each will delight produce shoppers.
And produce shines as the star in all 16 Morton Williams upscale supermarkets in New York City (all but two are in Manhattan).
Discover how a new ShopRite market is reinventing a space previously held by another banner, or visit one of four Gourmet Garage retail stores, including a new, two-story store that spotlights produce.
If it's a farmers market you want, you can find several of the GrowNYC markets throughout the boroughs, including the recently expanded, and largest, Greenmarket in Jackson Heights, where produce plays a lead role.
Sometimes, you just want a neighborhood place to relax and eat with friends, and the Left Bank in Manhattan's West Village has the vibe — and the menu — for you. And Boutros, on Brooklyn's Atlantic Avenue, offers the same comfortable setting with a modern Middle Eastern twist.
If you're looking for a little spice in your life, head to Staten Island and authentic Sri Lankan cuisine at Lakruwana restaurant. Or, in a new, hopping part of Long Island City, Vegoist serves up universally appealing vegan options, as well as a non-vegan menu.
New Yorkers and visitors alike might be surprised to find fine dining tucked away just inside the New York Botanical Gardens in the Bronx, but the Hudson Garden Grill should be on your must-go list.
BOUTROS
Modern Middle Eastern Fare in Brooklyn
Boutros was the first restaurant opened by chef and proprietor Allen Dabagh after a long journey from his original career path.
The cuisine combines classic Middle Eastern elements, which reflect his Lebanese and Syrian descent, with classic and modernist techniques. New American cuisine, another influence that's important at Boutros, reflects Dabagh's background growing up in NYC.
Dabagh initially pursued architecture in college, but in one of those strange turns of life, he landed in the hospital after an accident and met a chef. A discussion with that chef helped turn a passion Dabagh had for restaurants and food into a career path. He took a job in a restaurant, and switched to a business management major. Later, he went to the French Culinary Institute in NYC and got his culinary certification, which led him to a job at John George. As he learned the ropes of ingredients on the one hand, and the restaurant business on the other, Dabagh planned Boutros and opened it in November 2016 with his family's support.
"Boutros is a modern Middle Eastern restaurant," Debagh said. "I've been fortunate enough to intertwine flavors I grew up eating with my background in fine dining from working at John George for a couple of years, utilizing French techniques, Italian techniques, Japanese techniques."
The restaurant takes its name from Dabagh's father, "Pierre" Boutros Debagh, who supported the restaurant's founding. The dining room design creates a warm, inviting atmosphere and camaraderie, given the communal tables and shareable dishes. The intent was to create a comfortable, even family setting where people could relax and enjoy.
The stretch of Atlantic Avenue in Brooklyn where Boutros operates was once known as Little Syria. Although it is not much of an ethnic enclave anymore, it still is home to Middle Eastern restaurants, bakeries and other stores that reflect the neighborhood's history. The tradition was important to Dabagh, who spent time in the community as a kid, even though he lived a few miles away.
"I felt this was a perfect area to introduce a modern interpretation of Middle Eastern food," Dabagh said. "Currently, I take a lot of Asian influences into our Middle Eastern cooking. One of our staple dishes is bulgur fried rice. Bulgur wheat is cracked wheat and is really nutty. That was the 'rice' I grew up eating. I've reinterpreted it into a fried rice, intertwining a dry beef sausage that's predominant in Middle Eastern cooking, then took garlic and ginger, scallions, some traditional flavors of fried rice, then we did a pomegranate soy sauce. It's been a staple on the menu since we first opened."
In another effort to unite flavors and traditions, the restaurant currently has a braised leek salad on the menu.
"Leeks for me are one of those underutilized vegetables and onions that usually get swept into stocks or soups," he says. "People don't realize the beauty of them, the sweetness that comes from them, the dynamic of flavor."
Dabagh emphasizes flavorful, vibrant ingredients to support the flavor mixing that is central to Boutros cuisine. As such, sourcing is a critical matter that he handles by working closely with purveyors and their reps. However, Dabagh says he also checks out farmers markets to see what unique things local growers might be doing that could fit the dishes he is creating.
"When we have amazing farmers that are producing foods that are unique, that's going to harbor creativity," he says. "So a lot of my sourcing comes from just a lot of research, a lot of focusing on what's going on in the produce market, the seasonality, what's going on at farmers markets, what's going on with my purveyors and taking all the feedback that I can to really develop the menu we have here."
FACT FILE
Boutros
185 Atlantic Avenue, Brooklyn, NY 11201
718-403-0055
www.boutrosbk.com
GOURMET GARAGE
Improvising and Modernizing, With Focus on Quality
Gourmet Garage is one of those New York stories with an odd beginning — but those origins helped create a way of doing business that helped it thrive.
The business, at least the retail business, actually traces its beginnings through a garage. The Gourmet Garage story begins in 1981 with an importer and distributor serving the foodservice trade. That year, Flying Foods International took off and continued in its line of business for a decade. Then, it began allowing retailer customers into the operation, promoting itself as the place to "shop like a chef." As the retail business took off, Flying Foods occupied a former garage space on Wooster Street in SoHo. Then, Gourmet Garage was born.
Gourmet Garage maintained a sense of improvisation as it expanded, occupying a variety of spaces and adapting to them. Its newest location, on Hudson Street in the West Village, which slots in geographically between the Tribeca location and the one that serves Soho, now on Broome Street. The fourth location on West 66th Street serves the lower reaches of the Upper West Side.
The latest Hudson Street location is 15,000 square feet and operates on two levels, which is a new operating model for Gourmet Garage. In contrast, the store on 66th Street is about 5,000 square feet with 15% dedicated to produce, says Amanda Fischer, marketing, business development and outreach manager, Village Super Market, the company that purchased Gourmet Garage in 2019.
Like the larger Hudson Street store, the Gourmet Garage on West 66th Street has more of a modern format. Produce is just to the right of the entrance, and products are featured in a neat and fairly open format, considering the size of the store. Cold cases form a horseshoe around a central table display. Rack and waterfall-style tables supplement the major dry display and maintain more than a fair variety of products — from staples such as potatoes and tomatoes to tropicals including pineapples and mangoes.
Cut fruit also gets a generous presentation, as is the case in all Gourmet Garage stores, and signage points to local and organic produce.
"Quality and variety are the cornerstones of the produce department," Fischer says. "Every item on the shelf has to be the best quality. We make sure the widest variety of items are made available to our customers year-round. However, seasonality is extremely important. In the peak of the season, we can provide customers with the best quality, pricing and variety and our merchandising shifts to reflect that."
The Gourmet Garage in Soho, by contrast, is in a building of considerably older history and the store has the feeling of a market out of the early days of the last century, with pillars and antique floors. The mix of modern fixtures and basket displays update the produce section nicely. A seasonal display of pumpkins and apples greeted shoppers entering the store on a fall afternoon. It was flanked by drinks on one side and a convenience food case on the other, that followed by a fixture featuring packaged salads, then organic and local produce. Throughout, convenience food mingled with bulk and packaged produce to give customers the freedom to select ready-to-eat or stock-up foods.
Convenience items are an important part of the mix in a neighborhood where refrigerators are small and consumers busy. "Pre-packaged salads and freshly cut fruit and vegetables continue to trend upward moreso than any other category in the department," Fischer says.
"At our newest Gourmet Garage in the West Village, we made it a focus in design to feature prominent displays of grab-and-go meal solutions within our produce departments," Fischer says, "and we continue to add new grab-and-go convenience displays with our produce sets wherever possible. Many of these showcase our local produce."
FACT FILE
Gourmet Garage of Soho
489 Broome St, New York, NY 10013
212-941-5850
Gourmet Garage of West 66 Street
155 W 66th St, New York, NY 10023
212-595-5850
www.gourmetgarage.com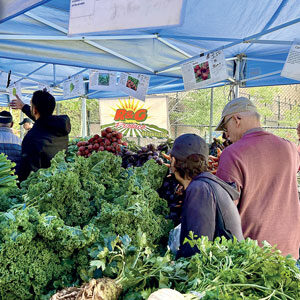 GREENMARKET
A Diverse Jackson Heights Farmers Market
New York is home to many farmers markets, and it goes well beyond the most famous example in Union Square.
Farmers markets extend through the five boroughs, including Queens, where the Jackson Heights Greenmarket operates on 34th Avenue between 79th and 80th streets, just a couple of miles from LaGuardia Airport. The market is open year-round on Sundays, with winter hours from 8 a.m. to 2 p.m. and summer hours from 8 a.m. to 3 p.m.
GrowNYC is the organization behind the farmers markets. The ones in its systems bear the Greenmarket name, including those in Jackson Heights, Union Square in Manhattan and dozens more. They are part of a program that brings fresh food into New York in multiple ways, such as the Greenmarkets.
GrowNYC says the Jackson Heights Greenmarket is located in one of the most diverse neighborhoods in Gotham. Recently expanded, the operation has become the largest and busiest Greenmarket in Queens. The market reflects the culinary diversity of the neighborhood, and provides a broad selection of vegetables, fruit, eggs, fish, honey, chicken and specialty Latino produce.
In all, about 20 growers and other food producers, including a fish farmer, operate in the market, primarily in tent and table arrangements.
R&G Produce is well represented at the farmstand, selling primarily a variety of vegetables.
"We've been coming down to this market for years," says Rick Miller, a truck driver and farm associate. "We bring our vegetables down from Pine Island, NY. We pick our vegetables the day before we come down. When we bring fresh, it's fresh."
R&G operates in the Black Dirt Region of southern Orange County, NY and northern Sussex County, NJ. With 800 acres of land, R&G sells produce through wholesalers, including at the nearby Hunts Point Market, and at around 15 farmers markets, Miller said, including Jackson Heights, where the tables were thick with everything from greens to carrots to leeks to beets and lots of turnips.
Miller said one thing that is now helping farmers markets is people learning to cook in the COVID-19 pandemic. They gradually emerged from the isolation of the peak pandemic period with an appreciation of open air places to buy food and the freshness of the produce they could find. That appreciation is gaining, he says.
"They're starting to buy more stuff," he says. "Two years we struggled. This year, we're doing pretty good."
Jennifer Flynn, a driver and Greenmarket staffer for John D. Madura Farm, also in Pine Island amid the Black Dirt Region, says the grower has been sending produce to the Jackson Heights market for about 15 years. Madura also sells at the Union Square, Inwood and Columbus Avenue and 77th Street markets on the Upper West Side of Manhattan.
Onions, potatoes, garlic, beets and carrots are main crops for Madura and the Black Dirt Region, but the stand offers more than the basics. Because Madura also has greenhouses, the grower can bring leafy greens year-round to the 52-week Jackson Heights Greenmarket.
"And mushrooms," Flynn says. "We've got mushrooms all year around. That's a big deal, shiitake, maitake, lion's mane and oysters."
Although Madura has a relatively small stand in Jackson Heights, the traffic is solid and Flynn says she has regulars she can count on to stop by.
"In general, the whole market does very well," she says.
FACT FILE
Jackson Heights Greenmarket
34th Ave & 79th Street, Jackson Heights 11372
212-788-7900
www.grownyc.org/greenmarket/queens/jackson-heights
HUDSON GARDEN GRILL
Come For the Flora, Stay for the Food
The New York Botanical Gardens in the Bronx, NY, are a showcase and not just for the flora. Savvy visitors take in the cuisine as well.
Inside the gates, the Hudson Garden Grill operates as a white tablecloth restaurant. It takes a farm-to-table dining approach in an intimate, sit-down dining space for botanical gardens visitors and the general public. Its New American cuisine is fulfilled by locally sourced, ethically produced ingredients from Hudson Valley farms and other producers from the surrounding region.
The Hudson Garden Grill also emphasizes seasonal provisions in menus that also draw inspiration from the New York Botanical Gardens' Edible Academy program, which uses a state-of-the-art facility, including the Ruth Rea Howell Vegetable Garden, as part of an educational program for children, families, teachers and the public.
The airy, bright dining room, which has a happy combination of tall windows and a forest of chandeliers, has its complement in a patio dining area and serving counter looking into the kitchen. The staff is friendly and attentive.
Dishes are varied and demonstrate an attractive creativity. For example, a beet salad incorporates marinated roasted beets, goat cheese, baby frisee, pistachio crumble and compressed champagne apples, and the roasted local vegetable and emmer salad combines arugula, cauliflower, English peas, corn, radish, feta cheese and sherry vinaigrette. Both can be made vegan on request. The Freebird Farms chicken breast comes with parsnip puree, radish, baby carrots, shiitake, runner beans, beurre blanc, while the Harvest Vegetable Quinotto includes creamy quinoa, aji amarillo, espelette, arbequina olive oil, roasted seasonal vegetables and also can be vegan upon request.
The care put into ingredient selection extends to appetizers, such as the NYC burrata, which combines the cheese with watermelon, heirloom tomatoes, balsamic and basil seeds served with sourdough bread on the side or cucumber for the gluten free.
Among the recent, seasonal dishes was lunchtime's fall squash soup with clabbered cream, black pepper, maple syrup and quinoa crunch. Lunch salads include a quinoa and baby arugula salad with charred peppers, avocado, dried cranberries and apricots, breakfast radish and compressed champaign apples; and sandwiches include a garden burger with caramelized tomato jam, creamy feta and butter lettuce. Again, both are vegan upon request.
The attention to the lunch menu underscores an important point about the Hudson Garden Grill — it is a restaurant that's equally welcoming in the day as the evening. One caution: Reservations are highly suggested. Just drop in and you might have to pay the botanical garden's parking fee.
FACT FILE
Hudson Garden Grill
2900 Southern Blvd, Bronx, NY 10458
718-817-8700
www.nybg.org/visit/dining/the-hudson-garden-grill
LAKRUWANA
The Spice of Sri Lanka on Staten Island
In an effort to spice up New York, Lakruwana began as a Sri Lankan gourmet restaurant located at 44th and 9th Avenue in Manhattan. With an initial seating capacity of 20, it catered mostly to Sri Lankans living and working around the city. However, it also attracted Americans who appreciated the rich spices, and even some tourists from the New York Theater District. From the start, authenticity was central to Lakruwana's operations.
An expansion upped the seating capacity to 85. Then, after a fire at the Manhattan location, Lakruwana moved to Staten Island where a smaller sister foodservice operation already existed.
These days, Lakruwana doesn't require the drop-in tourist trade because it has become something of a regional attraction, says Julia Wijesignhe, general manager. Today, only about 5% of Lakruwana customers are Sri Lankan and relatively few are from the immediate Staten Island neighborhood. Rather, a steady stream of Sri Lankan food aficionados journey from around the New York metropolitan area to Staten Island and Lakruwana.
Authenticity, as noted, is important to Lakruwana.
"It's very traditional," says Wijesinghe. "Everything is cooked by my mom and it's done very traditionally. So there's no fusion, no trying to make it Western. It's just pure."
The restaurant, founded by Lakruwana Wijesinghe, is family run, and Jayantha Wijesinghe, is currently chef/owner.
Although the restaurant is open all week except Monday, weekends are a great opportunity to sample Sri Lankan fare at Lakruwana, as the restaurant offers an all-you-can eat, $16.95 buffet.
"Our buffet is like an opening to what it's like to have homemade style, what we would eat every day," Wijesinghe says. "So, a lot of these curry items are all based in coconut milk, just as how we would do it in our cuisine."
The buffet has a wide range of dishes, such as egg curry, deviled chicken, pork curry, coconut, chili and lemon, pineapple curry, yucca, cassava and tapioca, and papadam, a crunchy, thin, flat, deep fried dough made from black gram bean flour. Guests have a choice of basmati, red basmati and vegetable fried rice and egg.
The desserts include chocolate, mango and gooseberry mousse, caramel pudding and sago pudding, which is vegan.
Lakruwana also has a standard menu for customers during the week and as an alternative to the buffet on the weekend. Dishes include lamprais, with basmati rice, curry fish cutlet, seeni sambol, a sweet and spicy onion relish, spice-enhanced eggplant moju, cashewnut curry and egg wrapped and baked in a banana leaf with choice of curry. Choices other than fish include vegetarian, beef, pork, lamb, shrimp or chicken. Hathmaluwa is another dish featured on the menu with mixed vegetable curry prepared with Sri Lankan-style coconut sauce with basmati rice.
The dining room is clad in an exotic decor that might warrant a visit all by itself, given the range of Sri Lankan artwork. Even the exterior, which offers outdoor seating, is designed to invite the passerby into an environment that's very different from that of Staten Island.
FACT FILE
Lakruwana
668 Bay Street, Staten Island, NY 10304
347-857-6619
https://www.lakruwanarestaurant.com
LEFT BANK
A Comfortable, Neighborhood Hangout
Left Bank is a proud restaurant that wants to give its West Village neighborhood a place to hang out and enjoy hearty food.
Laurence Edelman founded the restaurant in 2011. "When we opened the door, it was designed to be a neighborhood restaurant where people could come and eat and drink together."
Of course, Manhattan's West Village is a New York neighborhood known for a wide range of restaurants with global cuisine. However, it's also a place where people live — people who need to relax in familiar, comfortable settings.
With all the food and design trends, what often lacks is a place where people can relax with their friends — and that is what Left Bank provides, so the menu tends to be consistent, with just enough change to maintain interest, and not only of the customers. "You've got to keep the cooks interested," Edelman says, as too much of the same thing can get as boring for the staff as for customers.
So, Left Bank makes small changes over time to keep everyone engaged. At the same time, Edleman says, the restaurant makes sure all the elements work together to produce a fine eating experience.
Main dishes are solid favorites and side dishes vary, but are thoughtfully matched to entrees so that whatever the ingredients — and fruits and vegetables figure prominently — they complete the meal, rather than simply accompany it. For example, Iron Roast Split Chicken comes with celery root mash, chicken jus, radish and escarole salad, and the Pan Seared Local Steelhead Trout has as its complement golden potato puree, grilled little gem, lemon and parm croutons. Appetizers include Shaved Brussels Salad with hazelnuts, pecorino, radicchio, olive oil and lemon, and Spiced Rotisserie Cauliflower with shishito peppers, wild rice, calabrian chili and olive salsa.
Edelman says sourcing for the restaurant varies, for a number of reasons. Farm to fork is something of an ideal for the restaurant, but in practical terms, it becomes difficult. Communication with the source farms has to be constant, and the restaurant has to change the menu weekly as it shifts to the crops that are in the best form. For a restaurant with a small staff, the challenge of taking what's available at the farm and turning it into superior meals can be so time-consuming as to be almost a full-time job. So, to maintain quality and deal with the realities of running the restaurant, Left Bank works with farms but also other purveyors to maintain a balance.
Just as the menu is carefully balanced to welcome folks coming to socialize, the restaurant decor is also inviting and relaxed. When it opened, Edelman says, there wasn't any money to do a lot of interior work beyond painting. However, as time went on, the look came together and eventually reached what was wanted all along. "Now it has a bistro vibe," he says.
One thing that's not easy for Left Bank: maintaining that comfortable, neighborhood feel. Edelman says it takes discipline to keep things cool and comfortable when all around, restaurants are jumping on the latest food trend and decor. But Left Bank provides an authentic community eatery where people can settle back and be themselves with friends or neighbors.
FACT FILE
Left Bank
117 Perry St., New York, NY 10014
212-727-1170
www.leftbanknewyork.com
MORTON WILLIAMS
Fresh Cuts Help Serve a Unique Customer
Morton Williams has a big job in the Big City: satisfying a wide variety of demanding customers in stores that run from small to mid-sized. And it's produce that's critical to keeping everyone happy.
With 16 stores, all but two in Manhattan, Morton Williams Produce Director Marc Goldman says his customers can range from wealthy professionals to tourists, depending upon the location. As such, a healthy corporate support structure has to ensure a flow of quality products for a demanding customer base, but also advise and support store produce managers who understand their local market, for everything to work effectively.
On West End Avenue and 60th Street, more or less between the Lincoln Center performance complex and the Hudson River, a good-sized Morton Williams supermarket, at 25,000-plus square feet, serves a residential community that has become considerably more populous. Residents need basic groceries, but they also are busy people and require convenience.
In the store, prepared food counters, augmented by a hot and cold salad bar, as well as butcher, bakery and seafood departments, fold around produce in a combination that allows consumers to put together convenient meals and augment them with fruit and vegetables. If a shopper is stocking up on everyday needs — which Manhattan kitchen sizes may make a frequent occasion — he or she can enter through produce and turn in the opposite direction to reach grocery and beverages.
The convenient layout makes produce the central artery. The produce section is relatively long and narrow, with cases and tables displaying a produce assortment that's varied and abundant — with everything from tropicals to potatoes. There's also a wide range of convenience products, from store-processed fresh cut fruit and vegetables to leafy greens, and bulk basket displays.
Fresh cut fruits and vegetables get a particular emphasis, and are prepared, packed and sold in store. Plus, shoppers can readily pair fresh-cut meal elements with items from the adjacent deli and bakery to put together meals on the fly. It's little wonder Morton Williams stores merchandise fresh cuts conspicuously.
"It's a big business for us," Goldman says.
Goldman says Morton Williams seeks to achieve a balance between everyday needs, convenience items and seasonal produce. Still, seasonal is important to keeping the company's produce sections engaging and attractive to consumers. Other factors may change from store to store, but the allure of seasonal produce is something Morton Williams emphasizes.
"In the winter time, we have the apples in the front, and in the summer time we put the stone fruit in front. For Thanksgiving, we'll make a specific display," Goldman explains. "You have to be a little creative. With us, every store is a different size and a different configuration. We have to do things differently in every store."
Ensuring the mix is right for the neighborhood is a critical part of securing margins, and managers know which items will move. A related consideration in Manhattan is there's a lot of competition, from bodegas to major chains, so the closer the store can satisfy the local shopper's preferences, the better the competitive position.
Even within specific designations, demand varies from store to store. Take organics, for example. Some stores sell a lot, some not much at all, Goldman says. Overall, organics make up about 8% of produce sales, and that has gained, having increased from 1% to 2% over the last five or six years, Goldman adds. But the variation may be as high as 12% or 14% for some stores and 4% to 5% for others, so Goldman doesn't to try and force stores to push product segments that don't work in any given location.
In the end, response on store level is key to Morton Williams stores, especially the produce department. As such, Goldman spends time sourcing and ensuring the quality of the produce arriving at the stores meets exacting customer standards, but he also supports and coaches produce managers who are addressing the unique qualities of each Morton Williams store every day.
FACT FILE
Morton Williams
15 West End Ave., New York, NY 10023
917-388-3310
www.mortonwilliams.com
SHOPRITE OF PELHAM
Fresh and Convenient, Value and Variety
ShopRite of Pelham is a change for shoppers in the neighborhood just north of the New York City line, replacing a Fairway Market that closed in the aftermath of that chain's bankruptcy.
A Fairway expansion when the company was an independent business didn't pan out, and Village Super Market purchased several former stores under the banner, including the Pelham stores. The grand opening was Oct. 9.
The produce department opens the store, adjacent to and incorporating several convenience food sections. A Quick and Easy department occupies the market wall, while the turn into produce also incorporates sushi and Asian food and a sandwich counter.
Where Fairway had a pile-it-up sense of produce, ShopRite Pelham also suggests abundance, but in long, open and well-lit spaces. The store also addresses the mixed ethnicity of the community, with a significant West Indian contingent of shoppers. But the need to accommodate a variety of taste and traditions isn't a problem for ShopRite and the Wakefern Cooperative of which it is a part — the co-op and the banner have built their reputations on the ability to serve the distinctive communities that make up the New York City region.
"Our Pelham store is merchandised to appeal to everyone," says Amanda Fischer, marketing, business development and outreach manager, Village Super Market. "We make sure to carry the key items important to the diverse populations who shop our stores."
Although updated from the Fairway style, the assortment did not change greatly. "We added a larger assortment of organics and changed the merchandising layout of the department," Fischer says. "We do offer a larger variety of tropical fruit."
The sizable contingent of products, such as fresh cuts and packaged salads, and the adjacent convenience food and take-out counters add to the store's appeal by giving customers a wider choice of what to eat, now or later.
"Convenience continues as a trend everywhere, including suburban stores like Pelham," Fischer says. "Customers are looking for ultra-fresh, with none of the additional work. Packaged salads and fresh-cut fruits and vegetables give customers back the time without sacrificing the freshness. We want to make sure we continue to be that solution for our communities."
By putting food that saves time and effort near the front of the store, ShopRite signals it is a supermarket that understands and serves evolving consumer lifestyles.
"We want our shoppers to think fresh, convenient when they walk into the store," she says. "They are walking into both the produce department and our foodservice department with hundreds of grab-and-go meal ideas. The very first cases in the Pelham store feature our Quick & Easy Meal program, which merchandises produce with our grab-and-go foodservice options."
The decision to change banners wasn't easy, but the ShopRite banner carries a reputation for good value, variety and a comfortable shopping experience, so it seemed appropriate for the store.
"Village Super Market is proud to operate three distinct grocery store brands: Fairway, Gourmet Garage and ShopRite," Fischer says. "Each provides a unique offering to the communities they serve. We want to best meet the needs of each community and our customers." "It is clear that our customers are looking for the value and variety that is provided by ShopRite of Pelham."
FACT FILE
ShopRite of Pelham Parkway
847 Pelham Pkwy., Pelham, NY 10803
718-569-4544
www.shoprite.com
STEW LEONARD'S
Food Shopping is Fun
Stew Leonard's is renowned for making food shopping an entertaining enterprise. It has built on its dairy heritage to create a unique grocery operation where foodservice and perishables — produce as much as dairy — star, no matter the store size or configuration.
Although famous for its Norwalk, CT, store and one in Yonkers, NY, that sits right above the New York State Throughway, Stew Leonard's also operates stores scaled for local neighborhoods.
In East Meadow, NY, the store that serves central Nassau County has everything that identifies Stew Leonard's, including the rock embossed with the Stew Leonard's policy: Rule 1: The customer is always right! Rule 2: If the customer is ever wrong, reread Rule 1.
Stew Leonard's started as a dairy store in 1969 with seven employees. Over the years, Stew Leonard's has grown to become not only the world's largest dairy store, but much more. It isn't set up like a full-line supermarket and grocery, and everyday needs aren't conspicuous, central elements. The differentiation is in the superior offering of dairy, produce, deli meat, seafood and frozen food, which is good enough that Stew Leonard's does annual sales around $500 million and employs 2,500 staffers.
In addition to the headquarters store in Norwalk, Stew Leonard's has two other Connecticut locations, in Danbury and Newington; a Paramus, NJ, location; and three in New York, East Meadow, Yonkers and Farmingdale, another Long Island Community, this in Suffolk County.
A 70,000 square feet, the East Meadow Stew Leonard's is the second smallest in the chain. Lizbeth Arbieto, Stew Leonard's produce manager for the East Meadow and Farmingdale stores, says produce customers in the smaller stores won't get short-changed. Far from it, as they get some special treatment, given the local sourcing in the produce departments.
"The East Meadow produce department is not much different from the other stores, as far as variety goes," she says. "Our customers rave about the outstanding quality of the Long Island produce that we offer, plus our friendly customer service and knowledgeable merchandising crew. We carry a variety of unique and fresh items that are made daily, including personal and family size salads, guacamole and Pico de Gallo, and fruit bowls."
East Meadow, like other Stew Leonard locations, includes a traffic pattern that is a little of a maze, but it's designed to make sure customers don't miss anything in the store, including the chain's mascot, Clover, which is now an animatronic character that activates at the push of a button. And Clover's not the only animatronic character that's waiting to greet store customers. The animatronics and other relevant character presentations are part of each department and even sub-departments.
In produce, the store combines bulk, packaged and store-prepared fruits and vegetables, with some cut fresh right in front of shoppers. Watching food prepared in the various departments is part of the fun at Stew Leonard's.
Bulk displays are in basket and waterfall cascades that emphasize the abundance of the produce offering, and organics are well represented and designated by signage.
In addition to big displays of popular items such as bell peppers and apples, Stew's offers a large presentation of tropical fruit, including mango and pineapple. A Stew Leonard's spokesperson made a particular point of the pineapple offering. "Pink Honey Glow Pineapple is only at Stew Leonard's," the spokesperson said. Other stores may carry Honey Glow Pineapple, but it is of the Gold variety.
As noted, seasonality is an important part of the Stew Leonard product assortment, particularly in produce. However, the company offers seasonal products and promotions throughout the store and even provides customers with a full Thanksgiving meal if they want it.
In early December, Santa Claus will appear in stores, and families can take complimentary photos with Santa, or join a brunch with Santa and his friend Wow the Cow at both Long Island stores.
FACT FILE
Stew Leonard's
1897 Front Street, East Meadow, NY 11554
516-394-9001
www.stewleonards.com
THE VEGOIST
Long Island City eatery mixes vegan, non-vegan menu
The Vegoist, in its Long Island City location, is on a mission — but not exactly the type of mission you might expect.
A vegan restaurant at the core, the Vegoist isn't interested in fitting into a narrow definition about what the food it serves should be. And that's the point, says manager Luzanny Fuentes.
"We have a nice balance between vegan and non-vegan dishes," she says. "It drives some non-vegan eaters to try some vegan food. We've seen this through the years: Every year, we get more non-vegans to try vegan foods."
As a cuisine, vegan food is under-appreciated, she said. The elements may be in familiar non-vegan form such as burgers, but have their particular variations as in the Double Veggie Burger, a quinoa patty and black bean patty combined with double cheese, coleslaw, tomato and fries. Cheese are vegan variations on mozzarella, American or cheddar. The Vegoist offers lots of choices and among those that could readily convert the non-vegan to a degree of appreciation for the cuisine is the Buffalo Cauliflower Taco with cucumber-walnut ranch, avocado and coleslaw combined in a spicy, but nicely balanced, dish.
Long Island City is a former commercial and industrial Queens neighborhood that has gentrified over the years. The Vegoist is tucked into that part of Long Island City, further east and adjacent to Astoria, a traditional Greek neighborhood and famous for its ethnic restaurants but also subject to a degree of gentrification. The combination has made the whole expanse a food mecca and nightlife hotspot.
With the array of restaurant choices, a universally appealing vegan restaurant is a choice that is a bit unique.
The menu includes an entire non-vegan side that emphasizes organics. On the non-vegan menu, the Double Burger is a bit more traditional, but still a bit unique, featuring a pair of beef patties, double cheese, with the selection being gorgonzola, goat and manchego, along with coleslaw, tomato, pickles, fries or salad. The organic side of the menu lacks tacos but features a range of tartines with interesting toppings completing the open-faced sandwiches such as Avocado & Asparagus, with avocado spread, grilled asparagus and boiled egg, Manchego & Mushrooms, with sauteed spinach, portabella mushrooms, roasted bell peppers and caramelized onion, and Burrata & Bacon, with burrata cheese, turkey bacon, grilled tomato, capers and onion.
The menu also includes multiple salads including those topped with shrimp and steak as well as the Butternut Squash Salad, with roasted butternut squash, apples, capers, avocado, cherry tomato, walnuts, red onion, feta, spinach, balsamic and olive oil.
The dining room itself has a grotto vibe, with dark and light mingled to create featured spots and dim corners, and it features lots of plants in completing the look.
The Vegoist also has a Manhattan location on Ludlow Street, but the Queens location has a particular charm. The Vegoist location in Queens has been operating for seven years, Fuentes says, and the menu overlap between it and the Manhattan restaurant is about 80%. Given that Long Island City is just on the east side of the Queensboro Ed Koch Bridge (the 59th Street Bridge to New Yorkers), and the Queens Midtown Tunnel, it's a quick jaunt from Manhattan and a chance to experience a brave, new, hopping part of New York.
Not only that, but it's a place for non-vegans to give vegan cuisine a chance, which can be the sort of adventure that pays off without much pain.
FACT FILE
The Vegoist
35-43 37 St., Long Island City, New York 11101
718-729-5665
www.no5nyc.com