Originally printed in the January 2022 issue of Produce Business.
Each fall, the National Restaurant Association partners with the American Culinary Federation (ACF) to conduct the What's Hot survey, which asks ACF members about the trends they believe will dominate menus in the coming year. Chefs provide their input for 12 categories of trends, including daypart occasions, menu categories, beverages, flavor, global inspiration, and industry macro-trends. The top five trends for 2022, while not surprising, all have the potential to increase sales of fruits and vegetables in restaurants.
Sustainability
Consumers as well as chefs believe fruits and vegetables are sustainable food choices, better for their health and the health of the planet. Along with this belief comes support for local, which is great for local growers but perhaps not the most sustainable choice depending on many other factors. Sustainability also encompasses the concept of "zero waste" or full utilization of every ingredient that comes into a kitchen. Many chefs have been doing this for years, using items like the base of celery stalks, the outer layers of onions, or carrot peelings to create vegetable stocks. Support for ugly foods, the fruits and vegetables that don't meet specifications for most retailers, get support from chefs who know they can turn an ugly piece of produce into something beautiful and delicious on the plate.
Plant-Based Foods
Fruits and vegetables are the first foods that come to mind when consumers think plant-based, but the plant-based meat alternative companies are spending big bucks to get chefs and procurement leaders to focus on their products, many of which include vegetables in their ingredient lists but usually in minimal amounts. If we want people to eat more fruits and vegetables, we must continue to focus on flavor and enjoyment, two benefits that also matter to chefs. Putting a small amount of beets in a plant-based burger doesn't change habits and consumption, but putting a pickled, griddled thick slice of Chioggia beet topped with Manchego cheese on a brioche slider bun may get a diner to think differently about beets.
If we want people to eat more fruits and vegetables, we must continue to focus on flavor and enjoyment, two benefits that also matter to chefs.
Comfort Foods
As the pandemic continues, so does our desire for comfort from the stress, anxiety, and uncertainty of this new normal. Pasta dishes offer comfort to many people, and they can be customized in endless ways that help restaurants manage food inventory. Pasta dishes also travel well, which helps manage food quality for operations that still rely heavily on take-out and delivery. Operations that are focusing on other trends, like plant-based, can innovate to create new, yet familiar, concepts like Buffalo Cauliflower Mac & Cheese or Baked Potato Gnocchi with Garlic Cream Sauce. Within the appetizer category, ACF members predict that upscale potato chips will be the top appetizer trend. For those who find the appealing crunch of a perfectly seasoned potato chip crunchy, expect to see restaurants turning out new flavors using newer or lesser-known varieties of potatoes that are perfectly suited for frying in small batches in restaurant kitchens. Globally inspired fries are third on the appetizer trend list, which shows that fresh-cut fries may come into the spotlight paired with spices, sauces, and other seasonings from around the world. Am I the only one now craving Korean Gochujang Fries with Kimchi?
Health & Immune-Boosting Foods
Datassential's early pandemic research showed consumers put their faith in dark leafy greens, citrus fruits, and berries when it comes to immune-boosting properties. The What's Hot research showed chefs see opportunities for a much wider variety of foods, from tomatoes and berries to extra virgin olive oil and dark chocolate, which creates opportunities to position produce as perfect pairings for not only health and wellness but also flavor and enjoyment. Extra virgin olive oil (EVOO) can make nearly any vegetable more delicious as well as healthful. Chocolate has the same effect on fruit. Imagine ordering a plate of perfectly red ripe raspberries positioned artfully in a pool of dark chocolate with the diner getting the fun, interactive experience of picking up raspberries one by one and drawing them through the chocolate to create a perfect bite.
Global Fare & Flavors
Chefs are predicting that foods and flavors from five regions — Southeast Asia, South America, the Caribbean, North Africa, and West Africa— will be appearing more often on menus across the U.S. All five regions feature abundant use of fresh produce in their traditional dietary patterns. Anyone growing and marketing lesser-known ingredients featured in these cuisines can capitalize on chef interest in exploring these cuisines. Keep in mind that sauces are often the gateway to new flavor experiences for consumers. Sales volumes may not be big, but if the flavor takes off, chefs will seek more ways to integrate it into menus.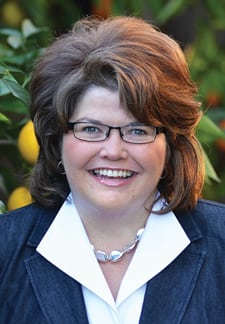 Amy Myrdal Miller, MS, RDN, FAND is a farmer's daughter from North Dakota, award-winning dietitian, culinary nutrition expert, and founder and president of Farmer's Daughter Consulting, Inc. She is consultant for the Produce for Better Health Foundation, a member of the Texas A&M AgriLife External Advisory Board, and a member of the Bayer Vegetable Seeds Horticultural Advisory Council. You can learn more about her business at www.farmersdaughterconsulting.com, and you can follow her insights on food and flavor on social media @AmyMyrdalMiller