Last month‭, ‬my column addressed the value and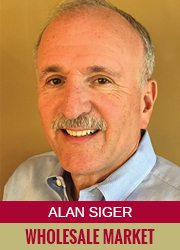 importance of integrity in the produce business‭. ‬In a fast paced industry that trades highly perishable products often worth more than‭ $‬100,000‭ ‬per load‭, ‬it's critical that buyers and sellers'‭ ‬relationships are based on trust‭. ‬Of course‭, ‬there are rules of the road provided by the Perishable Agricultural Commodities Act‭ (‬PACA‭) ‬and arbitration services available to buyers and sellers‭. ‬But when you think about the billions of dollars that are traded in produce each year‭, ‬it's amazing that almost all disputes‭, ‬aside from failure to pay due to bankruptcy or insolvency‭, ‬are resolved outside of the civil‭ ‬court system‭.‬
Once again‭, ‬I made the case and truly believe that the vast majority of folks in the produce industry are honorable and trustworthy‭. ‬However‭, ‬that does not mean that we are all saints‭, ‬and not above stretching the truth a bit to complete a sale‭. ‬When one is marketing a perishable commodity that gradually deteriorates from the time it's harvested‭, ‬rotating inventory is necessary to succeed‭. ‬Every customer wants fresh product‭, ‬and every shipper or wholesaler carrying product in a cooler for a day or two has to move that produce before it becomes unsalable‭.‬
---
Knowing your customers and understanding their expectations will enable you to make the tough decisions that keep your customers happy and your bottomline healthy‭.‬
---
When I was a young man on the Pittsburgh Market‭, ‬there was a merchant who was a key player in the onion and potato business‭ ‬‮—‬‭ ‬two commodities not thought of as highly perishable‭. ‬The owner was well liked by his customers‭, ‬and he considered most customers his friends‭. ‬He was such a nice guy that as soon as a fresh load of onions was backed in‭, ‬he would sell his customers the fresh lot and send the product remaining from the previous load up the elevator to the top floor of his building‭. ‬As time went on‭, ‬the‭ ‬forgotten onions sprouted into what one customer described as a‭ ‬"botanical garden"‭; ‬this merchant struggled to attain profitability‭, ‬and eventually closed his doors‭.‬
One key to success in this business is knowing your customers‭, ‬their requirements‭, ‬and how tough they are at the receiving dock‭.‬‭ ‬Just because something isn't fresh or perfect‭, ‬it still must be sold‭. ‬Some customers are much more quality-conscious than others‭. ‬It's important for the seller to understand that product that may be good enough for some customers may be rejected by others‭.‬
In the early 1980s‭, ‬the gentleman who ran our potato division‭, ‬Golden Triangle Packing Company‭, ‬suddenly passed away from a massive coronary‭. ‬At the time‭, ‬I didn't know much about the potato business‭, ‬but I stepped in to run the division for several months until a replacement could be trained‭. ‬It was mid-July‭, ‬and the Michigan round white potato deal had just started‭; ‬local chain stores always wanted to be the first to offer the new crop Michigan potatoes with big feature ads on 10-pound bags‭.‬
I had two different chain stores on ad with potatoes from the same grower-shipper‭. ‬In order to keep each retailer happy‭, ‬I had the shipper pack the same identical potatoes in a different brand for each customer‭. ‬One Friday morning following the day the ad‭ ‬broke‭, ‬I received a call from retailer‭ ‬"A"‭ ‬that he was rejecting the load of potatoes because of immature skin‭. ‬About an hour later‭, ‬I received almost an identical call from retailer‭ ‬"B"‭. ‬Both retailers were desperate for potatoes‭, ‬and with so many folks on ad around the Midwest‭, ‬supplies were tight‭.
I brought both rejected loads back to my warehouse to look at the potatoes and determined they were not all that bad‭. ‬I gave each driver a new set of bills and sent Retailer‭ ‬"A's"‭ ‬rejection to retailer‭ ‬"B‭,‬"‭ ‬and retailer‭ ‬"B's"‭ ‬rejection to retailer‭ ‬"A"‭. ‬Both loads were welcomed with open arms‭; ‬I had two satisfied customers and one very happy shipper‭. ‬Was I completely honest by‭ ‬sending rejected loads to my customers without letting them know what was going on‭? ‬No‭, ‬but looking at the results‭, ‬I'm very proud of the decision I made‭.‬
Consider this‭: ‬it's Monday morning‭, ‬and you're on the phone with a customer who asks if the product he or she is interested in is a fresh arrival‭. ‬Do you tell them the truth and let them know that the product came in last Friday‭, ‬or say that it was just unloaded‭? ‬Do you risk losing the sale by being‭ ‬perfectly honest‭?‬
When the customer asks if a load is fresh‭, ‬what they really want to know is if the quality is up to their standards‭. ‬Knowing your customers and understanding their expectations will enable you to make the tough decisions that keep your customers happy and‭ ‬your bottomline healthy‭.‬
---
Alan Siger is chairman of Siger Group LLC, offering consulting services in business strategy, logistics, and operations to the produce industry. Prior to selling Consumers Produce in 2014, Siger spent more than four decades growing Consumers into a major regional distributor. Active in issues affecting the produce industry throughout his career, Siger is a former president of the United Fresh Produce Association.