This unique region makes Colorado second only to Idaho in fresh market potatoes.

Originally printed in the October 2021 issue of Produce Business.
A combination of adequate water supplies, the long, sunny, summer growing season, and winters too cold for most insect pests to survive makes Colorado's San Luis Valley in the southern part of the state a natural home for nearly all of the state's potato production.
The San Luis Valley's climate advantage is nature's winter help in keeping fields pest free, and summer help keeping the fields in sunshine for a long growing season.
"The cold winters kill most of the insect pressure; consequently, we use hardly any insecticides," says Rick Ellithorpe, retired co-owner of family-farmed Aspen Produce, Center, CO.
Aspen Produce grows, packs and ships barley and raises premium Wagyu beef, but the main crop from their family farm in the Rockies, like most of their neighbors, is potatoes — russet, premium red, and yellow potatoes. But the strategic advantage of the San Luis Valley is location: The region is hundreds of miles closer to many large markets than the potato fields of Idaho.
"Our proximity and freight advantage to the South and East makes the San Luis Valley unique for growing potatoes," Ellithorpe says.
Colorado grows about a million tons of potatoes a year, which ranks sixth in the country in terms of gross weight, but the state has greater impact in the retail sector.
Nationally, around 70% of the potato harvest is processed, largely into french fries or potato chips, according to U.S. Department of Agriculture (USDA) statistics. However, that still leaves 10 billion pounds of potatoes for the fresh market, where the San Luis Valley makes Colorado a major player.
With virtually no processing companies in the state, Colorado's harvest goes almost entirely to retailers. The state ranks second only to Idaho in fresh market shipments.
"Colorado potatoes are usually sold in retail; we don't have the infrastructure for french fries," says Les Alderete, general manager at Skyline Potato Co., Center, CO.
Skyline Potato Co. is part of JV Smith Companies, a father-son firm with agricultural operations in Yuma, AZ; Salinas and Soledad, CA; and Morelos, Mexico, as well as Center, CO, in the San Luis Valley.
The 30-year-old Skyline Potato Co. offers packaging and marketing of both conventional and organic potatoes from the San Luis Valley to the Eastern U.S. and Mexico.
The San Luis Valley also grows a significant number of potatoes that are sold as certified seed. The Colorado Certified Potato Growers Association, Monte Vista, CO, maintains a list of San Luis Valley growers with seed potatoes inspected and certified to be true to type.
Nationally, Idaho is easily the leader in potato seed production, followed by Washington, but the San Luis Valley production is enough to place Colorado in the next group along with North Dakota and Michigan.
While about 4,000 acres of summer crop potatoes are grown in the northeastern part of the state, most of the production shipped to markets in the Southeast and East is from 55,000 acres in the San Luis Valley. That's because the region's proximity to those markets translates into lower shipping costs.
"There is a freight advantage," says Alderete. "With the availability and price problems of shipping these days, that advantage is becoming more substantial."
San Luis Valley shippers and their retailer customers are focused more these days on maximizing this freight advantage than on new varieties or packs.
"Everyone is searching for new ways to get the product to the store because of the transportation costs," says David Tonso, operations manager at Farm Fresh Direct of America, Monte Vista, CO. "People are trying more potatoes in a bin."
This high elevation valley fed by the San Luis River — at 7,600 feet, the highest potato growing region in the U.S. — boasts breathtaking scenery and a tradition of family-owned potato farms that dates back to the 1880s.
"With 350 days of sunshine a year, the San Luis Valley potatoes are packed with important sun-drenched nutrients, yet at an elevation of 7,600 feet, our summer temperatures remain mild — ideal for potatoes," says Andreas Trettin, director of marketing at Mountain King, Houston, TX. "Plus, the surrounding mountains provide an abundant supply of pure mountain water from the annual snow melt. The high altitude also naturally decreases the likelihood of disease and pests. The rich soil contains unique mineral deposits, as the valley was an ancient lakebed and minerals are continuously deposited here from the numerous mountain rivers."
Despite the breathtaking location of the fields, Colorado potatoes have never developed the sort of brand that makes for robust local markets: Ellithorpe figures less than 5% of the Aspen Produce potatoes are sold in state.
"A lot of people don't know that Colorado grows potatoes."
Demographics Determine Displays
The factors to consider in building a display of potatoes from the San Luis Valley are the same as for fresh market potatoes from other regions.
"Socio-economic demographics should determine the display size, variety mix, bulk and package or value-added options," advises Trettin, from Mountain King.
Gary Hoffman started Mountain King nearly 60 years ago, selling russet potatoes to restaurants on the Gulf Coast from his base in Houston and evolved to offer newer varieties to suit changing consumer tastes.
Today, the company offers butter gold, butter red, butter russets, russets, reds, and a number of small varieties originally from Russia, the Netherlands, England, Germany, and the West Indies and grown in numerous locations, including the San Luis Valley.
There are a few general rules on which varieties and packs become more prominent during special times of the year.
"Around the holidays, potato promotions are led by larger bag russets, 10-pounds plus, with varietal combos, golds and reds," says Trettin.
Beyond fingerlings, however, growers generally ship different varieties of types of potatoes that are already widely familiar among consumers.
"With the russets, Norkotah is our No. 1, followed by Canela and Reveille," says Tonso. "Among the yellows, Yukon may be declining, with other varieties replacing it. We don't do reds."
The Norkotah, released in the late 1980s by breeders at North Dakota State, is a mild potato with soft texture and good appearance that make it particularly well-suited for the fresh market. Canela is another attractive fresh market variety, developed by Colorado State University researchers, that is late maturing and fills a later harvest slot. USDA researchers based in Idaho developed Reveille, another fresh market variety that harvests in the early to mid period.
While locally grown is an important trend, it has not really gained traction when it comes to potatoes. Tonso from Farm Fresh figures as much as 20% of its San Luis Valley harvest are sold within a "local" area, broadly defined to include Colorado, New Mexico and Nebraska, but that geography is rarely used as a merchandising tool at the retail level.
"Some of the local stuff they might say it's from Colorado, but 99% is just sold as potatoes," he says.
Retailer consolidation has led to shipper consolidation, which leaves little room for direct contact between the 150 potato farming families that have worked the San Luis Valley for generations and the markets that sell their harvest to the public.
Monte Vista, CO-based Farm Fresh Direct is an association of numerous multi-generation family potato farmers in the San Luis Valley that work together to offer ample year-round supplies of a variety of potatoes, from russets to fingerlings.
But many of the family farms of the San Luis Valley become invisible in the complex supply chain that sends potatoes from the Rocky Mountains to supermarkets throughout the Southeast and East.
"We no longer have access to the retail market; we are too small," says Ellithorpe. "As a small shipper, it would do us no good to promote. The large retailers won't answer the phone. They only buy from large marketing firms."
The family farmers in that high altitude San Luis Valley still have a few words of advice when it comes to peddling potatoes.
"Product quality, price and listening knowledge of who your customer is are the best-selling tactics," Ellithorpe says.
---
Fingerlings a Category Worth Working
New Jersey-based Culinary Specialty Produce specializes in fingerling potatoes from throughout the country, including prominently from the San Luis Valley.
"Fingerlings are still largely unknown," says Richard Leibowitz, president of Culinary Specialty Produce, Mountainside, NJ. "Technically, there is a flavor to a fingerling that is often forgotten; it is not just the size and shape."
The lack of familiarity with the flavor of fingerlings — which Leibowitz describes as richer and nuttier than other potatoes — presents a merchandising challenge that became even more complicated during the pandemic.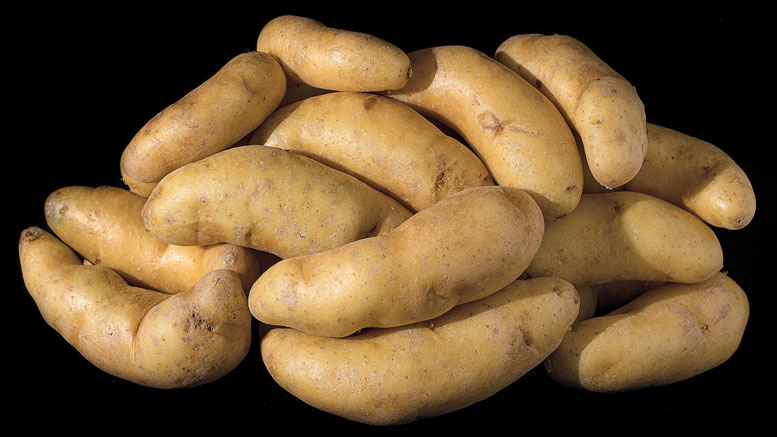 "We used to do sampling, but sampling has ended because of COVID," Leibowitz says. "We do food shows and let people taste them."
He advises retailers to feature fingerlings at end caps to draw attention to this specialty, and to use a little imagination in giving consumers a taste.
"They can use them in their prepared foods, like at the deli."
A rule worth considering for retailers is the importance of cooperating with shippers in increasing consumer knowledge and interest in new and interesting varieties.
"Retailers are always open to support new varieties with product information and recipes," says Andreas Trettin, director of marketing at Mountain King, Houston, TX, adding Kwik Lok tags and informative display units are effective ways to educate consumers.
This support can be particularly important with fingerlings, because they go for a premium in by-the-pound price and have flavor and appearance that are unique.