Food system supports local farmers and plays a role in regional produce.
Originally printed in the August 2023 issue of Produce Business.
Like the city itself, fresh produce in Atlanta, GA, offers a complex combination of the provincial, the cosmopolitan, and also serves as the hub for one of the nation's great agricultural regions.
Georgia is fifth in the nation in production of fruits and vegetables, trailing only California, Florida, Washington and Arizona, and state agencies have spared no effort in encouraging city residents to support their farmer neighbors.
The Georgia Department of Agriculture established the Georgia Grown program widely used by farmers, processors, farm stands and supermarkets throughout the state to promote locally grown farm products.
Georgia Grown has a logo that shippers display on their case boxes and markets use in their retail displays, and hundreds of farmers and numerous markets and restaurants display the Georgia Grown logo.
Five executive chefs wear Georgia Grown chef's coats as part of a program to enhance the connections between the state's farmers and restaurants. And the Department of Agriculture website includes a searchable database that lets consumers see where they can find a particular fruit or vegetable grown by local farmers.
"Buying local will always be important to Atlanta-area consumers, as long as price and quality are commensurate with non-local product," says Matt Jardina, vice president for operations at J.J. Jardina Company, Atlanta.
Jardina is a third-generation firm growing and shipping a wide line of fresh fruits and vegetables for nearly a century. The company sources produce from around the world, but features locally grown when available and displays the Georgia Grown logo.
State agriculture agencies also maintain a network of nine state farmers markets that do a combined total of a billion dollars a year in fresh fruit, vegetable, and other farm products.
A VIBRANT PRODUCE HUB
The crown jewel of this farmers market system is the sprawling, 150-acre Atlanta State Farmers Market, strategically located just south of the Hartsfield-Jackson Atlanta International Airport.
For the last 65 years, this facility has served residents with a nursery and garden center and both retail and wholesale produce. This market also serves as a regional hub for produce harvested in Georgia and beyond, and shipped throughout the Southeast and the length of the entire Eastern Seaboard.
"Atlanta has always been an important part of the produce ecosystem. Savannah to Atlanta to points in the Southeast is a very busy corridor for commerce in the ag industry," says Jardina. "We serve eight Southeastern states or more."
Jardina is one of many major shippers located in the Atlanta State Farmers Market.
Southeast Processing, also located on the market, wholesales a variety of fresh-cut fruits and vegetables to customers from throughout the region. "We do a lot of sourcing from Georgia when it's in season," says Jack Merritt, vice president of purchasing and sales. "Our customers pick up here from Georgia, Tennessee and Alabama."
Another market merchant, Nickey Gregory Company, makes deliveries throughout the Southeast from the Atlanta Farmers Market through its independent trucking company, Gregory Family Express.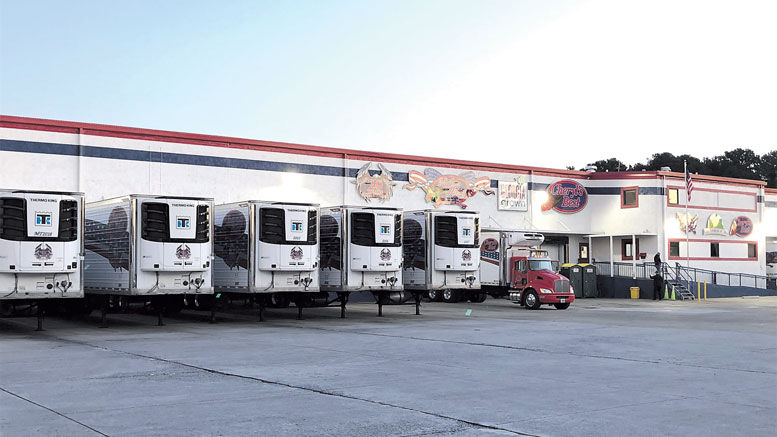 "We deliver to 11 states across the Southeast on our own fleet of trucks, delivering a variety of Georgia-grown products," says Andrew Scott, director of business development and marketing. "We have helped keep the cold chain flowing as a result. We work with several companies to help them consolidate product at our two warehouses. We then redistribute for them across the Southeast via our logistics team, Gregory Family Express."
"Atlanta is a great hub to consolidate and redistribute overnight with perishable products."
STEADY GROWTH
The role of Atlanta as a produce hub has increased in recent years as the state's economy and population continue to grow.
"We have had steady growth over the past 10 years by adding good produce people, cross-docking and storage services, and we've added processing equipment to fill another 40,000 square foot warehouse," says Scott. "The Georgia economy is very strong and companies from around the world are building a presence in our state."
While Atlanta is a shipping point for Georgia peaches, Vidalia onions, and muscadine grapes, the market is also the place to find specialty fruits and vegetables from around the world.
"We ship specialty produce," says Bryan Thornton, general manager of Coosemans Atlanta. "We source from all over the world."
Chef and consumer demand for specialty vegetables has taken off so much that Coosemans has developed a network of outlets all over the country.
The largest share of Georgia's nearly 19,000 restaurants employing more than 500,000 people is in the Atlanta metropolitan area. And, like most locations, foodservice suffered a decline during the pandemic and, though the sector has recovered, there are lingering symptoms.
"The hiccup is finding enough people to staff the foodservice industry," Thornton says. "People lost jobs during COVID and are worried it could happen again."
PRODUCE FOR A MORE DIVERSE CITY
Produce sales in the Atlanta area, however, have grown and become more varied as the city's population has become more diverse.
Atlanta's population increased from 420,000 to nearly a half million between 2010 and 2020, according to U.S. Census figures. The city's population is nearly 50% Black American and 40% Caucasian, according to the census.
Kroger is the largest supermarket in the Atlanta metropolitan area, with slightly more than 25% of the region's produce sales, followed closely by Florida-based Publix. Walmart also has a strong presence in the area, with nearly 18% of Atlanta metro produce sales, while Sam's Club has more than 4% of the market.
But while corporate heavyweights lead the pack in produce sales in the Atlanta metropolitan area, a number of smaller independent chains that cater to specific ethnic neighborhoods have grown quickly in recent years.
"As more people move into the area, it is becoming more diverse," Thornton says. "It started at least five years ago."
"I believe the area is becoming more diverse," agrees Joshua Kang, assistant manager at City Farmers Market 2, Atlanta, GA. "This store sells more to the Hispanic population."
City Farmers Market has grown to six stores in the Atlanta area, each offering fresh fruits, vegetables, and other foods tailored to serve the needs of specific Asian, African or Caribbean ethnic neighborhoods.
Talpa Supermercados has also steadily expanded in recent years to 10 stores in Georgia, and one in Tennessee, predominantly serving Hispanic consumers.
• • •
Atlanta becomes ninth Michelin Guide destination in North America
Food enthusiasts have a lot to explore in Atlanta, the heart of the South. And now, the Michelin Guide has landed in the Peach State — the Michelin Guide Atlanta.
Atlanta is a culturally diverse city, which makes for a vibrant culinary scene. Atlanta boasts everything from fine dining experiences to creative takes on Southern staples to local favorites.
"We want to recognize that Atlanta is a culinary powerhouse, with a long list of styles and flavors for foodies to enjoy," says Gwendal Poullennec, international director of the Michelin Guides. "One might immediately associate the city with Southern cuisine, and rightfully so, but there is much depth here that should not go overlooked."
"Atlanta is brimming with innovation and talent, which is evident in the dining scene."
The first Michelin Guide Atlanta selection will be revealed in the fall, and it will feature world-class restaurants in the metro Atlanta area. The guide's anonymous inspectors are in the field, making dining reservations secretively and paying for all meals to ensure they are treated the same as any other customer.
Michelin published its first North American Guide in 2005 for New York. Guides have since been added in Washington, D.C.; Chicago; California; Miami/Orlando/Tampa, FL; Colorado; Toronto; and Vancouver.