Originally printed in the January 2019 issue of Produce Business.
Promoting variety of Asian fruits and veggies will be key to successful Year of Pig.
The country just finished celebrating the holiday season, including the arrival of 2019, but it's already time to think about the next New Year — Chinese New Year.
New Year's is a major holiday in many Asian nations, and Chinese New Year is marked by a long celebration featuring decorations, fireworks, parades that star dragons and, of course, food.
Unlike holidays such as Christmas or Independence Day, which take place on the same day each year, Chinese New Year varies in dates and is based on the lunar calendar. This year Chinese New Year falls on Feb. 5, but celebrations begin weeks earlier.
Traditionally, years are not marked by numbers but by the 12 animals of the Chinese zodiac, and this year will ring in the Year of the Pig, which follows the Year of the Dog.
It also provides supermarket produce sections a fantastic opportunity to promote Asian fruits and vegetables. Obviously, Asian and Asian-American customers will be shopping for these foods, but it's also an opportunity to promote them to non-Asian shoppers, as well.
One trend among supermarkets is to bring diversity to Chinese New Year promotions. In fact, Frieda's is now promoting the day as Lunar New Year in order to be more inclusive of all cultures that celebrate new beginnings at this time of year.
"That is what is unique about Lunar New Year; it appeals to many Asian communities as well as non-Asian consumers who are curious or passionate about Asian cuisine," says Alex Jackson Berkley, sales manager of Frieda's, based in Los Alamitos, CA. "The key to success is providing shoppers with trending Asian fruits, vegetables and exciting recipes to help inspire new food experiences with consumers."
Foods For The Holiday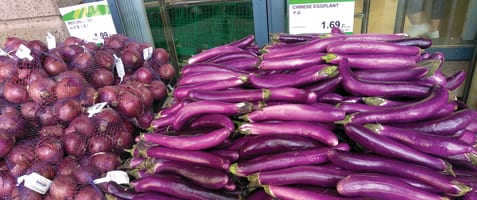 Traditional Chinese New Year celebrations include families getting together for an annual reunion dinner.
"Lunar New Year is truly an international holiday, so popular items vary for each group of people who celebrate," says Jackson Berkley. "Some of our top sellers include Shanghai bok choy, kumquats, dragon fruit and young coconuts."
According to Robert Schueller, director of public relations for Melissa's/World Variety Produce, headquartered in Los Angeles, the most popular foods for Chinese New Year are ginger, turmeric, baby bok choy, egg roll wrappers, wonton wrappers, Chinese eggplant, bitter melon, Chinese long bean, Napa cabbage, and daikon while the top fruits are dragon fruit, sweet young coconuts, kumquats, butterscotch pears, starfruit, jackfruit, Shasta gold tangerines, Sumo citrus, rambutan, and Buddha's hand.
"It's like any other holidays; on Thanksgiving you have turkey and ham; for Hanukkah, you have latkes; or potatoes are popular during Christmas," he says. "People will get into the culture leading up to the event. They'll see food articles about Chinese New Year, preparing for it and how it's celebrated in China, which is crossing over to become the Americanized holiday here in the United States."
Jim Provost, president of I Love Produce, based in West Grove, PA, says garlic, ginger, Asian pears and Fuji apples are popular items in the United States.
"We prepare extra fruits for the Chinese New Year holiday, but garlic and ginger sales also increase as families are cooking and preparing meals for friends and family," he says. "Much like you would see a bump in sales of pearl onions for Thanksgiving."
Jackson Berkley notes that a variety of fruits and vegetables are popular in Asian countries.
"Although many produce items are grown all over the world today, many originate from different regions in Asia and Southeast Asia," says Jackson Berkley. "Items like dragon fruit, young coconuts, Cherimoya, bok choy and Napa cabbage are important to different Asian communities based on what they grew up eating. Today, Asian consumers are also looking for their traditional vegetables, herbs and spices, like bitter melon, Chinese eggplant and lemongrass."
By The Numbers
Many of these vegetables are growing in popularity year-round, not just during Chinese New Year.
"The Asian produce category is becoming more important to mainstream retailers as our population becomes diverse," says Jackson Berkley. "In fact, according to The National Restaurant Association's 2017 State of the Industry report, 52 percent of adults are looking to expand the variety of ethnic cuisine in their diets."
Provost says that according to IRI data, fresh ginger is one of the fastest-growing items in the produce department.
"For the past eight years it has been growing 12 percent year-over-year. Asian and Western consumers are both consuming more ginger for its health benefits and also because it is used in many Asian cuisines," he says. "We have several Western supermarkets that put ginger on ad specifically for the Chinese New Year holiday, and we see sales increases more than 100 percent as a result."
Schueller says sales in the Asian produce category are growing 10 to 20 percent each year, and stores that participate in Chinese New Year promotions see a 15- to 25-percent increase in sales during those promotions.
"The Asian population is increasing in the United States, and as a result, so has the proliferation of Asian cuisines, both in restaurants and at home," says Provost. "We prepare sales for the holiday as we would any other major food holiday, like Thanksgiving or Christmas. Retailers are missing an important consumer demographic and sales opportunity if they don't capitalize on these trends."
Something else to keep in mind is that while these items aren't familiar to many customers by name, people consume them on a regular basis. Anyone who has ever had sushi has enjoyed a taste of ginger, bok choy is a key ingredient of stir fry dishes and lemongrass is featured in many Asian dishes, and even in tea.
"People buy 'Chinese food' all the time, with Chinese takeout, but most Americans can't identify what produce they're eating," says Schueller. "They don't know bok choy or baby bok choy or gai lan or gai choy or lemongrass. The average American doesn't know, and this is part of the educational process to get people to better understand."
Promoting Chinese New Year
The weeks leading to Chinese New Year are the best time to promote the many Asian produce items in supermarkets.
"Chinese New Year is not a one-day event," says Provost. "It lasts for two weeks, so it I would recommend getting geared up with displays two weeks prior to the New Year, and run ads for two weeks following the holiday."
Schueller suggests produce executives start promoting Chinese New Year about a month before the big day.
"This is the best time of the year for a retailer to stock more and additional Asian produce items in the department to see the potential of selling to non-Asian shoppers," he says.
He adds there are about 40 leafy Asian vegetables, and while they all look similar, they vary in taste.
"This is the time of year, January and February, when the retailer is going to explore more ideas and try to get more sales and see what items will work in their store," says Schueller.
That, he says, offers produce managers a terrific opportunity to market these vegetables to Asian shoppers, and to entice shoppers who don't typically purchase them to give them a try.
"This is the best time of the year for a retailer to stock more and additional Asian produce items in the department to see the potential of selling to non-Asian shoppers."

— Robert Schueller, Melissa's/World Variety Produce
"In terms of demographics, the strongest, fastest-growing [group] is the Asian demographic by migration and migration of the culture into this country and state to state because people are so migratory based on where their jobs are located in the United States," he says.
Schueller adds that Melissa's offers a Chinese New Year promotion with signage, POP materials, and recipe cards. The company started this promotion 20 years ago, starting with about 200 or 300 retailers, and it has grown to the point where annually, between 1,000 and 1,500 stores participate. He says those stores are located all across the country.
"It went beyond the East Coast and West Coast and major metropolitan cities like San Francisco, L.A. or New York, where the demographic is a bit higher," he says. "This is something that is happening in all geographic areas."
Jackson Berkley also notes the importance of promoting this holiday.
"It is best to create a destination display, including non-produce items such as flowers and traditional seasonings and sauces," she says. "Emphasizing the merchandising 10 days before the holiday begins is recommended."
Celebrating Around The World
Many other Asian nations celebrate the New Year at the same time as the Chinese New Year. David Kim, an East Coast sales representative for I Love Produce, says Korean New Year offers an opportunity to appeal to Korean shoppers.
He says there are two main components to Korean New Year. "First, to respect our ancestors, and second, having a meaningful time with our family," he says. "Family and relatives gather together, conduct a memorial service for our ancestors, and exchange gifts and have a breakfast together."
Produce plays an important role in Korean New Year. In honor of their ancestors, families prepare memorial services featuring a breakfast table showcasing Asian pears, Fuji apples, persimmons, and other fruits.
Kim also says people will present gifts, including fruit, during Korean New Year, and that offers another promotional opportunity. "For those who have Asian friends in the United States, it is a nice chance to give New Year fruits as gifts to their friends," he says.
Another key point Schueller makes is that in order to be effective, Chinese New Year promotions need to take place throughout the entire store. He says retailers that have had success with Chinese New Year promotions have embraced this concept because there is more to this celebration than produce.
"If you do not promote Chinese New Year outside the produce arena, it's not going to work," he says. "Chinese New Year is not just about the Asian fruits and vegetables. It's about the meat, the noodles, the rice and all of the components are a major part of it. If the whole store does not embrace the promotion like they do with other promotions — Halloween, Thanksgiving, Christmas, Hanukkah — you're not going to expand the concept and category because you don't have all the ingredients there in the store. People don't like to shop at one store and then go to another store for something else."