Originally printed in the April 2022 issue of Produce Business.
As we crawl out of winter comfort food trends and into spring, we start to see more and more green items appearing on menus. A recent review of March LTOs by colleagues at Cutting Edge Innovation showcased new coffee and ice cream-based beverages with an appealing green hue for St. Patrick's Day, but as we move into April, we start seeing green menu items that prominently feature produce.
Asparagus
Asparagus always appears on spring menus. Its tender shoots brighten plates and moods as we all think about warmer weather, the first blossoms of spring and summer vacation plans. Most often, it's simply steamed and added as a side for plated entrees, but it may also be grilled, served with a sauce like a classic Hollandaise, wrapped in prosciutto or bacon, or served in a creamy soup.
Brunch menus feature asparagus on eggs Benedict in the spring and sushi restaurants may include asparagus in their vegetable tempura featuring seasonal vegetables. Mikuni Sushi, a small, family-owned chain in Sacramento, CA, for example, features asparagus in its Illegal Asparagus, hot oil-blanched asparagus spears with sansho pepper (like Sichuan pepper that causes a numbing sensation on the tongue), yuzu salt, and spicy Zig Zag sauce.
Avocados
Avocados are essential for Cinco de Mayo menu promotions, but they can be featured in many other ways. Avocado fries are appearing on more menus, often paired with a spicy dip to contrast the richness of the avocado. Dunkin' Donuts is offering a new version of the avocado toast it launched in 2021 with its new Roasted Tomato and Avocado Toast, marketed as "the perfect savory breakfast to grab on the go. This new toast includes oven-roasted tomatoes and a creamy and savory avocado spread, topped with flavorful Everything Bagel seasoning on sourdough bread."
Peas
Fleming's Steakhouse, one of Bloomin' Brands' chains, is featuring spring peas on its spring Vine & Dine three-course wine dinner. "Start with a tender tournedos of beef, move to a butter-poached lobster and last, but certainly not least, a seasonal vegetable ratatouille — all accompanied by a velvety spring pea puree sprinkled with Hawaiian black lava salt that not only brings out the best of the dish but also the wine."
As we move into spring, we start to see more creative uses of green produce on menus.
Pea tendrils, shoots, sprouts and microgreens are appearing on fine dining restaurant menus, a tender, colorful, seasonal nod to spring. The Chef's Garden promotes its Calvin pea tendrils to chefs across the country, noting they are named after Calvin Lamborn, creator of the sugar snap pea.
Salsa Verde
Salsa verde is typically made with a base of tomatillos, various green peppers, cilantro, lime juice and salt. While not necessarily a seasonal produce offering, salsa verde appears more frequently on menus in springtime because of its vibrant green color. Its bright acidity and spiciness cut the richness of other ingredients and balance the flavor in a dish.
El Naranjo, a nationally acclaimed Mexican restaurant in Austin, Texas, whose chef Iliana de la Vega is a 2022 James Beard award semi-finalist, features salsa verde on its spring brunch menu as an accompaniment for its huevos rancheros, cheese quesadillas made with Oaxaca cheese, and chicken enchiladas.
As we move into summer menu trends, expect to see the appearance of more fruit, especially tree fruit and melons, on food and beverage menus. Check back on this column for more details.
For now, go forth, support the restaurant industry by dining out or getting take-out more often, and give the produce-centric green menu items a try!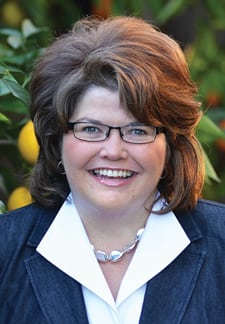 Amy Myrdal Miller, MS, RDN, FAND, is a farmer's daughter from North Dakota, award-winning dietitian, culinary nutrition expert, and founder and president of Farmer's Daughter Consulting Inc. She is the foodservice strategist for the Produce for Better Health Foundation, a member of the Texas A&M AgriLife External Advisory Board, a member of the Bayer Vegetable Seeds Horticultural Advisory Council, and co-author of Cooking á la Heart, a 500-recipe cookbook based on plant-forward eating cultures from around the world that will be published by Workman Publishing October 2022. You can learn more about her business at www.farmersdaughterconsulting.com, and you can follow her insights on food and flavor on social media @AmyMyrdalMiller.