MANGOS
The mango's appeal reaches across generations with bold flavors tracing back to its regal roots, which are anchored firmly to the foothills of the Himalayas. With year-round availability and varietal options, mangos are well positioned for continued growth, offering a range of sweet, tropical flavors perfectly suited to drive demand. We invite you to give mangos a starring role in the produce section with more frequent ads, front-of-store space, and multi-variety presentations to highlight the regal fruit's extensive versatility and consumer appeal.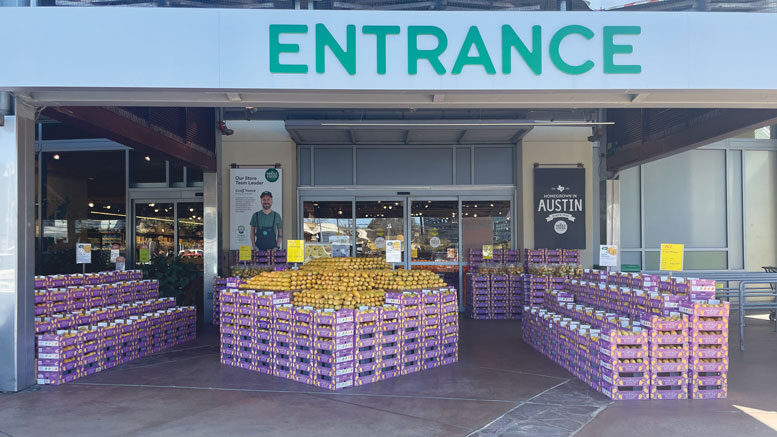 PLANNING FOR PROMOS. Early and frequent promotions drive more sales. Pair with a trusted supply chain partner to develop a program best suited for your market. Between varieties, pack styles, and sizing, the opportunities to drive sales are plentiful year-round.
ALLOCATE SPACE. Mangos need room to shine. Display and promote mangos often. Build large displays front and center in high-traffic areas. Get creative cross merchandising with other products.
SPICE UP WITH VARIETIES. There are thousands of varieties varied in shape, color, aroma, texture, and flavor, and more are making their way to U.S. supermarkets. Educate produce teams and consumers, generating excitement, diversity, satisfaction, and ultimately sales.
TEMPERATURE CONTROL POINTS. This is the key to maintaining quality and taste experience for the consumer. A range of 65° to 70°F ripens, adds flavor, color, and aroma. To hold ripeness, keep between 52° to 55°F but not below 50°F. Mangos should not be refrigerated or misted.
EXTEND SKU OPTIONS. Carry multiple varieties with pricing based on variety, fruit size, and ripeness. Multi-pack options, such as clams, display ready cases, and bulk bags offer value. Frozen, dehydrated, freeze-dried, and canned mango slices can provide wider variety consumer options across aisles.
ROTATE AND REPURPOSE. Check displays often to keep firmer fruit on bottom and softer fruit on top. Consider using bruised or overly ripe fruit in fresh, made-in-store yogurt parfaits, salsa, in fresh cut containers, or leave whole in bulk grab packs for quick sale to value seeking consumers. These practices help keep displays looking sharp while mitigating shrink.
Ready to grow the mango category? The Ciruli Brothers team has been specializing in mango marketing since the early 1970s. As a year-round mango supplier focusing on quality and service, we offer various unique, display-ready, and consumer-friendly pack styles. We also support your merchandising teams with POS signage, retail display blueprints, creative messaging, extensive photography, and educational resources. Let us know how we can help.
CIRULI BROTHERS, LLC
P.O. Box 1476, Tubac, AZ 85646
520-281-9696 • www.champagnemango.com