A natural retailing pioneer grows with fresh produce focus.
A giant rooster sculpture crafted from farm tools which goes by "Alfie" greets shoppers at the entrance to Alfalfa's Market, an independent grocer blocks from the Rocky Mountains in Boulder, CO. The store's downtown neighborhood includes a busy pedestrian shopping district, a public library and park, and the University of Colorado campus.
Musicians play for shoppers in the shaded seating area near a wagon of whole organic watermelons for 89 cents a pound. Cut-flower bouquets line both sides of the airy entry to the 20,000-square-foot retail space. Shoppers' first encounter is a cold case that entices with cups of ready-to-eat cut fruit and berries, bags of cherries, clamshells of freshly whipped cream and whole poundcakes. A bright "Welcome to Summer" sign points customers toward the 2,000-square-foot produce department, which claims to carry the largest selection of organic produce in the state. Straight ahead is a table of organic nectarines, black plums and apricots. A nearby cooler features grab-and-go cut fruit, vegetable platters, and containers of vibrantly hued house-made guacamole and mango salsa.
The salad and greens cooler is full with everything from loose spinach and kale to bagged salads, croutons and chilled bottled dressing from Canoga Park, CA-based Follow Your Heart and Bakersfield, CA-based Bolthouse Farms. The greens are freshened by misters using filtered water. A low table catches the eye with an appetizing array of multi-color heirloom local greenhouse tomatoes, along with shallots, several varieties of garlic, avocadoes and a basket of Parmigiano-Reggiano wedges. Alfalfa's produce department replenishment approach is to touch every table at least three times a day.
A higher table is loaded with yellow, Vidalia, red and white onions along with potatoes and just a few winter squashes. Two shoppers are choosing from a back row of coolers lined with colorful bell peppers, cabbage, boy choy, red dandelion greens and curly parsley. Specialty items range from living butter lettuce, cress and basil to loose horseradish, Jerusalem artichokes, and a hot commodity, fresh turmeric.
Right now, only poblano and Anaheim green chilies are stocked. By late summer multiple fresh chili varieties are available along with portable gas-fired
roasters.The asparagus, like many produce items throughout the store, is marked with a highly visible "Local" sign stating that it came from "62 miles away at Golden West Farms."
Alfalfa's market COO Paul McLean started working at the original Alfalfa's Market in the '90s, when kale was still a garnish. "Now we go through 10 cases a day, a lot of it as juice and in the salad bar," he says. He had a 15-year career with Whole Foods Market concluding as a vice president of purchasing for the northeast region before returning to Alfalfa's Market when it reopened in 2011. "Boulder is a very particular market. The people here care a lot about what they put into their bodies, so transparency is essential," he says. The bike-friendly city has 45,000 acres of open space and a highly educated, higher income population. The city boasts award-winning restaurants, 20 craft breweries, plus distilleries and the Celestial Seasonings tea factory tour.
"We put a stake in the ground for local and organic produce. That's what our consumer identifies with the store. Produce is 5 to 18 percent of store sales," says McLean. Only 1 percent of the produce used by the store is conventionally grown. "It's for filling gaps in certain products like asparagus in the early spring," he said. "Our other main category is 'Local & Natural.' In a lot of cases it's organic, it just hasn't been certified, which is very expensive for small farmers."
Rebirth Of A Natural Foods Retailer
Alfalfa's Market debuted as the tiny Pearl Street Market in 1979 with Alfalfa's Market launching at the current Boulder location in 1983. With 11 stores in Colorado and in the West, it was a natural foods icon through the 1990s. Wild Oats Markets, which acquired Alfalfa's in 1996, was itself acquired by Whole Foods Market. When the original location became available again, some of Alfalfa's original founders reopened it in 2011. They faced a starkly different retailing environment than 28 years earlier.
There are now 16 major retailers selling food in the city of Boulder for a population of about 105,000 residents. McLean says the roaster includes two Whole Foods Markets, one Whole Foods-owned Ideal Market, three Kroger's King Soopers plus locations for Safeway, Wal-Mart Neighborhood Market, Sprouts Farmers Market, Natural Grocers/ Vitamin Cottage and Trader Joe's. Alfalfa's Market is now the only strictly locally owned grocer since Lucky's Market (which has a second Boulder store in the works) expanded nationally with major investment from Kroger.
A Team Of Industry Veterans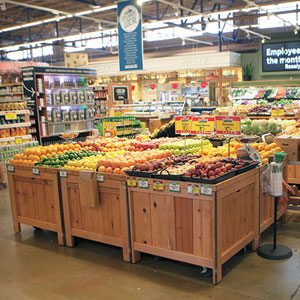 Purchasing produce for display, for a significant juicing operation and a large culinary and catering department. McLean handles most of the ordering from large distributors out-of-state. "For what we can't get locally, we get mostly from California and Texas. We partner a lot with Albert's Organics," says McLean.
The produce managers have a lot of autonomy and the selection may be different at the two locations. "We deal with so many small growers. When the office gets involved the decisions can go into a black hole. A couple of days is a long time in the produce business," says McLean.
Growers have a habit of showing up at Alfalfa's back door with surprises. "A farmer had a huge load of cucumbers last summer. We asked a local company if they could pickle a barrel of them. We gave them away with every sandwich," says McLean.
During July and August, the percentage of produce provided by nearby farms can be 40 percent or more, according to McLean. That's when the first 20 feet of the store displays will be all local with Rocky Ford melons, Western Slope peaches, Munson Farms sweet corn, greens and other vegetables.
---
"We put a stake in the ground for local and organic produce. That's what our consumer identifies with the store."
— Paul McLean, Chief Operating Officer
---
"We are learning how to source better locally and get out in front of a crop. When we develop a relationship with a grower, it's not for one summer — it is long term," he says. At least one professional farmer works in Alfalfa's produce department in the fall and winter.
Alfalfa's Market's biggest produce event of the year in the "Local" sale in July and early August. "We put everything locally grown on sale for a month. We have our farmers come in and do sampling and meet shoppers the way they do at the farmers markets," says McLean, adding that he didn't think of farmers markets as competitors.
Alfalfa's COO Paul McLean knows which promotional effort he would hang his hat on. "Last year the Colorado peach crop looked great, but we decided to wait even though we could have had a higher margin with the California organics. We made a commitment to stay with it all summer for $2.99 a pound; for a week it was even $1.99. We sold more peaches than ever in the store's history, 1,000 pounds a week from the Boulder store alone, and shoppers came back week after week."
Produce In Every Department
Produce finds its way into nearly every department at Alfalfa's Market along the perimeter of the store including meat and seafood where peppers fill out
kebobs. Juice is a major component. Besides the juice bar, fresh-squeezed organic orange juice is bottled daily and available in produce, dairy and Meals to Go. The 48-item olive bar near the Cheese and Specialty Department features house-roasted sweet peppers along with garlic-stuffed olives, balsamic onions and hot crunchy okra.
Every shopper ends up in the expansive area featuring a bakery, large sushi bar, a coffee and tea counter, a salad and hot foods bar, and juice bar. Executive chef Zack Guard overseas a counter dishing prepared foods including sweet potato salad, a build-your-own woodfire pizza spot, and a hot sandwich counter with extras such as a grilled avocado half. "Culinary is 25 percent of our store sales. The customers want to eat clean, delicious food and they want it quick and convenient," says McLean.
The salad bar is constantly replenished with everything from greens to sliced cremini mushrooms and tri-color quinoa. "The salad bar is the No. 2 selling item in the store day in, day out," he says. The breakfast bar includes berries and cut fruit. Meals-to-go coolers merchandise ready-to-eat salads, vegetable trays, and wraps packed to show off the fresh Romaine and carrot matchsticks inside.
At the 100 percent organic juice bar, fans order drinks juiced with beets, carrots and bananas. Bright green shots of fresh wheatgrass are available as well as drinks like the Cuke Crisp with cucumber, dandelion greens, apple, lime juice and coconut water.
Cutting Waste To Zero
Most of the produce looks perfect on display, and Alfalfa's generally doesn't offer markdown produce. The integrated use of produce throughout all departments in both locations means that less-than-pretty fruits and vegetables are used elsewhere. "We buy No. 2's for juicing. Culinary cuts smaller No. 2 bell peppers for the salad bar," says McLean. Leftover edible food at both locations is donated to Community Food Share and other community organizations. Boulder Food Rescue picks up and delivers donated food using bicycle-pulled trailers to nonprofit organizations across the city.
The corporate sustainability philosophy includes using recycled building materials, energy-saving and water use reduction systems, and making a car changing station available. "Last year, 97 percent of all waste in the stores was diverted to recycling and composting. We give whatever is left to our farmers for their chicken and pigs and coffee grounds go to gardens," says McLean.