Originally printed in the November 2019 issue of Produce Business.
Southern Hemisphere imports bring more volume and variety to keep consumers coming back for more.
If variety is the spice of life, then citrus is surely the zest. These subtropical fruits no longer represent a winter-only category in the produce department for U.S. retailers. Instead, citrus has expanded to year-round availability thanks to imports from Southern Hemisphere countries such as South Africa, Chile and Australia during the summer months when the major domestic citrus-growing states of California, Florida and Texas are off peak or not in production.
Add to this volume the increased production of citrus varietals in the domestic, and to a lesser extent import markets, and U.S. retailers have plenty of opportunities to add gusto to department sales.
"With the improvement of import citrus in quality and availability, it is beneficial to continue print promotions, impactful displaying techniques and creative marketing to have year-round attention toward citrus," says Blake Lee, director of produce procurement and merchandising for Bristol Farms, a 13-store upscale chain headquartered in Carson, CA.
MORE VOLUME, MORE VARIETY
The chief citrus subcategories have long been oranges, grapefruit, lemons and limes. Today, it's the Mandarins that outsell the rest. In fact, Mandarins ranked sixth among the Top 10 fruit categories, behind apples, grapes, bananas, strawberries and avocados at retail in 2018, according to FreshFacts on Retail, Year in Review, by the Washington, DC-headquartered United Fresh Produce Association. Oranges came in at ninth, after blueberries in seventh and watermelons at eighth. Figured another way, Mandarins represented 7.6% of the Top 10 fruit category dollar sales, while oranges came in at 4.9%. Citrus subcategories grapefruit, lemons and limes didn't rank in the Top 10 in 2018.
MANDARINS. The big draw to Mandarins is low or no seed flesh, good flavor and an easy-peel quality.
"Easy peel options are clearly booming, and they seem to be improving in quality year after year. One brand in particular is one of our biggest selling citrus items during the domestic season. There is year-round demand for similar quality fruit if the global market can respond," says Earl McGrath, produce director for Freshfields Farm, Orlando, FL.
Mandarins overall now represent nearly half of citrus category sales at retail, according to Daniel Kass, vice president of import and export sales, marketing and business development for the Suntreat Packing & Shipping Co., in Dinuba, CA. "Most, if not all of these, both domestic and imported product, are sold in 2- to 5-pound packs."
However, for summer Mandarin imports, "we're seeing a shift from a 5-pound box to a 2- to 3-pound bag," says Luke Sears, president of LGS Specialty Sales Ltd., in New Rochelle, NY. "Smaller packs fit better with limited shelf space in the summer when local product is in and more economical for consumers. Also, grapes and stone fruit, for example, are packaged in a similar size, so this can easily offer consumers a choice of fruits, and thus move summer citrus to a more every day, every week purchase."
Target customers for Mandarins, say growers, are Millennial parents with children. To reach this audience, Wonderful Citrus, based in Delano, CA, introduces its multi-million-dollar marketing campaign this month, which is a family-friendly animated series on YouTube called 'Camp Halohead' to promote its Halo-brand citrus. Halo-brand Mandarins are available from November to May.
Specialty variety Mandarins are continuing to boost sales in this subcategory. Examples include Gold Nugget Mandarins, available domestically from February to May, and Suntreat's Sumo Citrus-brand Mandarins, harvested in California in January and February and Australia from mid-September to mid-October.
"Last year, we imported our first Sumo's to the United States from our operation in Australia," says Suntreat's Kass. "It was extremely limited in volume, but the trial went well and we plan to expand to more volume this year. We also have a lot of young acreage of Sumo's in California, and in three years' time we should have good commercial volume — enough to serve more retailers. But, our overall strategy with Sumo isn't 52-week availability. There's a value to the excitement of seasonality."
Overall, California grows the majority of Mandarins sold in the United States from late November to May/June, while Chile, Mexico, Morocco, Peru, South Africa, Uruguay and Australia supply the balance during the rest of the year.
ORANGES. Retailers in both Florida and California say the orange category as a whole seems to lead the pack in consumer attention.
"A big winner for us is the 4-pound bagged Florida grown oranges," notes McGrath. "Flavor is what draws our customers to these, because visually they will never look as clean as fruit grown in some other regions. We've also had record success with Cara Cara oranges this past year."
Similarly, "the Navel orange varieties we source are full of flavor and impress with size. These tend to be our most sought-after citrus item. However, we do source all the varieties including Cara Cara and Blood Oranges," says Bristol Farms' Lee.
There is truly year-round supply of Navel oranges in the United States, according to Al Finch, president of Florida Classic Growers, in Dundee, FL. "There's Florida Navels from October to December. California starts in November and runs to June. Then Southern Hemisphere imports come in."
This 52-week availability of Navels, especially summer imports, has decreased demand and thus supply for Valencia oranges. California Valencia's harvest is from April through September/October. As a result, they were long merchandised as the 'summer' orange prior to imports. Valencia's, also grown in Florida, are among the most popular oranges for juicing.
"Our focus is on juicing oranges," says Russell Kiger, sales manager at DLF International, Inc., in Fort Pierce, FL. "The new trend is for in-store juicing operations and consumer preference. Our juice oranges are available from October to July."
Growth in sub-varieties is keeping oranges as the second largest variety of citrus at 24 percent share, according to Chris Cockle, senior director of imports for Wonderful Citrus. "Cara Cara's, Blood Oranges and Heirloom varieties are adding incremental choices and variety, which is helping bring consumers back into the orange category with their seasonality and differentiation."
LGS began importing Cara Cara's from Chile this year during the August to mid- to late-September time period.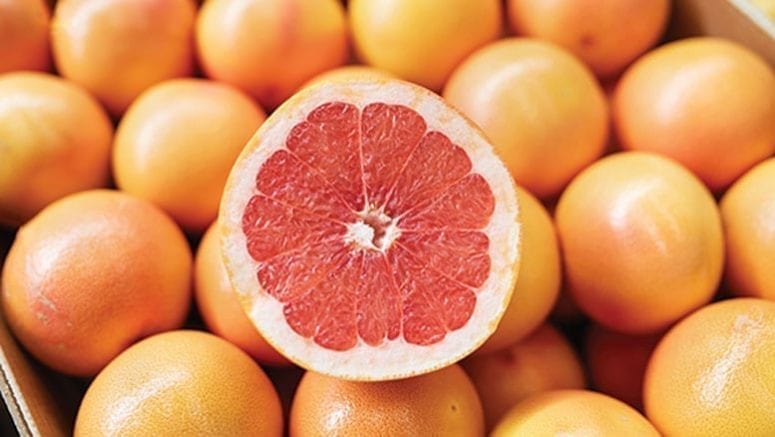 GRAPEFRUIT. This large sour-sweet citrus fruit is poised for a comeback.
"Grapefruit sales are increasing as the health benefits and different ways to use them become more popular," notes Bristol Farms' Lee.
Production in California and Texas is chiefly of red-fleshed varieties. Likewise, imports, such as those from Peru, include the Star Ruby variety. Florida is the largest U.S. producing state of white grapefruit, with nearly all of it exported to Japan. Yet, many claim that the white-fleshed variety is the best tasting.
"The biggest challenge is to reintroduce white grapefruit to a new generation," says Sydney Allison, director of sales for Vero Beach, FL-based IMG Citrus Inc., which earlier this year purchased a 4,000-acre grapefruit grove, which is west of Fort Pierce, FL. The purchase gave the company a 50% market share in white grapefruit in the state, as well as the United States.
"Many of the trees are 35-plus years old, making the fruit they produce akin to heirloom varieties and among the best tasting. As a result, we'll be working to reintroduce white grapefruit during its mid-October to March Florida season with in-store demos in targeted areas," adds Allison.
LEMONS & LIMES. Lemons and limes are often forgotten about, according to Freshfields' McGrath. "However, they both provide steady sales almost every week of the year."
California produces the bulk of domestic lemons with smaller amounts grown in Arizona.
In October, Wonderful Citrus introduced its new seedless lemon nationally, with limited distribution in its first year. High-graphic branded packaging and point-of-sale bin displays are available to promote this new lemon variety, says Cockle. "Eighty-three percent of lemon buyers say they are likely to purchase a seedless lemon, and 81% cite the inconvenience of seeds as a key reason. They are also willing to pay a premium price, according to a third-party company-commissioned study."
This marks the second year of lemon imports to the United States from Argentina, following an 18-year hiatus due to pest concerns.
"Argentine lemons fill a window of need during the summer," says LGS's Sears.