Produce is center-of-mind and often center-plate in this Canadian food mecca.
No matter how you look at it, Montréal is an amazing place for food lovers. After New York, it's the city with the highest number of restaurants per capita. These eateries offer 120 types of cuisines from around the world. Some of the world's largest grocery chains operate alongside daily markets that sell produce from the region's many farms. The city is home to a number of wholesalers, many of which have been family owned for generations.
"We're certainly in the right industry," says George Pitsikoulis, president and chief executive of Canadawide Inc., a wholesale company with its headquarters in Montréal. "It's always been part of the culture over here to eat fresh produce, and the trend and talk has been to eat more and more."
This is a worldwide trend, but Pitsikoulis believes it's especially strong in Montréal, and for good reason. One out of every three residents is an immigrant. People move there from all over the world, with the top five countries of origin being Algeria, Morocco, Haiti, France and China.
"In these cultures there's more of a demand for fresh produce as opposed to frozen or prepared meals," says Pitsikoulis. "A lot of these things don't exist in nations where people are coming from."
The Canadian government is encouraging people to eat more fruits and vegetables. It's adopted an Eat Well Plate similar to the MyPlate concept that replaced the U.S. food pyramid. In addition, the Quebec Produce Marketing Association has its own campaign, called I Love 5 to 10 Servings a Day, which runs ads and educates consumers about the benefits of eating fresh produce.
"One of Montréal's many charms is its vibrant and creative food scene," says Martin Vézina, spokesperson for the Association des restaurateurs du Québec. "The city's restaurants have successfully pushed forward innovative dishes that combine local food and different flavors. Is it not for nothing that Town and Country has declared Montréal the best restaurant city?" All of this adds up to bountiful opportunities for food-related businesses.
Wholesale Perspective
Montréal is home to several produce wholesale companies. One is JB Laverdure, a family owned wholesaler, importer and exporter that's been doing business in Canada for 120 years. It serves Quebec and a handful of states in the eastern United States.
JB Laverdure has been in the same location since 1974, but the firm renovated and expanded its facility in 2014. It now has 92,000 square feet of space with a 36,000 pallet storage capacity. The facility has 18 refrigerated rooms and 26 rooms intended for banana storage. Seven receiving docks and 17 shipping docks serve a logistic fleet outfitted with GPS tracking devices so they can be tracked in real time. The company received CanadaGAP certification in 2016.
Canadawide is a relative newbie in the marketplace. This Montréal-based company started as a greengrocer in 1961 and switched its focus to fruit and vegetable wholesaling in 1983. It serves Quebec, Ontario and the Maritimes (Nova Scotia, New Brunswick and Prince Edward Island).
Canadawide also built a new facility recently. The company's 300,000-square-foot warehouse has space to store 7,000 pallets, mostly in refrigerated space. It has 30 cold rooms, 44 loading docks, spaces specifically designed for bananas and other tropicals, and state-of-the-art food preservation and storage technology. A new sales room allows customers to "shop" in a pleasant environment. The Frescadel division within the company packs organic and non-organic produce for distribution to grocery stores.
Benny D'Angelo Produce in St-Remi, Canada, is a family owned distribution and shipping company that opened in 1998. It purchases produce from surrounding farms — many of which are only 10 minutes away, notes salesperson Corri Morison — packs it and distributes it to locations in the eastern United States.
The company operates from a 40,000-square-foot warehouse with eight refrigerated loading docks and five coolers, all of which are set to different temperatures to accommodate different types of produce. The company owns a fleet of 16 trucks and 19 refrigerated trailers, which ensures product can be picked up and delivered to customers on time. It is CanadaGAP-certified.
CDS Foods, which also has its headquarters in Montréal, is a produce specialty company that focuses on garlic, but also deals with ginger, pearl onions, shallots and other items. It serves Quebec, Ontario and the Maritimes, and is CanadaGAP-certified.
In addition to its import and wholesale business, CDS Foods has a line of freeze-dried produce items called City Snacks. Consumers can purchase pre-packaged apples, bananas, strawberries, pineapple, pears and peaches. The company moved to a new facility in February 2015.
Wholesalers see many produce trends play out in their businesses. "I see growth in ready-to-eat, but I also see some people going back to their roots," says Cesare Della Santina, president of CDS Foods. Those customers are more focused on either cooking the foods from their culture or branching out. People in that market are keen to try new things, he says.
"People want more and more berries," says Jean-François Laverdure, president of JB Laverdure, Montréal. "We see kale and the good greens popping out. People are more conscious about what they're eating."
"All the different varieties of tree fruit are doing well," says Canadawide's Pitsikoulis. "It used to be basic varieties, but now there's always something new, like pluots or plum varieties. Everyone's always looking for the newest thing. Avocados have been on a steep incline with all the strong press they're getting for their nutritional value. Anything that has a green leaf on it, or a strong, deep color, like tomatoes and beets, is doing well."
Product pricing is always a challenge for wholesalers. "We're being squeezed from the customer side and also from the shippers and the growers," says Laverdure.
Logistics is another. "It's a tough business where decisions need to be made quickly in terms of inventory movement," says Pitsikoulis. "You need a hands-on type of approach if you want to be successful in this type of business."
But wholesalers see opportunities, too. Immigration into Canada and the United States is creating markets for new and interesting produce items, says Benny D'Angelo Produce's Morison. "There's such a wide span of items that wouldn't have been offered five years ago, but now because of the diversity of people coming in and making a life in Montréal, the demand is there. Every year there's a new item we add to our sheet that one of our farmers has started to grow and it takes off." Golden and Chioggia (candy-striped) beets and flat Dutch cabbage are examples of products that have become popular in recent years.
"I never look at anything negatively," says Pitsikoulis. "For me, a challenge is an opportunity. These are always opportunities to further meet our customers' needs and develop our relationship with them and increase our sales."
Meeting customer needs is a top priority for the five stores that make up IGA Louise Ménard, which has operated in Montréal for more than 30 years. "Our goal is to provide, at every moment, exceptional customer service, quality, and varied and exclusive products," says Pierre Guibord, director of operations and non-perishable foods.
In addition to fruits, vegetables and fresh herbs, produce departments carry nuts and dried fruits; prepared products such as fruit cups and yogurt with granola; tie-in products such as tofu and chocolate sauce; and non-perishable items such as kitchen tools.
Providing fresh products that are high quality is top-of-mind for everyone working in produce. "We require our staff to review their department for quality and quantity several times a day. They are continually trained on quality and safety."
Guibord says shoppers want to know where their food comes from and they want less packaging on products. Good signage helps with the first. "We use professionally printed signage provided by our banner and created in-store," he says.
Getting food with fewer pesticides is another concern. "Customers are looking for local, bio [organic] and fair trade products."
As customers get increasingly interested in ready-to-cook products, IGA Louise Ménard is responding. Cut-up vegetables ready for the barbecue is one example.
Besides paying attention to these trends, Guibord offers numerous demos and promotions to increase sales. Since we are an independent operator, we have the leisure of organizing our department as we see fit," he says. "Because customers are fond of local products, putting them in the spotlight always creates a buzz."
Guibord points to the Nun's Island location as one of the best examples of the company's success with produce. The store is 28,000 square feet, and approximately a quarter of it is dedicated to fruits and vegetables. It's scheduled to undergo a remodel, which will expand the department by 1,500 square feet. "The volume of the fruits and vegetables section is about 22 to 23 percent of the sales of the store," says Guibord. "Absolute sales are growing generally, but volume remains similar as our stores are on the rise."
Thriving Service
Weather plays a major factor in Montréal. From December through March, the average temperature is below zero F.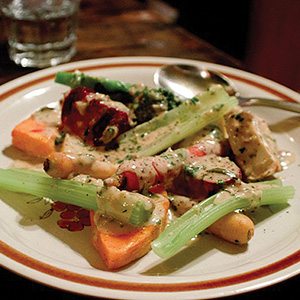 "What do we do all winter? We hibernate; and when spring comes, we don't want to be inside anymore," says Della Santina with CDS Foods. When outdoor temperatures begin to warm, there's an explosion of people looking to break out of hibernation and explore the city. They flock to restaurants, bars and markets, eager for social interaction and fresh food.
There are many places to serve them. According to Tourisme Montréal, the metropolitan area had 3,900 restaurants and 430 bars and breweries in 2014. Cuisines from 120 different cultures are found within the city, which makes for an exciting and eclectic restaurant scene. "Literally, anything is available for anyone to taste, which is a really strong pull for tourism," says Benny D'Angleo Produce's Morison. "It gives people an opportunity to try something different that they haven't tried before, which makes eating out very interesting."
"Montréal has all of the major restaurant chains you expect for a city of its size," says Association des restaurateurs du Québec's Vézina. "For locally owned chains, there's St-Hubert, Pacini and Cooper Branch. One interesting thing about Cooper Branch is it's a relatively new chain based on a vegetarian quick-service menu."
Montréal also has an unusually high number of small, locally owned restaurants. "In other areas of North America you have huge multinationals that have taken on a majority of the business," says Canadawide's Pitsikoulis. "Here they're the minority."
This can perhaps be explained by the fact that residents place high priority on high-quality, creative food. "Montréalers are open to trying new things," says Catherine Morellon, manager, media and leisure market for Tourisme Montréal. "They have very broad expectations and are always curious about what you can do next."
Restaurants also follow the food trends seen elsewhere. After being banned for more than 60 years, food carts are now legal and are making a comeback. "The poke bowl is the latest craze, as well as seafood appetizers," says Vézina. "Montréalers like sharing plates, so many restaurants offer small plates. Cocktails and mocktails mixed with fresh ingredients are popular. One trend that's interesting is the prevalence of restaurants where the vegetables are the star of the plate."
One such restaurant is Maison Publique, a gastropub specializing in locally sourced food, beer and wine. Chef/owner Derek Dammann opened the restaurant five years ago with the goal of creating a cozy, inviting place where people could enjoy good food.
What he gets differs from farm to farm, and even from year to year. "Over the years of working with them they've started approaching us and saying, 'What do you want us to grow?'" he says.
Dammann changes the menu at his 50-seat restaurant monthly during the year — and sometimes weekly during the summer — to take advantage of produce items at their peak season. In the late spring he had a salad with a base of buttermilk panna cotta topped with a variety of shaved radishes tossed in a cucumber vinaigrette, and finished with a cucumber relish and smoked salmon roe.
Another popular veggie-forward dish featured cured salmon sliced thin and dressed with broken cherry tomatoes, olive oil, and green and purple basil. To make the dressing, Dammann pureed tomatoes with garlic, horseradish, basil and salt, and hung it in cheesecloth to capture the liquid. He added a little gelatin to thicken the sauce, then seasoned it with cayenne and added it to the plate.
Summer is also a busy time for preserving and pickling produce that can be used on the menu later in the year. The chef likes to grill asparagus, dressed with olive oil and rosemary, then vacuum pack it so it can be served later.
Whatever the season, Dammann is committed to giving visitors an authentic Montréal experience. "I figure, you go to France and you have French food. In Italy you have Italian food and wine. Why not do the same when in Canada?"
SaveSave
SaveSave
SaveSave