Originally printed in the November 2019 issue of Produce Business.
Growers converting acreage for numerous branded varieties.
Consumer preferences for apple varieties have changed significantly over the past decade, and this evolution of taste is ongoing with organics as well.
Growers are converting their fields to organic in popular apples like Honeycrisp, and even licensed branded varieties like SweeTango, Autumn Glory, Pinata, Envy and SnapDragon are finding favor in the category.
Retailers such as Costco, Whole Foods, Shoprite, Wegmans, Hy-Vee, Heinen's and many others have embraced organic apples, and some of the country's leading growers have dedicated an organic proportion of their crop, which would be nothing short of staggering for other items in the produce aisle.
Examples include Rainier Fruit Company in Selah, WA, where 40% of the acreage for Galas — the leading variety in the category — is organic. Meanwhile, Yakima, WA-based Domex Superfresh Growers has 15% of its apples grown organically with ambitions for that to rise to 25%.
"Gala has been the number one organic apple — that's where everybody starts in the organic category," notes Andy Tudor, vice president of business development at Rainier. "Eventually they may trade for Fuji or trade up to a Honeycrisp or some other variety.
"But Honeycrisp volume is considerably up this year as well, and so, I think we'll see if even all the Honeycrisp get packed as organic," notes Tudor.
He explains with increased volume and price differentials getting tighter between organic and conventional, last season many growers opted to wax and ship organically grown apples as conventional, especially in Galas, Fuji and Granny Smith.
"There's going to be growers after this season that say, 'you know what, I can't deal with the 20% decrease in my yield and in the one to two fruit sizes smaller than I get on conventional,' and so probably they quit farming organically and bring their yields back up," he says.
"Two seasons ago, we basically told our grower base not to bring us any organic Red or Golden Delicious — we'll pack them as conventional, but we're not asking for shelf space for those apples that don't sell very well."
Sales Rising Despite Challenges
Tudor says Honeycrisp can be a bit temperamental to grow as organic, and Cripps Pink/Pink Lady are probably the toughest to produce organically because of their susceptibility to fire blight. Nonetheless, Rainier is increasing its organic Pink Lady cultivation.
"Our program is fairly mature," he says. "We go year-round now from crop cycle to crop cycle on Gala, on Fuji, on Granny, on Honeycrisp, but not quite yet on Pink Lady, and I'm not sure if we ever will."
Brianna Shales, communications manager at Stemilt Growers LLC of Wenatchee, WA, also describes fire blight as a difficulty, noting growers need to make hard decisions about whether to grow organically or not in tough years.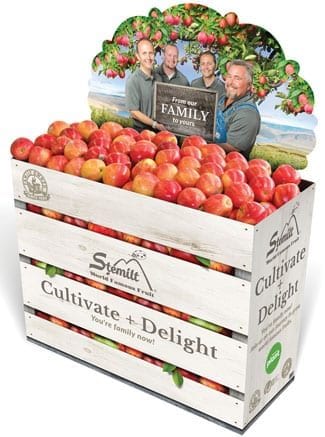 "There also can be size and yield issues for certain varieties, however high-density orchards and the industry getting better at growing organics is helping those to improve," says Shales. "Organics still demand a premium at retail, although we've seen that gap narrow now that we have bigger supplies of organic apples."
There is still plenty of room for opportunity in the right varieties for those who take the risk and are able to grow at scale and improve growing practices to lift yields and efficiency.
"As with any agricultural commodity, the continued success of organics will depend on the ability to support yields and extra production challenges," says Catherine Gipe-Stewart, communications manager at Domex Superfresh. "Also the willingness of consumers to continue embracing it, which they are doing in a big way now.
"Organic apples are boosting an apple category that has recently been flat to declining. Organics are where we see continual growth as conventional apples struggle to keep up at the same rate."
Gipe-Stewart points to IRI data for the 52 weeks to August 11 that shows organic apple sales have gone up 20.7% in the past five years, and between 2018 and 2019 year-on-year sales growth was 4.8%.
According to retail sales data from IRI, the Northeast has the most organic apple sales valued at $91.6 million for the 12-month period, but the fastest growth was in the Plains and Southeast with rates of 17% and 10% respectively in dollar sales. California and the Midsouth were the only parts of the country that saw consumption of organic apples go backward, albeit marginally.
She says her company's signature Autumn Glory apple is ideal for organic production because it is a heartier variety that stores well and has excellent shelf life.
"As for good synergy with organic consumers, Gala has remained on top over the past five years in sales. Organic Gala sales have risen 13% in the last 5 years," she says. "Organic Honeycrisp is also rapidly growing, and sales rose 136% in the last 5 years, rising from #3 to #2. Another notable difference is that Pink Lady replaced Red Delicious in the fifth spot."
Like Rainier and Domex Superfresh, Stemilt also dedicates a substantial percentage of its apple production to organic with a 30% share overall.
"Forty percent of our entire Honeycrisp, SweeTango and Pinata crops are grown and certified organic. We also have high percentages of our Fuji, Gala and Pink Lady crop," says Shales. "Growing the varieties that are in demand by consumers is how we'll keep building a strong apple category.
"In future years, there will be Cosmic Crisp — the new apple from Washington State growers — grown organically too," she adds. "But it will take a bit to convert them to organic production once the apple launches in the marketplace on December 1."
Rainier's Tudor notes the next growth area for his company in terms of varieties will be in organic Envy, but the group needs to grow the conventional trees first as starting from scratch with organic makes it much harder for the trees to develop.
Merchandising, Packaging And Placement
From a merchandising perspective, Austin Fowler, owner and president of marketing and sales for Walcott, NY-based Fowler Farms, says his company will be running beta testing with a retail partner this season to trial a bulk six-pack of apples in a recyclable container. The idea of the pilot is to tell a good story and let consumers understand the struggle that goes into organic production.
"Hopefully the consumers would wish to pay more for it because it is local, and it's supporting the local economy," he says.
Rainier's Tudor says his group is also trying something quite new in 2019. Having started in October and running for 2.5 months, one of Rainier's U.S. retail partners will not offer conventional Gala, Fuji or Gala, providing consumers only the organic option.
"We'll see how many people we can convert over to become regular organic purchasers," he says. "Because of the increase in supply, the price points are attractive enough, and we're willing to invest in that consumer with this retailer.
"Another program we did last year is with a retailer fairly new to organics, and they just had a very limited offering of bags and didn't have any additional space," he says. "So we made a merchandiser stand for them that called out 'organic,' and we did a strictly bag program with them that rotated between Gala, Fuji, Granny and Honeycrisp."
Tudor says the initiative led to the retailer increasing sales' dollars by 16%.
Stemilt's Shales says in terms of packaging, bulk is the biggest driver of organic apple sales by far, especially with consumers speaking out against plastic usage, but packaging can still be useful for selling smaller apples.
"We have a pop-up display bin for organics, a pallet display bin for really big display sets and a new Family Farmer display that ties into merchandising organics with our high-graphic boxes."


— Brianna Shales, Stemilt Growers
"Our kid-sized program, Lil Snappers in Artisan Organics, has become a great driver to increasing purchase size," she says. "So there is room for both in my opinion, and we have to keep listening to consumers and finding alternatives that let us do both," adds Shales.
Gipe-Stewart of Domex Superfresh says bulk apples have seen more year-over-year growth than bags, at 22.9% versus 13.2%, respectively. And when asked about placing organic side-by-side with conventional or having a separate section, the former appears to be winning out.
"Large national retailers have shared with us they see more lift when organic is merchandised next to conventional," she says. "When placed next to each other, more middle-of-the-road shoppers are likely to choose organic when able to compare the two."
When asked about whether this method could lead to cannibalization in the apple category, Shales says the choice depends on the retailer in question. Overall, she notes there are many opportunities for retailers to "go big" this fall and winter with organic displays.
"We have a pop-up display bin for organics, a pallet display bin for really big display sets and a new Family Farmer display that ties into merchandising organics with our high-graphic boxes," she says. "With increased supplies, there are certainly needs for regular promotions on organic apples and opportunities to lower the retail in order to boost the volumes sold. That wasn't always the case when demand far outpaced supply."