Healthier eating pushes fruits and vegetables to a front-row seat for game-day celebrations.
Move over beer and brats, fresh fruits and vegetables are taking center stage at football tailgates, parties and Super Bowl celebrations. Avocados are a great example. Two hundred million pounds of guacamole are served throughout the United States during the Super Bowl alone, according to data supplied by Irving, TX-based, Avocados from Mexico (AFM). This equals enough guacamole to fill a football stadium 33 feet high from end zone to end zone. What's more, avocado sales during football season have a positive effect on other produce items, too, such as tomatoes, onions and cilantro.
"We start our Super Bowl merchandising in January with the playoffs," says Richard Stiles, director of produce for Redner's Markets, a Reading, PA-chain with 44 markets and 13 quick shoppes in Pennsylvania, Maryland and Delaware. "Momentum and sales build, and we're crazy busy right up until game day."
It's not just pigskin passion that makes the Super Bowl a register-ringing holiday for the produce department. It's the timing, too.
"If you look at a promotional calendar, you'll see that after New Year's there is nothing until the Big Game," says Robert Schueller, director of public relations at Melissa's/World Variety Produce, in Los Angeles. "This makes the Big Game very important to the produce department and the entire store. Plus, there is a focus on New Year's resolutions and clean eating at this time that tie nicely into fresh fruits and vegetables, especially as crudités and on platters."
Football-Friendly Produce
Healthy snack options have never been more popular. This trend translates to tailgating as well.
"I think there are preferences in the way produce is used in various regions for different events," says Amit Patel, brand manager for NatureSweet Ltd., a San Antonio, TX-based grower, packager and seller of produce. "For example, here in Texas or along the West Coast, carne asada tacos may be common for tailgates. On the East Coast, it may be cheeseburgers and chili. This makes it challenging to ensure that marketing and merchandising fits more broadly. Still, across all regions, you're going to see chips and dips, such as fresh salsa, guacamole and refrigerated dressings. This example may be a better opportunity to go national with merchandising and cross-promoting."
Here is a sampling of product categories ripe to spotlight for football season and Super Bowl promotions.
Avocados: Demand for avocados has grown tremendously since the Super Bowl tradition started, according to Rob Wedin, vice president of fresh sales and marketing for Calavo Growers in Santa Paula, CA. "Plus, football fits perfectly with the peak season of avocados from Mexico."
Last year, retail sales of avocados exceeded $50 million, with a low average price of $0.78/unit, according to the Mission Viejo, CA-headquartered Hass Avocado Board's, Avocado Holiday Retail Recap, Q1 2017. All regions saw sales grow, affirming the Big Game's role as a stand-out avocado holiday.
"Avocados are definitely our No. 1 seller for the Super Bowl," says Marc Goldman, produce director for Morton Williams, a 13-store supermarket chain based in the Bronx, NY.
Redner's Stiles says, "Avocados are in such high demand that we sell the fruit by itself, plus fresh guacamole made in-store. The key is to have enough fruit and enough ripe fruit."
Minneapolis is the location for the 2018 Super Bowl LII and home to the iconic 'Juicy Lucy,' a cheeseburger with the cheese inside the meat rather than on top of the patty.
"A 'Juicy Lucy' is even more wonderful when topped with avocado," says Jan DeLyser, vice president of marketing for the Irvine, CA-based California Avocado Commission (CAC). "The Commission has also developed a recipe that adds a little California to a Minnesota classic: Minnesota Hot Dish with California Avocados."
To best merchandise pre-made guacamole, offer larger sizes in the lead up to the Super Bowl, suggests Jay Alley, vice president of retail sales for Saginaw, TX-headquartered Fresherized Foods, a subsidiary of MegaMex Foods in Austin, MN. The company offers its Wholly-brand Classic, Homestyle, Spicy and Organic guacamole in 16-ounce containers.
Tomatoes: The versatility of this vegetable scores a touchdown for game-time merchandising, says NatureSweet's Patel. "Our SunBursts (yellow-skin and bite-size) are great for snacking, so you can add them as a dippable item on a tray with hummus or dressings. Glorys (red-skin cherry-tomato-sized) are an ideal addition to a grill for kabobs or as an ingredient for a warm dish. Cherubs (red-skin grape tomato-size) are the perfect topping for almost any tailgate dish like nachos, guacamole and salads. Along with our core items, we have Jubilees and Eclipses (plum-size, with red and chocolate color skin, respectively), which are perfect for slicing and adding to a burger or sandwich."
Celery: "Peeled carrots and celery are important for Super Bowl selling," says Redner's Stiles.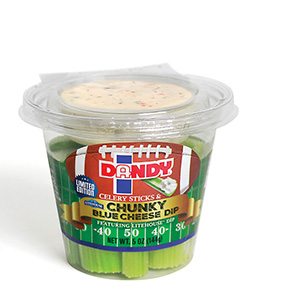 In 2016, the celery sticks category saw unit sales increase by double digits (up 11 percent) and dollar sales increase by 14 percent, according to IRI data as provided by Duda Farm Fresh Foods in Oviedo, FL.
"Our Celery and Blue Cheese Snack Cup is a wonderful example of relevant and eye-catching packaging design for the Super Bowl," says Nichole Towell, senior director of marketing for Duda Farm Fresh Foods. "The cups include football design elements that speak directly to consumers looking for fresh-cut snacks during football season and a crowd-favorite duo of celery and Blue cheese."
Snack Trays: "All platters, including cut fruits and vegetables, are big sellers for Super Bowl parties," says Morton William's Goldman.
There are several major events throughout the year where we see excitement and lift across the United States: New Year's resolutions and Easter with multi-serve salads and vegetable dishes, and particularly Super Bowl with vegetable trays and dip, says Anne Byerly, vice president of marketing for Apio, based in Guadalupe, CA. "On average, for the Super Bowl, the produce industry will see about a 60 percent increase that first Sunday in February.
The company offers its Eat Smart brand vegetable trays with dip in seven types, with the Beef & Cheese Vegetable Tray and Veggie Tray with Hidden Valley Ranch selling well during football season.
"Due to their convenience and affordable price points, Eat Smart items are likely to draw in consumers looking for last-minute solutions for their parties and tailgates," says Byerly.
Similarly, Mann Packing's Snacking Favorites Vegetable Trays product line includes Veggie Ranch, Cheddar Trail, Veggie Hummus, Organic Veggies, Cheddar Pretzel and Honey Turkey Cheddar.
Nuts: Snack nuts, such as a full line of private label products in conventional and organic, are big sellers for football season, according to Morton William's Goldman. "We sell 16-ounce tubs on an every day basis and promote 32-ounce tubs for parties."
As for type, mixed nuts and individually packaged cashews, shelled and in-shell peanuts and pistachios are top movers at Redner's for the Super Bowl.
"Super Bowl is the second-highest consumption occasion for Wonderful-brand pistachios, and our integrated marketing campaigns target this high consumption time across all our marketing platforms," says Adam Cooper, vice president of marketing for Wonderful Pistachios, part of the Los Angeles-based The Wonderful Company. "Last season's massive Super Bowl campaign with Wonderful Pistachios' spokes-elephant, Ernie the Elephant, and Seattle Seahawk's Richard Sherman, launched Wonderful Pistachios to the top of the fastest-growing snack brand and accounted for 14 percent of all dollar growth in snacks." The company will offer its Salt & Pepper and Sweet Chili varieties in 14-ounce bags in January 2018, in time for Big Game merchandising.
Make it a Team Effort
Eye-catching displays and one-stop-shop cross-displays, both within the produce department and throughout the store, are winning ways to merchandise and promote for football season and the Super Bowl.
"Produce is the first department you see when walking into our stores," says Stiles. "Therefore, we build big Super Bowl displays at the front of the department, with products like avocados, salsa, nuts and chips. There are balloons and theme signage, too. It gets the excitement going right away. Then, we'll use end caps further in the department to display avocados and pre-made guacamole and salsa, along with fresh tomatoes, onions and peppers. We'll put these items on sale and sell even more as a result."
Many retailers bring chips and beverages into produce to complement avocado displays for the Super Bowl, says CAC's DeLyser. "Another opportunity to enhance produce and build basket sales is to promote items for dippers, such as cucumbers, jicama and baby peppers."
Super Bowl merchandising is store-wide at Lund Food Holdings, a 27-store chain based in Edina, MN, that operates under the name, Lunds & Byerlys, according to Rick Steigerwald, produce and bakery director. "We team up with other departments, not just produce. In the past, we've set up multiple displays throughout the store and cross-merchandised produce in the beverage aisle with soda, in the deli and prepared foods area with wings and in center store with snacks like chips."
Wonderful Pistachios provides retail customers with high-graphic point-of-sale material, including bin retrofits, header cards, standees and goal posts for building eye-catching displays in any part of their store, says Cooper. "During the weeks leading up to Super Bowl, we will be introducing a new Wonderful Pistachios Spectacular three-bin football field display that we know will make a big impact for retailers nationwide."
Themed Promotions
Many produce suppliers and commodity organizations offer Super Bowl promotions in which retailers can easily participate. For example, through Jan. 25, 2018, Duda Farm Fresh Foods will run its Dip It to Win It campaign. This encourages shoppers to bring healthy snacks to the football watch parties. The company's Celery and Blue Cheese Snack Cups will have on-pack football designs that coincide with the campaign to entice consumers to enter the sweepstakes.
"During the weeks leading up to Super Bowl, we will be introducing a new Wonderful Pistachios Spectacular three-bin football field display that we know will make a big impact for retailers nationwide."

— Adam Cooper, Wonderful Pistachios
NatureSweet is running a consumer promotion to win a big screen TV and other prizes when entrants share their football party snacking images or recipes. The company is providing consumers with ideas for football entertaining via social media and in-store through recipe tear pads. Three-case shippers, recipe tear pads, coupons and promotional pricing is available.
To bring its football campaign, Put a Smile on Your Snackface, to life in-store nationwide, Wonderful Pistachios created life-size standees and fresh bins using its Snackface talent, which includes both Seattle Seahawks cornerback Richard Sherman and Clay Matthews, who is a linebacker for the Green Bay Packers.
"Four of the top five fastest-growing markets for the brand are in the Northwest, so we're hoping to increase excitement for the brand in this region by utilizing Sherman in all marketing efforts. The same strategy applies to Matthews in the Midwest retail stores," says Cooper. "Additionally, we will offer a Super Bowl-specific FSI, which drops on Jan. 21, 2018, that retailers and consumers can take advantage of for their game day spreads."
And, for the fourth consecutive year, AFM will partner with Old El Paso to help shoppers bring Big Game flavor to their party spreads and create their own delicious bites featuring guacamole and Old El Paso. "Through our partnership with Old El Paso, AFM provides flexibility for retailers with a range of pallet bins to accommodate their footprint. These include a Molcajete bin, large bin, small bin with side shelf to feature Old El Paso product and a larger pallet bin with center shelves for Old El Paso product. All bins provide opportunities to cross-merchandise near and surround the display for a holistic Big Game day snack solution," says Bezart-Hall.
---
"Taste of the NFL" May Serve Up Future Tailgating Favorites
Trends in foods served at home are often rooted in the popularity of what's served in restaurants. Great examples are salsa, hummus and guacamole. When it comes to the Super Bowl, it's perhaps the annual Taste of the NFL that may offer a peek at what shoppers will be fixing for tail- or home-gating parties in the future.
The event started in 1992 by Taste of the NFL founder and culinary entrepreneur, Wayne Kostroski, now has supporters including chef superstars Bobby Flay, Andrew Zimmern and Ted Allen. Fresh produce features prominently in the spread offered at this Bowl-eve wine and food soiree, which benefits Feeding America-affiliated food banks in each of the 32 NFL team cities.
"We have supplied all the fresh produce for this special event for the past decade," says Robert Schueller, public relations director for Melissa's/World Variety Produce, in Los Angeles. "Items the participating chefs ordered in 2017 included banana leaves, dandelion greens, pomegranate seeds, Thai basil, truffles and watermelon radishes."
The Taste of the NFL's volunteer chef director, Mark Haugen, co-owner with Kostroski of Minneapolis, MN-based Culinary Concepts, works with participating chefs to buy their shopping lists of ingredients needed. "We purchase any additional produce they need locally," says Haugen. "This year, we'll be back in the city the Taste of the NFL was founded, Minneapolis. Since it will be winter, many of the chefs will incorporate seasonally appropriate items like root vegetables and winter greens."
Last year, Atlanta's Kevin Rathbun, chef/owner of Rathbun's, served a roasted quail with parsnips, onion soubise and cranberry agrodolce, while from the opposite coast executive chef/owner, Chef David Lawrence of 1300 on Fillmore in San Francisco, offered a chicken liver onion marmalade mousse with apple chow-chow (pickled relish).
Will soubise (onion sauce), agrodolce (traditional Italian sweet and sour sauce) and chow-chow be the salsa, hummus and guacamole of the future for Super Bowl spreads? If so, produce retailers should be ready.