Originally printed in the June 2020 issue of Produce Business.
Walnuts are having their moment in snacking, baking and as a meat alternative.
The scoops are gone. Banished to the back room with holiday props and the portable olive bar, hand-held scoops are likely to be labelled as tools of the pre-pandemic shopping experience. Customers are not looking to scoop into a bin or barrel for bulk walnuts, but the good news is they are still buying walnuts and enjoying them in many more ways than in the past. The lockdown, when families were baking, snacking and cooking at home, launched a culinary crusade for many. Those who never before baked were searching wildly online for easy-to-follow recipes. And plenty of those infamous banana bread attempts featured walnuts.
Consumer snacking has been a hot topic during the pandemic. Jennifer Olmstead, director of domestic public relations for the California Walnut Board and Commission, based in Winters, reports many consumers are seeking snacks that can satisfy cravings while still providing a nutritional benefit like walnuts. "We think this will contribute to the continued growth of nutrient-rich ingredients, such as walnuts, being incorporated into snack products," she says.
Olmstead offers the proliferation in recent months of seasoned walnut products as an example. Through brands like Diamond, Crazy Go Nuts and The Nutty Gourmet, consumers are enjoying bold flavors ranging from Salted Dark Chocolate and Oatmeal Cookie to Rosemary, Buffalo and Teriyaki Wasabi. She adds, "As people are able to return to work and resume activities outside the home, we may see a resurgence of grab-and-go and/or single-serve snack products."
Retailers looking at the numbers and monitoring social media posts as they relate to healthy snacking, baking and preparing meatless meals at home, are wise to recognize the continued upswing in walnut popularity.
Stimulate the Surge
"Consumers want more from their food and beverages. Ingredients that improve everything from brain function and mood to energy and stress levels are increasing in popularity. Walnuts are a great source of omega-3, protein and fiber," says Amy Hochderffer, sales manager, Poindexter Nut Co., Selma, CA. During the pandemic, necessity is credited with teaching many stay-at-home cooks creating soups and sauces with the practical use of replacing flour with ground walnuts as a thickener. Retailers can easily help customers experience success in the kitchen by providing walnut tips and recipes on the store's website.
Wendy Buckley, who works in sales and marketing for Prima Noce Packing, marketed by Primavera Marketing in Linden, CA, indicates the produce department is ideal for promoting walnuts because consumers go there seeking healthful eating and snacking options. Plus, retailers can use signage and display the add-on items that will encourage walnut sales. Prima Noce provides retailers with a Walnut Promo sheet ideal for enlightening store-level produce teams on the benefits of offering walnuts halves in produce. Along with nutritional information, many health benefits are listed, including consuming walnut halves to support good brain function and to help lower blood pressure. Retailers typically appreciate easy-to-share information valuable to produce teams and consumers.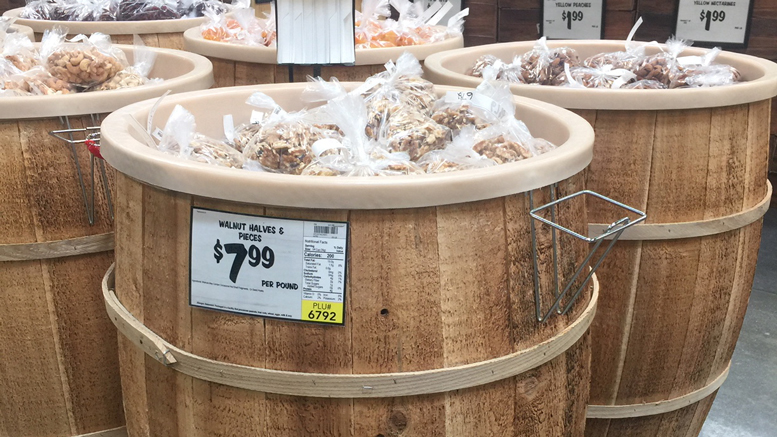 Walnuts.org provides digital images of walnuts and support information retailers can use on store websites to enlighten consumers about the nutritional benefits and versatility of walnuts. "In addition to recipes and digital images that can be repurposed with credit, the resources section of walnuts.org has materials for retailers and health professionals, including health benefits and simple how-to guides," explains Olmstead. "As long as they are unaltered, retailers are free to use any materials found here, either printed or in digital formats. We are also happy to share a social media playbook with retailer partners, which is a playbook of content and related assets that retailers can use with their existing followers."
"Strong marketing programs developed to boost domestic sales, I believe, are key," says Jocelyn Carter, general manager, Oak Acre Farms, a grower/shipper/wholesaler based in Live Oak, CA. "We're a small-time walnut farmer with about 100 acres and a fairly new company compared to others, since we've been in for 12 years." The company also grows Fuyu persimmons, Satsuma mandarins and Pluots. Carter speaks optimistically, as she sees the walnut industry getting on the "bandwagon" with marketing similar to the almond industry's efforts.
Beyond Meatless Monday
Taco Tuesdays don't have to mean buying meat when sautéed seasoned walnut pieces make an ideal meat substitute. Consumers are finding satisfaction with the texture and meatiness, and combined with other fresh produce taco toppings, the dish is heartily substantial. "More consumers are experimenting with plant-based diets, driving culinary innovation. In recent years, we have seen growth in walnut butters, walnut milk and even walnut pie crust," says Hochderffer of Poindexter Nut Co. Along with information about meat shortages during the pandemic, there has been a lot of online exposure about walnuts being used as a meat substitute.
"Leading up to this year, walnuts were seeing increased demand due to their versatility, unique health benefits and inclusion in a variety of popular eating styles like plant-based, Mediterranean, paleo and keto," says Olmstead of the California Walnut Board. "The meat alternative category saw 265% growth in the nine-week period ending May 2, 2020 versus 2019, according to New York City-based Nielsen." Olmstead anticipates consumers embracing walnuts as a key ingredient in summer favorites, such as tacos, lettuce wraps, burgers and more.
Promote Convenience
The pandemic has caused retailers to make plenty of in-store changes but many produce departments are keeping the familiar bulk nut barrels to maintain the farmers market atmosphere. Scoops may be gone but functioning, acrylic bins conveniently display grab-and-go packages of walnuts and dried snack mixes. With the surge of insta shopping and hurried grocery trips by masked consumers wanting to get in and out of the store, retailers are evaluating the value of convenience. "Today's consumers are not only demanding healthier options, they also want convenience. Evolving family dynamics, on-the-go lifestyles and all-day snacking are pushing manufacturers to create portable and convenient packaging options," says Hochderffer of Poindexter Nut Co. Looking ahead, she says, "We are expecting bulk suppliers to reevaluate their bulk systems and either convert those items into a secure retail package or offer a contaminant-proof bulk dispensing system."
Olmstead says it's likely that consolidated grocery shopping trips and less- or no-contact grocery pick-up and delivery options will continue to be popular throughout the year. "We've recently added shoppable technology to recipes on our website, which allows consumers to purchase recipe ingredients easily online using options, such as Instacart or AmazonFresh, or buy directly from stores, including Safeway and Walmart."
Looking Ahead
Profit-minded retailers looking to more broadly serve produce customers know to take seriously this surge of walnut popularity. Considered a specialty crop, walnuts are big business. California walnuts supply two-thirds of the world's walnut trade. Growers and processors have longevity, food safety and the environment in mind as they navigate more efficient business practices.
"We were the first walnut processor to install steam pasteurization in our plant in 2011," says Hochderffer of Poindexter Nut Co. That procedure is an organic treatment to ensure walnuts leave the processing facility without harmful pathogens and microorganisms. She adds, "We use solar energy to offset our energy usage footprint. The environmental attributes of our solar arrays are equivalent to the avoidance of 3 million pounds of coal burned from the earth's atmosphere annually."
Harvesting the 2020 walnut crop will happen in September and October. Labor is not anticipated to be an issue, since harvest machines, known as tree shakers, are used. "There's a nice size walnut crop coming up, better than last year," says Don Walters, sales manager with O-G Nut Co., based in Linden. "We're looking for a good year with a 10% to 12% increase in crop size."