Originally printed in the July 2018 issue of Produce Business.
Ag department program helps the buckeye state promote its produce locally and beyond.
Ohio offers an abundance of resources including fresh water, fertile soils and a varied growing climate, but one of the biggest benefits of growing produce in the state is its location.
"Ohio is within 600 miles of 60 percent of both U.S. and Canadian populations, giving growers close access to their customers and ensuring the product consumers receive is as fresh as possible," says Lori Panda, the Ohio Proud program manager for the Ohio Department of Agriculture (ODA).

However, having a varied climate means weather can be unpredictable in Ohio, which has driven the state's greenhouse industry.
"We're seeing more and more companies invest in the technology to give them a competitive advantage of growing acres of produce, in a controlled environment, year-round," says Panda.
Today, there are more than 50 greenhouses in Ohio, including state-of-the-art facilities such as BrightFarms and Ohio Proud partners NatureFresh, GoldenFresh and Red Sun.
Ohio Proud
Panda says the Ohio Proud program, which is run through the ODA's marketing department, champions products made in the Buckeye State.
"To qualify, your product must be at least 50-percent raised, grown or processed in Ohio and meet all inspection and labeling requirements," she says.
Companies pay a $25 annual membership fee that licenses them to use the Ohio Proud logo in their marketing efforts.
Ohio Proud focuses on three marketing initiatives: consumer promotion, marketing services and new market access and development.
"We do in-store signage, promote customer identification of the Ohio Proud sticker when shopping at grocery stores and other local retailers and encourage consumers to visit our interactive website (Ohioproud.org) to search for specific types of products, or for the companies in their community," says Panda.
One of the most popular Ohio Proud events is the annual Ohio Food Summit, which includes Ohio Proud partners and retailers.
"The Ohio Food Summit gives buyers an opportunity to meet with several food producers in one day to help with sourcing local foods," says Panda.
Buyers request product categories that they're interested in and the ODA schedules sales meetings with those producers.
"Programs like Ohio Proud give retailers great marketing tools in promoting their products to capture the high consumer demand for locally grown or made items," says Panda.
DNO Produce of Columbus, OH, is a founding member of Ohio Proud.
Alex DiNovo, president and chief operating officer of DNO Produce, says the company has participated in many of Ohio Proud's sponsored events including the Ohio Food Summit.
"Ohio Proud is a great marketing resource that the Ohio Department of Agriculture has put together," he says.
Loren Buurma, co-owner of Buurma Farms Inc., Willard, OH, says the company has been an Ohio Proud member for many years.
"Local, Ohio-grown produce keeps getting more popular," he says. "We've had local produce deals with area chains for more than 30 years and it just keeps getting better."
DiNovo says DNO Produce also participates in the U.S. Department of Agriculture's Farm to School grant program, which gives schools funding to purchase locally grown produce.
"We have used the program to teach students about locally grown produce and what is available certain times of the year," he says.
Growing In Ohio
The growing conditions in Ohio are ideal for growing many produce commodities.
Ben Wiers, president of Wiers Farm Inc., Willard, OH, says there are lots of soil types in Ohio that are gravelly and great for growing Eastern vegetables such as peppers (bell, hot, sweet and mini), cucumbers and zucchini.
Western vegetables grow well in higher organic-based black soils in the state, as well, he says.
Buurma says when Buurma Farms opened in the 1890s, the area was swampland.
"They drained the land, and as a result, got great organic soil," he says.
Interestingly, this soil, known as "muck," can catch fire and "burn white hot" if conditions are dry for an extended period, says Buurma.
Jeff Givens, local food coordinator for Sanfillipo Produce Co., Columbus, OH, says Ohio used to have a one-crop season, but greenhouses have extended the season.
"Greenhouses have extended the availability of red and green leaf lettuce, for example," he says. "Also, plastic mulch covering row crops and underground piping systems can heat crops in greenhouses when it's colder."
Storage of root crops, celery, watermelon, radishes, potatoes and cabbage also can extend seasons, sometimes into February and March, says Givens. Apples are stored during winter in controlled-atmosphere facilities.
Tom Sirna, president and owner of Sirna & Sons, Ravenna, OH, says many Ohio produce items are available year-round now, including potatoes and apples.
And when it comes to food safety, Sirna says it's just as important when sourcing local produce as it is if ordering nationally.
"As a distributor, we used to sell any Ohio produce available," he says. "Now, we treat locally grown product the same as anything we get across the country with stringent food safety requirements."
Growers in Ohio are not required to be GAP-certified, but most run their own food safety programs and audits.
The Ohio State University's extension programs provide GAP training to growers in the state, if they are interested.
And the ODA's Division of Food Safety is heavily involved in providing produce safety consultations to growers ahead of the FDA's implementation of the Food Safety Modernization Act's produce safety rule. In fact, the department is offering consultations at no cost to growers this summer.
"Our staff will visit growers to provide one-on-one or group trainings to help them comply with these new federal regulations," says Panda. "Growers interested in scheduling a consultation are encouraged to contact our Food Safety Division."
Popular From Ohio
Like their peers across the country, growers in Ohio have seen trends in the popularity of what they sell.
Sirna & Sons sells a lot of tomatoes and strawberries, especially to foodservice. Additionally, the company has seen piqued interest in corn, peppers, squash and zucchini.
"Zucchini blossoms have been very popular with local high-end chefs who stuff or lightly bread them," says Sirna.
DiNovo at DNO Produce says lettuce also should be added to the list of popular Ohio produce items.
"Our commitment to the Ohio area is to buy and sell Ohio produce first. We try to transition most of our commodities into Ohio farms when we can."

— Jeff Givens, Sanfillipo Produce
"We've seen growth in the lettuce category — vertically grown, grown under glass and microgreens," he says.
Buurma also says local lettuces have made a resurgence, and Buurma Farms has seen increased lettuce sales. He adds kale, dill and cilantro have also been popular of late.
Jeff Zellers, president of K.W. Zellers & Sons Inc., Hartville, OH, says the company grows on muck soil, with its highly organic composition being great for growing leafy greens; green and red lettuces; radishes; herbs; parsley and cilantro.
"Cilantro has become very popular the past 10-15 years," asserts Zellers. "And kale and red beets, as well. I think it's due to the trend toward healthier diets and all of the media attention."
Locally Grown
Buurma says locally grown programs are great for retailers, as they keep gaining popularity.
"I want to buy tomatoes at the store that are either grown closest to me or grown in my own garden," he says. "This is true of most produce — the condition of the fruit, ripeness and firmness are all better when grown close to home."
Givens of Sanfillipo says he developed the company's Ohio 1st locally grown program a couple years ago.
"Our commitment to the Ohio area is to buy and sell Ohio produce first," he says. We try to transition most of our commodities into Ohio farms when we can."
Givens says he is a big proponent of smaller Ohio farms that are finding a niche in selling produce used in ethnic cuisine, and says he has been focused on marketing related products for four years now.
Columbus has a large Nepali and West African population, he says. Other significant populations in the area include those from Thailand, Laos, Philippines and Burma.
Popular niche products include snake gourds, Indian bitter melon, valor beans, long beans and jute leaves, says Givens.
"This year, we planted a couple acres of Nepali Sher-Li-Hon leaves in sandy loam soil in Northwest Ohio," he adds.
"All of these crops are in the same family as crops that growers are used to growing like cucumbers and Indian bitter melon — not a lot of changes are needed on farms to switch crops," notes Givens.
Another interesting note: a lot of these ethnic groups grow their own foods but, Givens says, usually only for a couple weeks at a time. "So there still is demand and prices reflect this," he adds.
Givens says the benefit of using local farms also is their ability to adapt to consumer preferences quickly.
"For example, with cilantro, Mexican and South American customers like long-stem product," he says. "Indian customers prefer short-stem cilantro. So, we can provide this type of feedback to the farms when we are testing new items in the store."
DiNovo says as a fresh-cut processor and wholesale distributor, DNO Produce processes produce items to be used as ingredients for local companies, including for Jeni's Splendid Ice Creams in Columbus.
DiNovo says Jeni's uses unique ingredients for its ice creams and strives to use locally sourced produce.
For example, Jeni's uses Ohio-grown strawberries processed at DNO Produce and sourced from Rhoads Farm Inc. in Circleville, OH.
"This is great for Rhoads Farm, as it can send strawberries that might not be perfect to sell as whole berries and still make a profit on them," says DiNovo.
Jeni's also sources sweet potatoes for a unique ice cream in the fall through DNO Produce and again from a grower in Southern Ohio.
DiNovo says offering locally grown produce gives retailers a chance to connect with their customers.
"Locally grown is an emotional pull for consumers — people like small farmers and local produce," he says.
To drive this point home, DiNovo says he's seen retailers invite local growers to come and tell their story about how purchasing locally makes a difference in their own community.
"It offers uniqueness — you can't buy the same locally grown produce at one Ohio-based Kroger than another — they offer a selection that is specific to each community," he says.
For wholesalers, DiNovo says, buying locally in Ohio makes things easier than sourcing nationally.
"We can pick up product with our own trucks and not have to pay for a third-party carrier," he says. "We can also react with a shorter lead time and don't have to make a decision five to seven days out."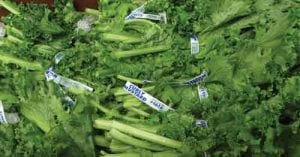 Wiers of Wiers Farm says Kroger, along with other grocery chains, has invited the company to do store visits as part of locally grown promotions a couple of times a year.
"State vendors visit the stores and handout product samples like sweet corn or radishes and answer customer questions," he says.
Weirs Farm also works with Chipotle Mexican Grill to source local produce for its restaurants, adds Weirs.
Ohio Produce Companions
A couple of Ohio-based companies offer products that are companions to their fresh produce peers in the state.
One such company, Tastee Apple Inc., Newcomerstown, OH, happens to be one of the largest caramel apple producers in the United States.
The 44-year-old company distributes its caramel apples regionally from Grand Rapids, MI, south to Dallas and east of there, says Greg Hackenbracht, president of Tastee Apple.
The company also offers gourmet chocolate-covered apples nationally.
Hackenbracht says Tastee Apple sources its apples from Ohio, Michigan and New York, which typically are Jonathan or Empire apples.
Tastee Apple is an Ohio Proud member, and Hackenbracht says the more people know about products grown and processed in Ohio, the better.
"The Tastee Apple name has become synonymous with Ohio," he adds.
A much newer Ohio-based companion product is Vegy Vida, which launched in limited stores in January 2017 as a product of Brandcraft out of Cincinnati.
Vegy Vida is made with a special extract from cucumbers that blocks the natural bitterness in foods like vegetables, making them taste better without added sugar or artificial ingredients.
"As a result, our dip has a clean label, tastes great and helps kids eat more veggies," says Julie Lincoln, partner at Brandcraft. "Baby carrots are a dipping staple, but our dips are great with all kinds of vegetables — cucumbers, cherry tomatoes, etc."
Lincoln says her company would like to get Vegy Vida involved in locally grown produce programs, especially if they focus on their target demographic of school-age children.
---
Ohio Foodservice Embraces Local
You'll find a number of restaurants in Ohio using the Ohio Proud "On the Menu" label on their menus and advertising, says Lori Panda, the Ohio Proud program manager for the Ohio Department of Agriculture (ODA).
"From national chains like Bob Evans to smaller upscale restaurants like Barcelona in Columbus' German Village, 'On the Menu' gives Ohio diners a quick and reliable way to know they're eating local, even when dining out," she says.
Another program the ODA is involved in is the Columbus City Schools' Ohio Days: My Plate, My State initiative.
"Last year, we assisted the school district in making connections with Ohio producers in order for the school district to reach its goal of serving more than 52,000 a full plate of Ohio-sourced foods once a month," says Panda.
Columbus City Schools, with the help of ODA and Ohio State University Extension, identified more than 20 companies with the capacity to meet the district's need for local apples, turkey, chicken and beef products, shredded cheese, milk, corn tortillas, whole grain tortilla chips, lettuce, beans, carrots, potatoes, cucumbers, squash and peaches.
Alex DiNovo, president and chief operating officer of DNO Produce, Columbus, OH, says there are a lot of restaurants in Ohio featuring local products from local farms and doing a good job telling diners their stories.
"Food tastes better if you can have emotional connection to that food," he says.