Originally printed in the January 2018 issue of Produce Business.
To keep momentum going, retailers need to create new and innovative methods of inspiring impulse purchases.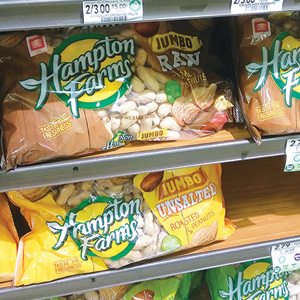 Peanuts are one of the largest players in the snacking category, accounting for 25 percent of the snack nut category sales and 50 percent of snack nut volume sales. According to Eric Boonshaft, director of marketing and innovation for Hampton Farms, Raleigh, NC, from a retail perspective, peanuts provide consumers with the best value.
Fresh peanuts found in the produce department are experiencing growth, thanks to the nutritional benefits and the added appeal of the in-shell legume.
"The great thing about being in produce is that it is often the first department shoppers see when entering a store," says Boonshaft. "We know that in-shell peanuts are an impulse item and typically eaten at parties, barbecues and family get-togethers. If peanuts are on display and people can find them (especially in-shells), we know they'll end up in the shopping cart."
Even though peanuts are a legume, from a snacking perspective, they fall into the nut category. Minimally processed, low-sugar, high-protein snacks such as peanuts first attract the health-focused consumer and then move to the mainstream, says Boonshaft. "Instead of grabbing a carb-filled snack item, consumers are more likely to reach for peanuts, which are still pleasurable and crunchy snacks, but are considered a healthy source of protein," he says.
Boonshaft says there are opportunities to focus on both the health benefits and the 'fun factor' of eating in-shell peanuts. "Given recent trends focused on better-for-you snacking, plant-based nutrition and an emphasis on protein, peanuts are a great snack that can be included in any healthy lifestyle or diet," he says. "When we talk to consumers, we also hear about the 'fun factor' with in-shell peanuts — you get to break something, hear it crack, do something with your hands."
Boonshaft says consumers are also excited to find more flavors in the in-shell category, including dill pickle and hatch chile. The expansion in flavor selection is also a great way to attract younger consumers looking for new and interesting snacks.
Aside from the in-shell variety, boiled peanuts, though not as popular as their cousin, are a great grab-and-go protein snack that is contributing to the boost in sales. "Boiled peanuts sold in coolers do really well," says Don Koehler, executive director of the Georgia Peanut Commission, Tifton, GA. "The Cajun variety sells well from North Carolina to Mississippi."
According to Chad Hartman, director of marketing for Truly Good Foods in Charlotte, NC, a combination of bulk and packaged peanuts in produce can help boost sales. "Consumers love to see a big barrel of bulk in-shell peanuts; it is one of those things consumers come to expect. A bulk barrel or bin provides an opportunity for consumers to grab a big bag for the weekend or a handful of nuts for a snack on the way home," says Hartman. "Having a packaged option next to the bulk is a necessity also, many on-the-go consumers are all about that grab-n-go option being available."
Although consumers still love peanuts for sporting events, their appeal is growing beyond the market.
"The most successful methods I have seen are cross-merchandising," says Hartman. "Buffalo nuts merchandised with salad and blue cheese dressing, flavored snack nuts with holiday and other promotional displays, or sweet peanuts merchandised with traditional snacks are all excellent methods to improve peanut sales."
New flavors are another opportunity for promotion.
"It never hurts to have a snack promotion. There is always a unique flavored peanut that hits the market," says Hartman. "Cross-merchandising flavored peanuts with salads or an Asian-inspired vegetable kit can also encourage crossover sales."
Hartman contends that the appeal of the in-shell peanut is often centered on outdoor activities and the holidays. "Any time you can shell a peanut and not make a mess (outside) is a great time to have in-shell peanuts. Also, remember the holidays. Flavored nuts make great snacks during the holidays, and peanuts are commonly used as a baking option for items such as peanut brittle."
Holiday Promotion‬
Peanut recipe promotion is another method for marketing peanuts, especially when consumers are making DIY gifts for family and friends.
"Peanuts are an extremely versatile nut and are great for cooking. They hold their firmness when heated and are a tasty addition to many dishes," says Hartman.
Steve Schmid, national account manager at Old Dominion Peanut Co., Norfolk, VA, agrees the holidays are one of the best times for peanut promotion. He says fresh peanuts sell well next to flavored nuts such as the company's Burnt Sugar Pecans, Toasted Honey Cashews, Butter Toffee Peanuts and Peanut Squares. "The holidays are great for us," says Schmid. "Peanuts do especially well at Christmas, Easter, back-to-school, as well as the patriotic holidays." He says party trays incorporating peanuts also sell well. "It's a healthy option to snack on while you're socializing. Our health-conscious consumers also like our Natural Nut Crunch variety made with almonds, cashews, pumpkin seeds and brown rice syrup."
Display cases are also a great way to show off peanuts because they are more likely to be noticed by shoppers.
"The end consumer needs to understand the product in around four seconds," says Schmid. "That's how long the average consumer takes to make a buying decision." He says pop-up displays are an ideal way to show the benefits of a product to a shopper quickly. Putting flavored varieties and other products like peanut brittle inspires impulse buying.
Finding complementary products to add to peanut displays is also effective in increasing sales. Build displays around barbecues or create gift packages shoppers easily can grab. As with so many other produce products, a well-curated display case will always help boost sales.
Merchandising in Produce
Mark Wales, produce manager for Econofoods, a supermarket chain that has seven locations in Michigan and Wisconsin, says peanuts sell well in produce with 3 or 4 feet of retail space. "They sell well in bulk or in handled tote bags that consumers can easily pick up along with other popular foods like walnuts, dried peas and dried fruits," he says. Wales says peanuts also sell well during hunting season for sportsmen who want something to eat in the woods.
The one hindrance to marketing peanuts in produce is the peanut allergy, which can be airborne and, according to Charles Yeh, produce supervisor at Fairway Market, a grocery retailer with 15 stores in the New York area, sometimes can bother consumers. "We don't carry them in bulk anymore because of kids' allergies," he says. "We had to stop because of complaints from shoppers."
According to the American Academy of Allergy, Asthma & Immunology (AAAAI), Milwaukee, peanut allergies are common, with approximately 9 percent of kids under age 10 having some type of food allergy.
"It's something to be aware of when you're merchandising peanuts to consumers," says Yeh. But even without bulk, packaged peanuts are a good seller for Yeh, who places them next to pistachios, almonds and other popular nut varieties. "The hot-and-spicy peanuts do sell well," he adds.
Though peanuts sell well throughout the year, they need a little extra promotion during the winter months. National Peanut Month, which occurs in March, provides an opportunity for retailers to create promotions to help boost sales and promote the legume. National Peanut Day, which is in September, is another opportunity for promotion.
"We've learned in our research that people don't eat in-shell peanuts alone… it's all about sharing. Go to a sporting event or barbecue and watch how the in-shell peanuts are passed from one person to the next," says Hampton Farms' Boonshaft.
Although consumers still naturally align peanuts with sporting events, retailers are realizing consumers are purchasing year-round. To keep sales trending, retailers need to find new and innovative methods of inspiring impulse purchases.
"As we see consumption change, we are seeing increased use as a high-protein snack, as an addition to recipes and as a snack outside of sporting venues," says Truly Good Foods' Hartman.